This Handy Dad Created a Brilliant Solution to a Socially Distanced Halloween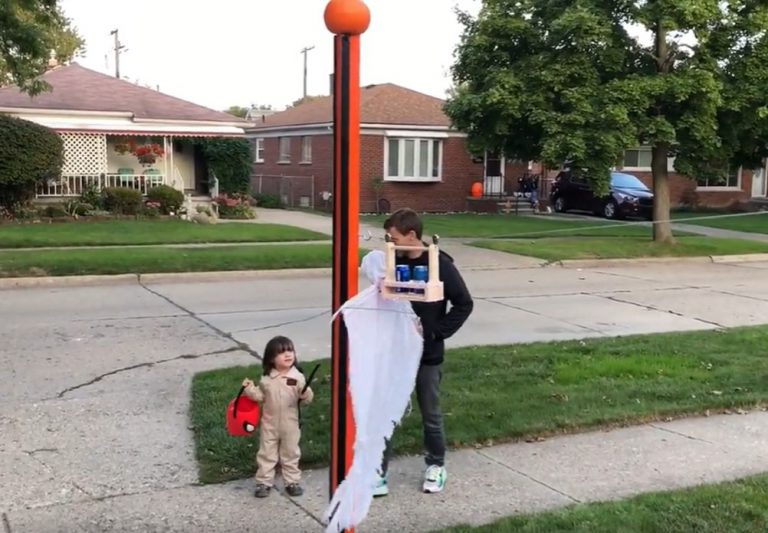 This Handy Dad Created a Brilliant Solution to a Socially Distanced Halloween
During the COVID-19 pandemic, children all over the world are having to adjust to a new reality in all aspects of their lives. This is especially the case in the US where the virus has claimed over 200,000 lives. It is looking more and more likely that Halloween trick or treating will not be able to be celebrated without social distancing, so one clever dad has rigged up a brilliant solution to handing out treats for both children and their parents.
Michigan woodworker Matt Thompson shared his nifty Halloween set up over on Reddit, much to great delight from everyone. His post has racked up more than 125,000 upvotes and nearly 500 awards in just 12 hours.
Rigging up a pulley system using a power drill and the reel from a fishing rod, Matt is able to transport wrapped bags of sweets to trick or treaters via a ghoulish-looking demon. He has even included a little wooden caddy to supply a chilled can of light beer to quench thirsty parents on their annual trudge around the neighbourhood.
We can only visualise how scary it must look in the dark with the carefully placed lighting underneath the mask! Imagine that thing belting down his driveway towards you at night time!
As expected, people raved about this man's wonderful creation in the comments.
"Ahhhh I love this! Socially distanced and super fun! Genius to use the fishing pole mechanism!" wrote a Redditor by the name of MagnorRaaaah.
"I like it. I'll be doing something similar, minus the contraption. I plan to throw candy bars at the kids from my porch," commented turfmonster19.
"Honestly, I'm a 22 year old and I'd shit myself if I saw that coming at me that fast," added someone named WickBarrow.
It was pointed out that virus germs can be transmitted through many people touching the same objects over and over, but it is thought that a good spray with sanitiser in between trick or treaters should help.
Now to work on some sort of miniature speaker to add to his contraption to really freak out the kids!
Source: Reddit/Matt Thompson