TV Week Logie Awards Recap – Carrie Bickmore wins the gold!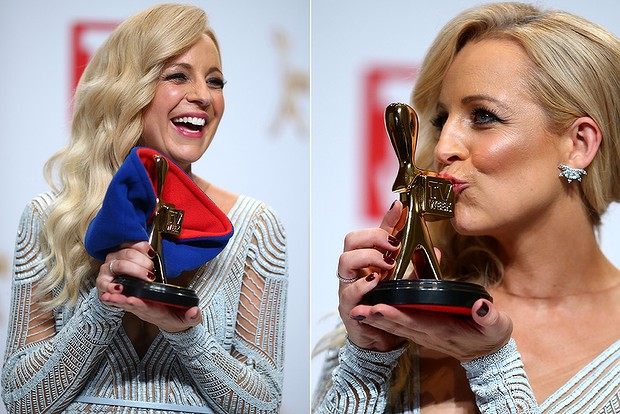 The 57th Annual Logie Awards were held on Sunday night at Crown Palladium in Melbourne, Australia.
After the red carpet, Dave Hughes kicked off the show by picking on Karl Stefanovic, congratulating Ian Thorpe on coming out and reminded everyone of his guest appearance on Neighbours 17 years ago!
He presented the first award – Most Popular Entertainment Program – to Hamish and Andy for Gap Year South America.
Home and Away once again won Most Popular Drama, and the award was accepted by Ada Nicodemou and the rest of the cast.
Delta Goodrem introduced a performance by Ricky Martin who rocked the stage (and his hips!) with his new single Mr Put it Down.
Asher Keddie beat the likes of Bonnie Sveen (Ricky, Home and Away) and Julia Morris (House Husbands) to win the silver Logie for Most Popular Actress for the 6th year in a row!
The very good looking duo of Jennifer Hawkins and Dr Chris Brown presented the Logie for Most Popular Presenter – who turned out to be Carrie Bickmore. She had been nominated four times previously and finally won! She said to her partner Chris: "Thank you for supporting me along the way and showing me there can be sunshine at the end of the road. What a cute little human we've created together. She's gorgeous."
Meghan Trainor hit the stage with a medley of her hits and had the crowd up out of their seats dancing. Lynne McGranger (Irene, Home and Away) was spotted snapping pics of the performance on her phone!
Hamish and Andy presented the award for Most Popular Reality Program with a 'The Bachelor' style ceremony. Scott Cam accepted the award for The Block and said "We hold the world record for giving away the most money [of any TV show in the world]: $3 million dollars."
Steve Peacocke won the silver Logie for Most Popular Male Talent and accepted the award via satellite all the way from London! He thanked his supporters and those that took a chance on him before he got his break on Home and Away.
The In Memoriam package was started off with a tribute to the late Richie Benaud. "He was our mentor, our mate a father a brother a national treasure," said Michael Slater. "In the end, as always, it was his call."
Seven News won Most Outstanding News Coverage for their work on the Lindt Siege. Melissa Doyle said, "It is so incredibly hard to accept congratulations for a news event that touched us all – two people died that day … but if this is recognition that we in the media handled it responsibly, calmly, with dignity … then we accept it."
Home and Away were inducted into the Logies Hall of Fame and the award was accepted by Ray Meagher and the rest of the Home and Away crew. "We wouldn't be here tonight if Channel Seven hadn't taken the risk and put up a pilot in 1987," Ray said.
Love Child's Miranda Tapsell won two awards – Most Popular New Talent and Most Outstanding Newcomer.
"The great thing about being a woman of Aboriginal heritage in 2015, we are seeing more and more roles where race is not the central thing. We're always going to see an element of that in a show set in the 60's but at the end of the day, she's one of the girls," she said of her character Martha. "I really hope it's the beginning, I hope we don't stop there in making diverse casting and we're really on our way there in Australia and I hope we continue this cultural shift."
Kerri-Anne Kennerley, Delta Goodrem and Kate Ritchie presented the big one – the Gold Logie. Carrie Bickmore beat out Offspring's Asher Keddie and The Block's Scott Cam who won last year.
Carrie has already said her thanks to supporters when she won the silver Logie earlier in the night, so she told the audience she was going to use the two minutes she had to raise awareness for brain cancer.
"I want to talk to you about brain cancer. Every five hours, someone is diagnosed. It kills more people under 40 than any other cancer. In 2010, my husband Greg was one of the unlucky ones. Over 10 years, he lost feeling down one side [of his body] … he was a great father. I want to get the nation talking about brain cancer. Eight out of ten people who are diagnosed will die from this disease. I want to dedicate this award to anyone who is going through a really shit time right now, anyone who is supporting someone right now, there is light at the end of the tunnel, please believe that."
She finished by reaching down, grabbing a blue beanie and putting it on her head. Beanies are sold to raise money for brain cancer research, and to generate awareness.