Twitter Hilariously Reacts to This Poorly Designed Pool Floatie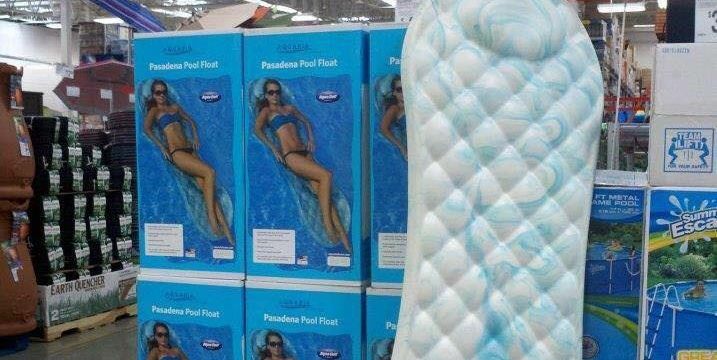 Twitter Hilariously Reacts to This Poorly Designed Pool Floatie
Who needs an oversized flamingo pool floatie when you can lounge away the hot summer days on a giant inflatable maxi pad?
The astonishingly awful design was spotted in an American superstore by author Jillian David, who pointed out that the lapse in judgement could have been avoided "with one focus group of women".
Perhaps not even a whole group of women, just one woman would have been enough to point out the hilarious design flaw. Or one man who has ever lived with a woman, even. How this product made it this far is astounding!
Focus group. This could have been avoided with 1 focus group (of women). pic.twitter.com/C76lv5ji33

— Jillian David (@JillianDavid13) July 3, 2017
Damn, that is one huge menstrual pad.
Happily though, Twitter isn't taken over with 14-year-old boys spewing plenty of "yo mama" jokes. They did even better!
Won't it soak up half the pool water? 😃

— appalledvoter (@appalledvoter) July 3, 2017
If you don't want to lose this on the pool deck, just pull off the adhesive strip on the back and attach it to your chair!

— Becky McG. (@bmmcgar) July 3, 2017
Remake of The Attack of the Fifty Foot Woman was going well, but producers baulked at level of realism required by director Sophia Coppola

— BranePower Guy (@BranePowerGuy) July 4, 2017
But does it have wings?

— ☪️ Charles Gaba ✡️ (@charles_gaba) July 3, 2017
Probably the only product that'll get me through one day of my period.

— General Chach Organa (@ChachiBobinks) July 4, 2017
Now if I can just find my red bathing suit.

— (((Dave Martin))) (@subatomiclounge) July 3, 2017
**arrives breathlessly**

Has someone made the surfing the crimson wave joke yet?

**falls over**

— elephantista (@elephantista) July 3, 2017
The hell you gonna do when the pool is half empty and that thing weighs a metric ton?

— Resnurgence (@Snurge) July 3, 2017
What's next, a giant inflatable tampon pool toy?
Even the model is trying her hardest not to laugh.
"Comfortable soft Aqua cell foam gently molds to the shape of your body"
Yeah, definitely a giant inflatable maxi pad. Have fun with that!