UPDATE – Four frozen berry brands now recalled after Hepatitis A outbreak.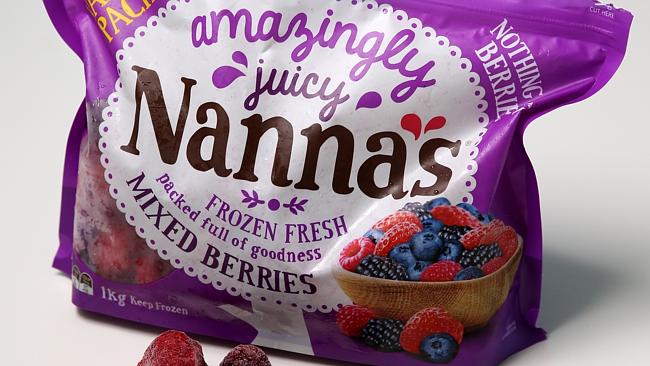 UPDATE – Nanna's Raspberries one-kilogram packs are now being recalled by Patties Foods.
Nine people have now become ill with Hepatitis A after consuming the berries – three in Victoria, four in Queensland and two in New South Wales.
This recall of Nanna's raspberries one-kilogram packets relates to products with best before dates up until September 15.
People who have eaten the suspect berries are being advised to look out for symptoms such as fever, chills, tiredness, abdominal pain, nausea and jaundice.
Freezers are being cleaned out after 5 people, 2 in New South Wales and 3 in Victoria have become ill with Hepatitis A.
A national recall has been issued for Nanna's 1kg frozen mixed berries and Creative Gourmet 300gm and 500gm mixed berries.
A new report is claiming that poor hygiene in China and potentially contaminated water supplies could be the reason for the outbreak as the berries are grown there and repacked in Australia to sell.
News that the contamination had been traced back to China has been confirmed by Dr Finn Romanes from Victoria's Department of Health and Human Services.
"The particular risk that we've identified here is that a country that has endemic hepatitis A, that is China, has been involved with packing these berries, sourced from both Chile and China," he said.
"Clearly there's strong evidence that there may have been a contamination during the packing process as they are fully sealed and then transported to Australia."
Image Credit: abc
Steven Chaur, Managing Director of Patties Foods (who distribute the berries), has said it was likely that his company would cut all ties with the Chinese supplier.
"It is obviously very concerning to us," he said.
"I myself, and my family, consume the product so I am equally concerned as consumers are, because I have bags of Nannas and Creative Gourmet in my freezer.
"We will certainly be working with the supplier to undertake a full review of how this may have occurred."
NSW Health Director of Communicable Diseases Dr Vicky Sheppeard has said that she expects to see a lot more cases in the coming days.
"Now that they've heard this, they might have already been getting sick, so they'll go and get tested and will get the results in.
She also warned that Hepatitis A is highly infectious and can be readily spread to others in the household. Washing of hands is important whether you are affected or not.
Hepatitis A is spread when traces of faecal matter containing the virus come in contact with hands, water or food and then enter a person's mouth.
People who have these berries in their freezer are being advised not to eat them. They should be thrown out or taken back to place of purchase for a refund.
If you are concerned or have any questions, you can call Patties Foods on 1800 650 069.