Urgent Warning: These are NOT Sex Toys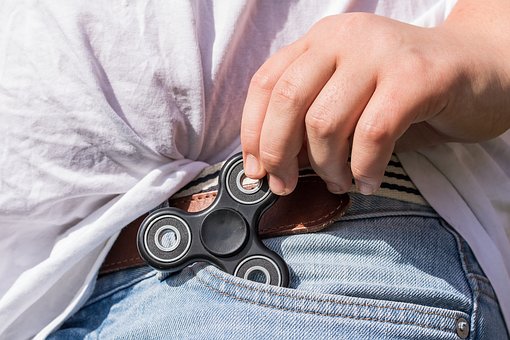 Urgent Warning: These are NOT Sex Toys
I'm just a Canadian writing about another [stupid] Canadian. Yeah, that's me today.
It's COLD in Canada. Really, really, really cold. It can get to minus 40C with the wind chill. Cold equals boring. Can't go outside. Nothing on TV. What should I do?
I know! I'll get my kid's fidget spinner and see how it feels shoved inside my vagina!! Except it's June and it's Spring so this is NOT an acceptable excuse. Sozz.
As reported in the Weekend Herald, at least that's what one 24 year old woman from Edmonton, Alberta did and it went very, very wrong.
This from a family member who spoke to the media: "She's quite embarrassed by it all, as you can imagine, particularly the media attention. She was playing with the toy in bed, and for some reason it struck her that it might be funny to see if she could use it to pleasure herself. In hindsight, it was a pretty stupid thing to do, but she tried spinning it near her vagina to see if it felt good.
After she tried that, she thought she might try and insert part of the spinner into her vagina, but somehow(?) she went too far."
Neighbours heard her screams for help and came rushing to investigate.
"I just heard this God-almighty scream coming from her house, so we rushed over and banged on the door," said the 54 year old neighour. She let us in and was clutching her mid regions. I asked her what's wrong and she just choked out that she needed an ambulance."
Medical staff who treated the idiot woman believe she must have slipped and accidentally pushed the spinner too far into her vaginal passage (that old chestnut). Once inside, the opening closed too tightly to remove it, and the only option was to operate.
"We tried a number of lubrication methods but in the end we were forced to make an incision to remove the device", said one of the surgeons involved in the operation.
There's a time and place for these toys, but they should never be used in a sexual context that could harm the user", said the surgeon.
"We are confident the woman will make a full recovery, but for the moment she does face a fairly long recovery due to the internal damage the device made".
Fidget spinners have been linked to an increasing number of injuries and mishaps, with the most recent incident involving a Calgary (still in Canada, peeps) man who attached a razor blade to a spinner (WHY????) in a misguided attempt at creating a 'battle spinner'. Unfortunately for him, he ended up slicing off his own penis according to the United News.
He was 23. He ordered them on-line, became obsessed with them and as quoted by. his. mother. "I had no idea that they could be so dangerous, otherwise I wouldn't have let him play with them." (He lived in the basement – one of 'those' guys).
HE was trying to see if he could do some man-scaping when he got to close to his junk. It was too damaged to be re-attached.
So….parents – Firstly – tell your kids to keep them away from their junk. Second – keep them away from your OWN junk.
If you want some cool sex actual toy-toys, check these out here.