Weekly Tarot Reading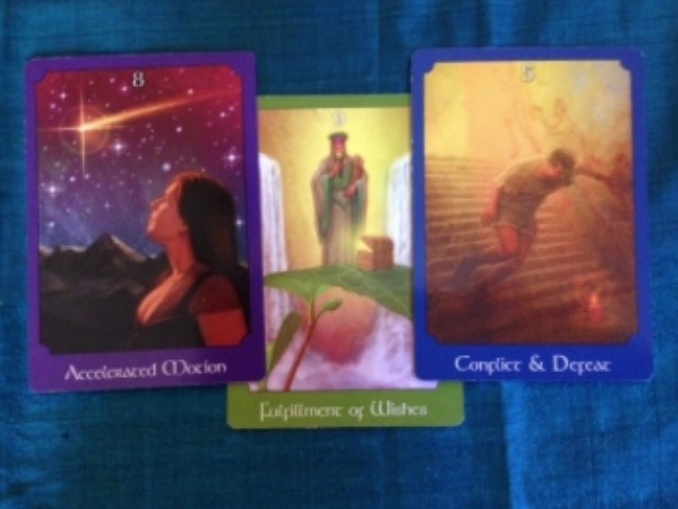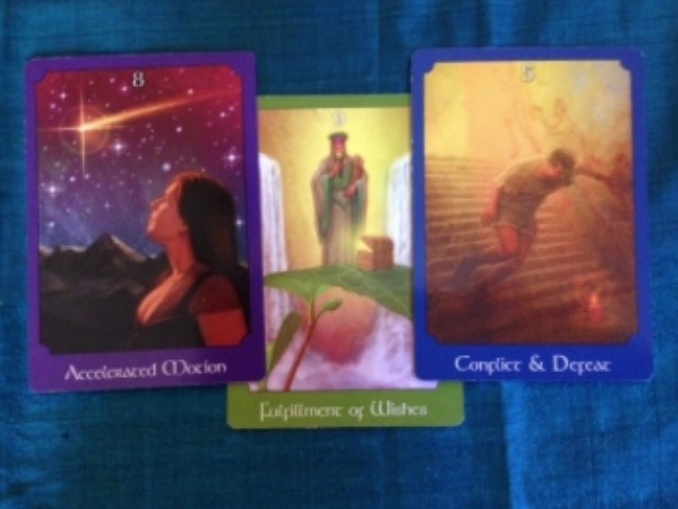 Weekly Tarot Reading
Starting a week with a tarot reading can be an excellent way of tapping into the energies that are around & getting a little guidance for the days to come.
So I have just done a short reading, this week I'm using the "Psychic Tarot", these are beautiful & gentle cards that I find very inspiring.
WOW, all Minor cards, they are all about daily life, direction & movement.
8 Accelerated Motion (Purple border signifies that this a spiritual card)
This is a very exciting card, very positive, all about moving forward, it even feels speedy. Have you been wishing on a star? Have you been working towards goal? Well conditions are good for these dreams to become real! This card is telling you that your desires are coming to fruition. It is definitely a time to go with the flow, let go & let life move you forward.
The number 8 signifies power & strength, so that combined with the positive movement of this card is just a fantastic way to start!
9 Fulfilment of Wishes (green is emotion, relationships & desire)
This card is all about the positive! It's just beautiful, it literally means your wishes are coming true. You now have the opportunity to reach a fantastic stage of love & joy in your relationships. Once again your hard work is paying of. Have you been working on yourself? On releasing past pain & sorrow & finally getting to a place of letting go? The rewards are plentiful, enjoy this time of success & happiness.
The number 9 is a number of completions. You have come to an end of a journey, the struggle is over.
5 Conflict & Defeat. (Indigo is mental- communication, thoughts & ideas)
Number 5 signifies change, realignment & freedom.
Whilst the first 2 cards are glowing with positive energy, growth, movement & happiness this third card is very confronting, asking you to face hard questions & perhaps make difficult decisions.
How are you handling yourself? Are you being a little insensitive? Are you fighting a battle in your life that is sucking away your joy? Sometimes walking away is the best way. Ask yourself if the winning the battle is worth the consequences to your wellbeing.
This cards looks downcast & sorrowful but asks us to take the opportunity to learn & grow. While the man is the picture looks shattered & defeated coming down the stairs he is walking towards a candle, there is light. Where there is light there is hope.
So looking at all three cards briefly this week holds growth & joy on the spiritual & emotional levels but there is a place for surrender & growth.
There we have it, my first weekly reading for Mums Lounge. I hope each of you can find some meaning in the cards, even if they seem a little vague to start with you may find the messages pop up during your week.
Jackie is a clairvoyant focused on giving meaningful positive messages & guidance. She gives one on one readings from her home in Adelaide as well as specialising in home healings. If you would like a personal reading please email [email protected] . Or follow on Facebook