Weekly Wrap Up
Beautiful news started off the week with Home and Away's Emily Symons announcing that she was pregnant with her first child at the age of 45. "I very much thought it couldn't happen and I was too old," Emily said. "I thought it would be impossible but it isn't. I'd given up really, I thought I had tried every avenue that was available to us. My ­advice is to not give up if you're feeling a bit­ ­overwhelmed by the whole process."
Sonia Kruger is joining The Voice as a co-host alongside Darren McMullen. "I can't wait to be front and centre co-hosting with my new buddy Darren. He's an A Grade performer, but he's now on my D list alongside Darryl (Somers), Daniel (MacPherson) and David (Campbell). All dashing, dynamic and damn fine dudes!"
A bombshell hit My Kitchen Rules this week when contestant Adam Anderson's ex-wife labeled him a 'deadbeat dad' in an interview with A Current Affair. His ex-wife Cindy claimed that the former Tennis Pro owes more than $36,000 in support and contact with his children, aged between 8 and 15, has diminished since re-marrying his My Kitchen Rules partner Carol Molloy.
Sad news with American Horror Story actor Ben Woolf passing away at the age of 34. He was sideswiped by a car in Hollywood last Thursday and was rushed to hospital and placed in a critical condition. Reports say that he died after having a stroke.
Former The Bachelor star Alana Wilkie's fiance has spilled the beans on their baby's sex, only a couple of weeks after they said they were keeping it a surprise! He posted this photo to social media and captioned it: 'Mullins already has his hand out to shake his baby sisters hand #25weeks #counting #down #daddys #girl #love #dog #rottweiler @alanaewilkie.'
There was an awkward encounter on I'm A Celebrity… Get Me Out Of Here when Maureen McCormick tried to plant a kiss on Anna Heinrich's lips not once, but three times! Anna was plucking Maureen's eyebrows when she got a little too excited saying thank you and leaned it for a smooch!
Former Home and Away star Tessa James celebrated her last round of chemotherapy with a dress up party! Her husband Nate Myles posted a photo of her and her family dressed as Where's Wally, Minnie Mouse and Wonder Woman. Great news for Tessa!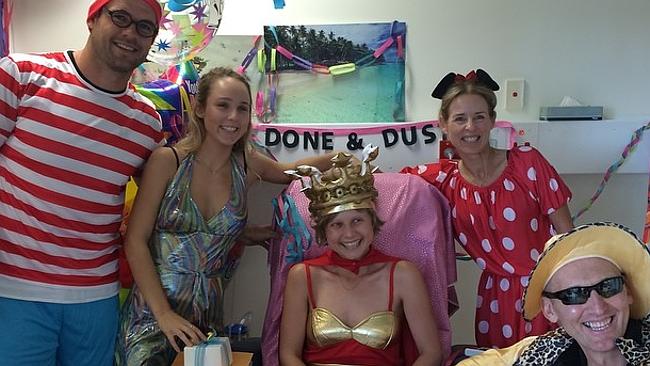 Never fear – Jamie Dornan WILL be back to play Christian Grey despite media reports claiming differently. His rep released a statement saying: "Jamie is delighted that the film is breaking box office records worldwide and whilst the studio has not made any formal announcements about sequels, he is looking forward to making the next film."
Lady Gaga announced that she is joining the cast of American Horror Story for Season 5. FX Networks CEO John Landgraf said earlier this month that viewers of the show should expect the upcoming season to be very different to what they've seen in the past. "One of the things I love so much about that is that it can be radically, radically reinvented in terms of tone, setting, period, characters, cast," he said. "I think there's going to be an unusually large reinvention in between Book 4 and Book 5 relative to, say, between Book 3 [Coven] and 4 [Freak Show].