What is Twerking?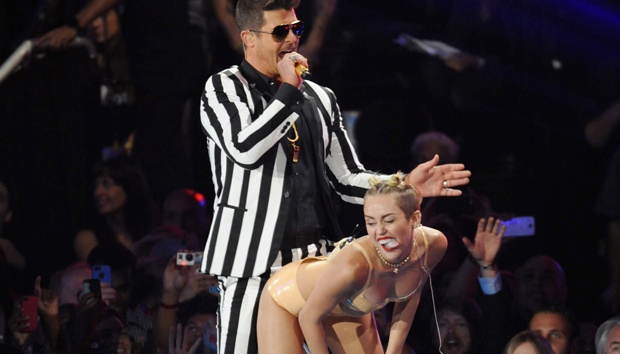 What is Twerking?
If you have not heard this term before you are not alone. I am new to it as well. It was only after hearing about Miley Cyrus's performance with Robin Thicke at the MTV VMA's, that I now know what twerking is.
So what is it?
According to Wikipedia it is a type of dance where usually the woman shakes her hips in an up and down motion and this then causes her bum/bottom to shake, or wobble or jiggle. Whatever you prefer to call it.
Yes twerking has a whole page devoted to it in Wikipedia and there is a history to it. I had no idea. So let's learn about it together.
It still comes up as a word that needs to be spell checked in Microsoft Word, so it has not integrated with the language as yet. Once it is not underlined in red that will be the day where it is in the language and truly embed with the social culture. What do you think?
Origins
Twerking has been compared to traditional African dance and in West Africa the dance was banned from television due to the evocative nature of the dance.
You would not believe it, the Oxford Dictionary Online have added the term "twerk". Apparently the term has been around for over 20 years. Oxford Dictionary Online decided it was time to add the term due to the popularity Miley Cyrus gave it at the MTV VMA's. Amazing what popular culture is doing for a word. What do you think will be added next?
Spread and Acceptance of Twerking
Hip Hop artists are twerking and even incorporated it into one of their songs in 2000. The Ying Yang Twins released a song called "Whistle While You Twurk".
Even Beyonce has listed twerking in her lyrics. In her song, "Check on it", she sings "Dip it, pop it, twerk it, stop it, check on me tonight."
Rapper Busta Rhymes in June 2013, had a song called, "Twerk It". Even students are getting in on the act. This year 33 students from Scripps Ranch High School in San Diego made a video of all them twerking. It was shot on school grounds and the video was uploaded to YouTube. As you might have guessed, they were all suspended. So be careful where and when you twerk is the motto there.
In the most unusual twerking news, Juicy J an American Rapper/Songwriter and Producer announced via twitter that he was giving away $50,000 to the best girl who can twerk or the best twerking girl? Not sure what it should be. Strange but true.
Also in the other strange news about twerking is when Clive Palmer was twerking during the election madness. Also I missed the moments that channel nine's Karl Stefanovic and Ross Greenwood twerked.
Have you got the twerking bug? Have you given it a go? Do you think it is silly and just as weird as Gangnam Style dancing? Gosh now I need to do another article about Gangnam Style. Let us know your thoughts? I don't think I will be twerking any time soon, what about you?
More about Suzanne Robinson:
I am a mother to five year old identical twin girls, who keep me very busy. On top of looking after the girls. I blog at "Mummy to Twins", I'm also a social media manager. I attempt to keep the house clean and tidy, and I try to fit in some me time as well.