Will and Steve are crowned 2015 My Kitchen Rules champions!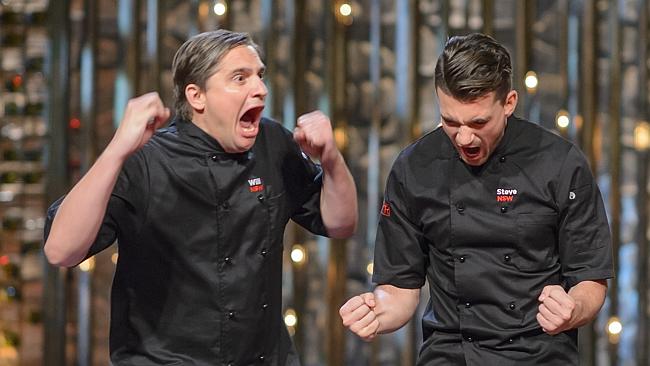 English expats Steve Flood and Will Stewart won My Kitchen Rules on Monday night and became the first all-male team in the show's history to take out the title.
Will and Steve served up an adventurous menu of cured kingfish with yellow curry, quail with corn and jus, red mullet with Jerusalem artichoke and basil, confit duck with beetroot and compressed watermelon and peaches and cream which they were scored 52/60.
Mt Isa 'chicks' Jac and Shaz's menu of prawns, avocado and pink grapefruit, lamb with feta, beetroot and rosemary honey, confit salmon with roasted fennel and avocado mousse, beef cheeks with port and celeriac puree and red velvet with chocolate and raspberries fell just short with them scoring 50/60.
Steve said he will use his share of the $250,000 to kickstart his dreams of being a full-time foodie.
Will said: "For me it's been a massive journey and I'm really starting to believe in myself more than I've ever done before. MKR has totally changed the direction of both of our lives."
There were two alternate endings filmed and both teams were unaware of who won until the show was broadcast.
William and Kate reveal the name of the new Princess
MKR's Jac and Shaz's hissy-fit
Like What You See? Go HERE for more latest news.