Tarot reading week ending 15th June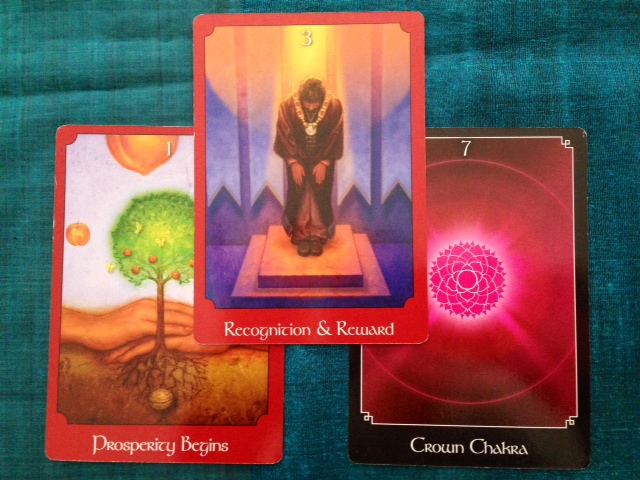 As we move steadily into winter the mood of the cards certainly changes, here we go…
1.PROSPERITY BEGINS
Again this lovely card appears for us, we saw it a couple of weeks ago, so anyone who is still waiting for the prosperity to begin this could be the time!
Once again the message is to consciously activate the prosperity, use visualisation to see yourself in a new way. Don't let those negative & well used thought forms take away this well-deserved period of prosperity. Being a card with a red border it deals with the material world so the prosperity may involve a windfall, expected or not, perhaps start up a new venture. If so be sure to plan well, be prepared. As great & powerful a tool as visualisation is, it is nothing wihout the actual physical planning & care, you wouldn't jump off a bridge without a bungee cord attached & just visualising a safe landing would you?
Use a combination of planning & visualisation, focusing on abundance & the positive aspects of the material world. Prosperity does not flourish when desired just for the ego.
2. RECOGNITION & REWARD
Here we are still in the material realm.
This card says it all really, you are being recognised for all your hard work, that could be in the form of a raise or promotion at work (which coincides nicely with the first card), or it could be more close to home, actual praise from your Mother-in-law?? Or even better a lovely wet kiss & cuddle from your child. Regardless of where the recognition & reward come from, take the praise, pat yourself of the back, your hard work & skills have paid off. This card also asks us to reward ourselves, to take a little time for ourselves or simply accept the help that is being offered.
3. CROWN CHAKRA
I love it when a chakra card appears in a reading because it is reminding us to focus on how we relate to our spiritual selves.
The appearance of this card specifically in such a materialistic reading is a definite command from spirit not to forget that connection to the divine. The CROWN CHAKRA sits atop of our head, it is indeed a crown. This Chakra is a modem to the divine, it is our telephone to God.
To keep this Chakra clear meditation is the key, I know it can be hard work to find 10 minutes of meditation time but it is worth the effort. When you first start you may find it very difficult to turn down the volume on your mind & turn up the volume on your soul. Like any exercise the more you try the better you get at it.
To get you started try downloading an app to your phone, I have a great Deepak Chopra one that I can choose the topic of a guided mediation, including music & a timer. It won't take long to get the hang on it & your Crown Chakra will thank you by keeping you more in touch with the divine.
There we have it, this week's reading. I hope you find some guidance from the energies around this week.
If you would like a private reading please contact me for an appointment: [email protected] , you can also follow me on facebook
Blessings.x