8 Fun Ways to Play with LEGO DUPLO (Plus Win $160 worth of LEGO DUPLO)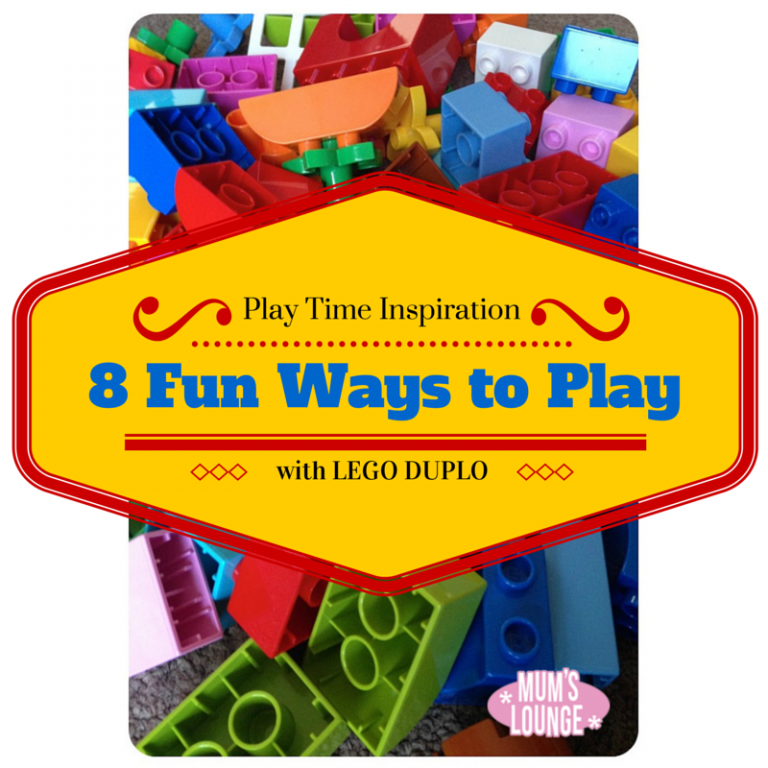 LEGO DUPLO – So Many Ways to Play
Sponsored post
There is just something so satisfying about seeing your own child playing with toys that you also enjoyed when you were young, don't you think?
For me LEGO and LEGO DUPLO products provided many hours of fun during my childhood, and I love nothing better than lying on the carpet with my own children surrounded by bricks of different shapes and colours. The beauty of LEGO DUPLO is its versatility. It can be used in limitless ways, whether it is to play and discover, build stories, create and share or even make adventures.
It just never gets old for me – and each play session yields different creations, and unique opportunities to learn.
For example, encouraging my children to describe or explain what they are making can be a fantastic opportunity to build on their vocabulary, and can also introduce early maths concepts like half, more, less, bigger, smaller, higher, shorter, along with counting, and colours.
Whether my children are busy making their own structures, or are engaging in a world of make believe (e.g. shopping) or racing their newly built LEGO DUPLO vehicles down a make-shift ramp, little do they know, they are also learning and building upon their social skills. e.g. taking turns, sharing, engaging with one another, etc.
And there you were thinking it was just for building!
Despite being aimed at children 1 ½ to 5 years old, neither my 6 year old nor 8 year old sons show any signs of losing interest in playing with the DUPLO bricks. Sure, they have a giant stash of their own LEGO bricks in their room, but they still flock like seagulls when my 4 year old daughter empties out the LEGO DUPLO tub. I can't think of many other toys that I could say the same thing about!
8 Fun Ways to Play with LEGO DUPLO
This month we will be engaging the help of 12 Mums Lounge readers to share the unique ways that their child plays with LEGODUPLO, so we can all share in some playtime inspiration. I can't wait to see what they come up with!
In the meantime, I'm sharing 8 fun ways to play with LEGO DUPLO that my family loves.
1. Add some paper and pens or chalk
Adding a road or a river to a sheet of paper can build the foundations of a fun town building exercise. I encourage my children to get creative adding things to the scene with pens and paper and building with the LEGO DUPLO bricks. Posing challenges like "How can we make it safe for the LEGO man to cross this busy road?" is great for developing problem-solving skills, building on vocabulary, and in this case (when a bridge was built), fine motor skills too.

2. Tracing shapes – Little People have BIG Imaginations!
Tracing around shapes can be both an exercise in fine motor skills and imagination.
Here you can see that my daughter and I turned our shapes into a picture by adding more details. Whilst I saw the rectangle as a castle, my daughter saw her shape as Santa's beard and added some eyes, a nose and a mouth!
This is one of my favourite activities – you'll be amazed at what their imaginations can conjure up, and the magic that they can see in the most mundane of shapes!
3. Recreate and act out their favourite songs or stories
In the above example, my daughter and I sang 'Four Green and Speckled Frogs' removing one of our 'brick-frogs' each time one jumped into the pool. It allowed her to visualise and count down the number of frogs whilst also engaging her in pretend play. Whilst they may look like bricks to the untrained eye, believe me for those twenty minutes or so, as we sang the song over and over, they were frogs (complete with long fly-catching tongues, croaky ribbits and lots of giggles!)
4. Role Play – The Fruit Shop
It is amazing how little people love to act out and role play situations that adults consider less than exciting isn't it?
Set up a make-shift shop and my kids are in heaven!
Just add a toy cash register, LEGO DUPLO fruit; above we have a banana, watermelon slices, oranges, strawberries, apples and blueberries, delicious-looking, wouldn't you say; and some imaginary money and you are good to go!
5. Ten Pin Bowling
This game is great for busy little people who love to be active. Set up your LEGO DUPLO pins and roll a small ball (a tennis ball is ideal) and see how many you can knock down. Older children may also enjoy jotting down the scores on a sheet of paper (which is great for numeracy and maths skills).
6. Dough Printing
Being so easy to clean, makes LEGO DUPLO excellent for sensory play – whether it's paint printing, using them as a mould in the sand pit, playing in the bath tub or mixing it up with a tub of dough.
7. Mixed Media
My daughter loves playing with dough just as much as she loves playing with LEGO Duplo – so mixing them up and encouraging her to be creative using both of them can result in hours of fun. (E.g. the DUPLO Dough Snail in the image above or the LEGO DUPLO man's costume changes!)
8. Building and Independent Play
With so many new and interesting ways to play let's not forget that encouraging independent play is equally beneficial for them! So tip out the contents of that bucket on the living room floor and let them build to their hearts content, while you enjoy some guilt-free down time with a nice hot cuppa!
Don't forget to check back next week to see how our reviewers play and discover, build stories, create and share and make adventures with the LEGO DUPLO bricks.
The Giveaway
LEGO DUPLO are giving Mums Lounge readers the chance to win this fantastic LEGO DUPLO prize packs (valued at $160).
The prize pack includes:
1 x LEGO DUPLO Creative Animals
1 X LEGO DUPLO Pater Pan's Visit
1 x My First Police Set
1 x My First Shop
Just imagine how much fun will be had beneath the Christmas tree this year with this awesome collection of LEGO DUPLO!