Globber MYTOO Fix Up Scooters Review and Giveaway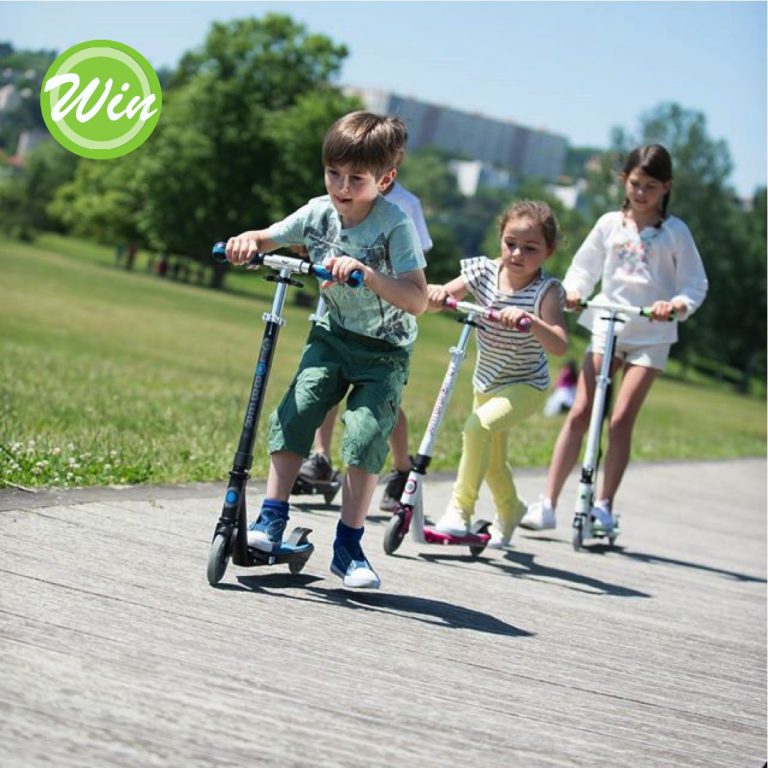 Globber MYTOO Fix Up Scooters Review and Giveaway
As my little man turned six it became very apparent that his existing 3-wheel scooter was in need of an upgrade to something a little more 'grown up'. Mr 6 had been attempting to keep up with his slightly older brother, who is on two wheels, but the faithful and robust 3 wheels just didn't give him what he needed any more.
Luckily for Mr 6, he was given the opportunity to test out; much to his delight, the Globber MYTOO Fix Up Scooter and it was a resounding 'epic' (in the words of my 6 year old) success.
I had anticipated that the transition from the very stable 3 wheel scooter to a 2 wheeled scooter would be a little bit of a learning curve and may take a few outings to get the hang of it…how wrong was I!!! Globber have completely nailed smoothing the transition from 3 wheels to 2 by providing a scooter that is not only 'epic' to look at, with its flashy bright colours against the jet black background, but is an amazingly stable and robust design, with a few extra features to help little ones on their way. The MyTOO Fix Up scooter is certainly a great choice my 6 year old and in fact I think that given its sturdy and well balanced design he probably could have easily started on it a little younger.
The Globber MYTOO Fix Up scooter is all about quality and control. The frame is strong and really sturdy with a reinforced front structure, so it was well equipped to handle the excessive use that my son has been putting It through over the last few weeks. The high quality of the wheels and bearings makes for a noticeably smooth ride, making every outing with his scooter an enjoyable one for Mr 6. The composite deck is light but incredibly strong, holding up to 100kg, which meant that even Dad could sneak in a little go…although this was short lived as Mr 6 has become somewhat attached to his MyToo Fix Up scooter, so peeling him away from it has been the only challenge that we have faced with it. The deck also features a really smart high density non-slip EVA grip, which allowed my son to gain a comfortable stance and gave him far more confidence out of the starting block than any other 2 wheeled scooter that he has briefly borrowed and quickly handed back in the past.
As Mr 6's confidence has been growing pretty fast on his new wheels, so have the hills! As I watched my son gradually take steeper and steeper slopes in order to pick up more speed, I could feel my heart pounding harder in my chest and I braced myself for the impending fall and the tears to follow. Luckily my fears were not realised and Mr 6 handled it all surprising well. I image that it is a combination of his commitment due to his growing confidence but also to the long and covered composite rear brake which allows better braking and control of his speed.
Thanks to the height adjustable T-bar handlebar on the Globber MYTOO Fix Up scooter, my son will be able to enjoy his prize possession for some time to come, which he is delighted with and I imagine that it won't be long before he masters those 'little tricks' that he has been practicing and the 'speed scooting' and 'mini man' will start evolving.
The Globber MYTOO Fix Up scooter is a high quality and cleverly engineered design that not only has the stability and control that is perfect for a beginner on 2 wheels, but is also robust and durable enough to withstand the excessive use that a scooter-loving and more confident rider may enjoy. Luckily for Mr 6 he is now hot on his older brothers heels and couldn't be happier!
Written by Julie Williams
Thanks to Globber we are offering our fans the chance to WIN 1 of 3 Globber MyToo Fix Up Scooters worth $140 each! Simply enter below and good luck.
Disclosure: The author was gifted this product for the purpose of giving an honest review. All thoughts and opinions