14 Year old Contestant Amalia Foy Makes Iggy Azalea Cry on The X Factor Australia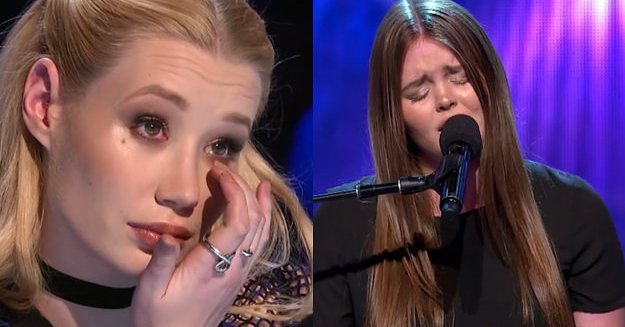 14 Year old Contestant Amalia Foy Makes Iggy Azalea Cry on The X Factor Australia
It's all over, people. Pack everything up. We've found our winner on the very first episode of the season. A superstar has been born on The X Factor Australia, and she made Iggy Azalea cry with her amazing performance. Amalia Foy is going places, we're calling it now.
The Victorian schoolgirl sang a haunting slowed-down cover of Passenger's Let Her Go for her audition and wowed the judges, audience and viewers alike. Watch it here:
Amalia's stunning performance moved judge Iggy Azalea to tears.
Iggy was not the only one impressed with Amalia's performance as the crowd rose as one with a standing ovation. Fans expressed their amazement immediately on Twitter.
Amalia is a contender at 14 years old. Gorgeous voice. @adamlambert: 'Australia, you just witnessed the birth of a superstar.' #xfactorau

— Katie Purvis (@katiemelb) October 3, 2016
I was fortunate to have seen you audition live #AmaliaFoy, you are my winner. — watching The X Factor – Australia

— Len Puzon (@lenpuzon) October 3, 2016
The now-15 year old year nine student began playing the piano at the age of four. She began singing just five years ago, and has since made that her main focus.
"Before my audition I had only done some school concerts and some small competitions," Amalia told the Herald Sun earlier this year.
"So being in front of 6000 people was absolutely terrifying to be honest.
"But that feeling I had after the audition overrided it."
Amalia is the youngest singer in the popular music competition.
Season 8 of The X Factor Australia began earlier this week, with Guy Sebastian, Iggy Azalea, US singer Adam Lambert and ex-Spice Girl Mel B serving as judges while Jason Dundas takes on hosting duties.
Images: Google