Australia's Cheapest Weddings – 'They turned our special day into a joke'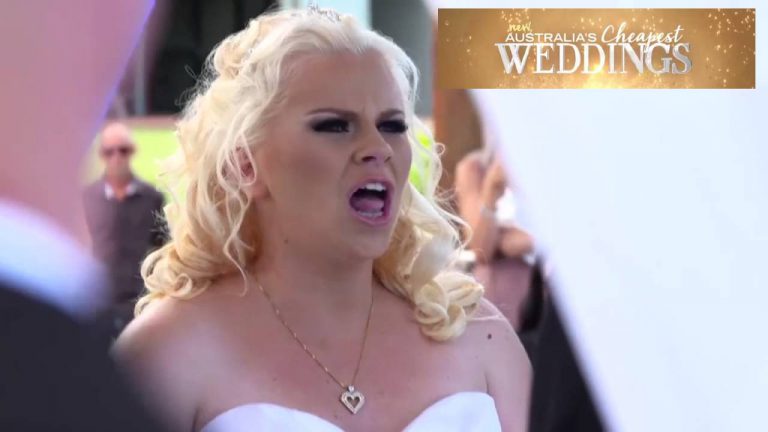 Australia's Cheapest Weddings – 'They turned our special day into a joke'
The episode trailer showcasing a Queensland couple's wedding has been seen by more than one million people, but the stars of the reality show Australia's Cheapest Weddings are not happy to be in the spotlight.
They feel like their special day has been tarnished at the hands of Channel Seven producers after creative editing turned a romantic gesture into cheap laughs. Lots of cheap laughs. It was a bit funny to be honest, you guys.
Emma and Steve Dilliway are the latest reality show participants to come forward expressing their dismay and humiliation at the production process. They claim that Emma's singing to Steve at the ceremony was edited to remove a backing soundtrack. They also allege that footage of the groom and father-of-the-bride looking embarrassed and uncomfortable were cut in out of context.
Emma's brave serenade has featured on the trailer for the series, resulting in the couple being ridiculed online over the past few months. The episode featuring the couple's wedding hit our screens on Monday night.
Personally, I think it was sweet. Would I want to listen to it again? No. Would I want her to sing at my wedding? No. Would I want my husband singing awfully but sincerely during my ceremony? I think that would be the most special, endearing thing in the world. Would I want anything about my wedding day aired on national television on a reality show? Hell no.
While I think it was kinda mean to remove the backing music and edit in the awkward looks, this is what reality television is. The couple didn't sign up for a documentary, they signed up for a reality show. Their event was fodder at the hands of the producers whose job it was to make it entertaining viewing. Nobody was forced to do anything they didn't voluntarily sign up for.
It is 2016 and we've all seen enough reality television to know how the genre works. Creative editing is one of the biggest tools in the reality shed.
The episode featured many other humorous moments that have no doubt been taken out of context.
One bride bought her wedding dress off eBay from China for $250 and it arrived with weird nipple pads. She had to ditch it and hit the high street for a more expensive, better quality gown.
Another couple celebrating their special day on the cheap hired local chef Howard who delivered the best $50 chocolate mud cake I've ever seen. He also decorated the venue and provided the buffet at a discount. Howard was lauded as the hero of the event, with middle aged women telling the camera that they wouldn't mind a piece of him.
Fireworks set off a grass fire at a bush wedding, resulting in wedding guests scrambling for a water tanker. They got it under control and continued with the festivities. This was after a blackout following the main generator running out of fuel. They siphoned some out of a guest's Camry and continued with the event happily.
These human elements are every day life, part of reality. This is why we watch reality television, for the unscripted moments that remind us that people everywhere are basically the same. Any of these weddings could have been one that we have all attended. The singing could have been anyone's sister or cousin, even you or me.
Actually, no scratch that. It wouldn't have been me. My singing is just as woeful but you won't catch me doing it on reality tv!
ScreenQueen x
Images: Channel Seven