Awkward Kisses, Oily Tongans and Flaming Arrows in the Neck – Catch up with ScreenQueen's 2 Minute Review of the Week in Television!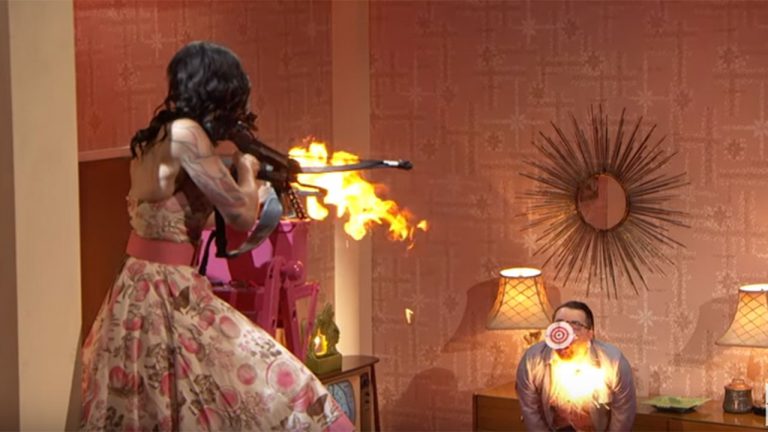 Awkward Kisses, Oily Tongans and Flaming Arrows in the Neck – Catch up with ScreenQueen's 2 Minute Review of the Week in Television!
Did you miss the good stuff on television this week? Catch up on the moments everyone's talking about with ScreenQueen's quick 2 minute review. We've got loads of live tv blunders this week, as well as kisses that don't meet their mark, ghost sperm and an oily Tongan with a big flagpole.
Family Feud All Stars – The Real Housewives vs I'm A Celebrity

Family Feud All Stars aired on Monday night and it was surprisingly entertaining! Janet, Jackie, Susie and Gamble represented The Real Housewives of Melbourne, and the Chief, Fev, Jo-Beth and Laurina made up the squad for Team I'm a Celebrity. It was neck and neck throughout the rounds, with Jo-Beth producing the winning answer time and time again.
In the end though, the Housewives got through to the final round, and it was up to Jackie and Janet to get 200 points to win up to $30,000 for Janet's Roach Foundation, providing critical support and treatment services to burn victims.
And she nailed it, ending up with a massive 258 points once all her answers were tallied!
The Bachelor goes in for a pash… and misses!
In the most awkward moment on this season's The Bachelor Australia yet, Richie leaned in to give Megan a romantic kiss, complete with face touch and everything. But at the last nanosecond, Megan misread his intentions and turned her head to the side, his kiss landing neatly on her cheek instead.
Opportunity = missed!
Happily though, they did mack on shortly afterwards. And she got her rose so she'll live to bitchfight with the other ladies another day. Full recap here.
And speaking of awkward kisses…
Rebecca Judd isn't having it
As she wrapped up her final moments before going on maternity leave, Rebecca Judd chatted to co-hosts Peter Hitchener and Tony Jones about her twin boys, due in October. She visibly flinched when Tony Jones placed his arm around her, and then recoiled away from him as he went to give her a goodbye kiss, much to the amusement of Hitchener.
Clearly embarrassed, Jones crossed his arms and said "This has gone well."
Gotta love live TV!
The Rio Olympics Opening Ceremony featured an oily Tongan and the internet went nuts
Seriously, this Tongan is all anyone can talk about. The internet is abuzz with people claiming they are moving to Tonga immediately after spotting this guy walking onto the Maracanã arena waving his big flagpole about. Highlight of the entire gig.
America's Got Talent contestant struck with a flaming arrow
In the neck! Live on air!
Comedy daredevil Ryan Stock was hit by a flaming arrow shot by his fiancee on live television. AmberLynn Walker intended to strike the target that was stuck to a long metal pipe inserted into Stock's mouth and down his throat but instead got him in the neck.
The Canadian dare-devil stuntman reportedly walked away from the incident and was checked over offstage, later posting this tweet.
We had a serious mishap tonight outage live on @nbcagt. A very unfortunate mechanical failure but I am very fortunate to walk away from it.

— Ryan Stock (@comedydaredevil) August 3, 2016
I imagine this is something that this poor woman will never live down. They'll be having a marital fight and all he'll have to say is "Yeah, well remember when you shot me in the neck with a flaming arrow??" and he'll win the fight every time.
Patrick returns to Offspring – sort of…
In the final moments of last week's Offspring episode, we learnt that Patrick had some of his sperm frozen while he was married to his ex-wife Jodie. Now it has been offered to Nina. In case she might want to have more children by him, despite the fact that he is, you know, dead.
And so Patrick will make a return in Nina's fantasies and inner monologues while she grapples with the concept of baring more of his children.
All of this will happen, of course, after the Olympics.
ScreenQueen x
Images courtesy of Channel 10, Channel 9 and YouTube.