The Bachelor Left Shocked and Confused After Favourite Sweetheart Rejects His Rose – S4 Episode 7 Recap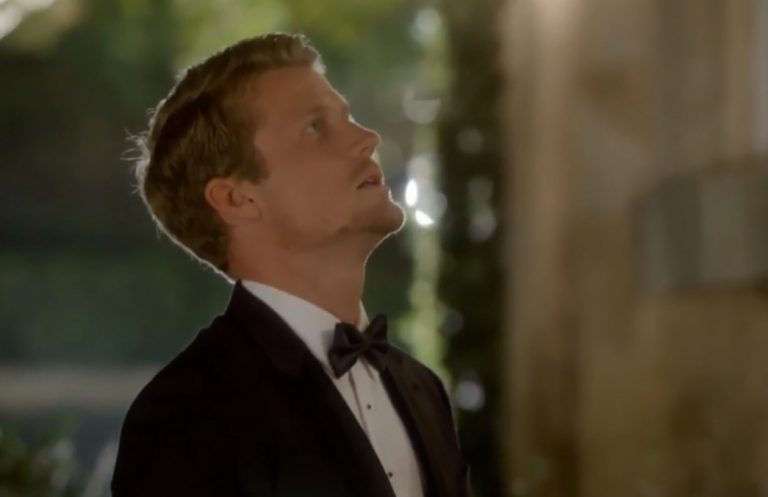 The Bachelor Left Shocked and Confused After Favourite Sweetheart Rejects His Rose – S4 Episode 7 Recap
One of the favourites to win The Bachelor Australia 2016 rejected Richie during the all-important Rose Ceremony, leaving him shaking with shock and confusion. Also, intruders on dirt bikes! The Bachelor Australia is heating up…
Firstly though, the single date. And the lucky lady is… Rachael!
She gets to spend a day with Richie, ohhh but where? The customary sweeping aerial shot across Sydney Harbour gives us no indication, they could be doing literally anything. Anything!
The excitement is thick in the air as Rachael speeds towards her Bachelor date aboard a little boat. Or is it a yacht, Faith? Nobody's sure. It's all so exciting!
As the pirate tall ship comes into view, we realise that Rachael's date will involve hanging out on a boat. Cool bananas, I guess.
Rachael seems happy with Richie's preparations, remarking that the date is perfectly suited to both of them. Richie works with ropes in his job as a "rope access technician" and Rachael likes boats and being on the water.
Now that we have an explanation for the seemingly odd choice of venue, the couple sit and chat about how they are both taking huge risks being on the show and how risky it all is taking risks and stuff. Suddenly, Richie stops talking mid-sentence, absolutely shocked.
"My hands are blue!," he says. "I'm a smurf. Haha. Haha. Haha."
It's time to do pretty much the only thing you can do on a date on a tall ship – climb to the crow's nest and do a cringey Titanic "king of the world" thing.
Once they've ticked that off the Bachie Bucket List, they strip off and go for a swim. Because it's not a date unless we get to see both the bachelor and his bachelorette-of-the-day in their swimming costumes.
Rachael does an impressive backflip off the front of the boat, sending Richie into a panic. You can see him immediately turning to the producers, seeking an explanation as to how he is meant to eclipse that effort in order to keep his fragile masculinity intact.
He tries his best. But it's just not as good as Rachael's performance and Richie's ego is dented.
After Rachael tries to drown him because, and I quote, she's "really bad at flirting", they decide to head back inside the boat for some rum tasting.
They are given the oldest, most potent rum first, straight up. No ice, no mixers, just rum. Just like how the pirates would drink it. There are plenty of giggles as they sniff it and do all the posh swirling and stuff. And then down the hatch!
Starting to see why Richie has no hair on his chest.
The rum expert guy behind the bar then pours a less potent rum for them and pops a little ice in it. He doesn't call them big babies, but you can tell he's thinking it.
The couple sit and chat on a couch, as per the script. Then they pash a little, as per the script. And then Richie produces a rose, you guessed it, as per the script.
Haha. Haha. Richie and his nervous laughter is starting to do my head in. Haha.
Back at the Mansion the next day, the ladies are ready for their garden party, and all are invited. They are dressed to the nines and supplied plenty of bubbly for the occasion. But where is Richie?
I'll tell you where Richie is. He's out in the bush, wearing a flanno, and just generally wandering about when he is surprised by Osher, who leaps out from behind a bush. (I may be dramatising a little here.)
Here we go, ladies and gents! INTRUDER ALERT! INTRUDER ALERT!
The first one rocks up in a white tank top on a quad bike. Her name is Steph and she's blonde and a model.
Richie tells her she's hot. He's smooth like that.
Then the second one arrives, riding a dirt bike and getting the speed wobbles through a puddle. She talks like Minnie Mouse and says her name is Sarah. She immediately asks for a cuddle.
Richie just about creams his jeans.
The third one arrives on horseback, all preppy-like and delicate. Her name is Khalia and while she's a brunette (massive disadvantage), she comes from Western Australia like Richie (enormous advantage).
Richie acts super impressed that she's studying law and pretends to understand what she's saying.
So here they are. Sarah, Khalia and Steph.
I'm sure they are all super lovely and talented and kind and stuff. But I think the hair, makeup and wardrobe departments have let them down terribly. Jewel-toned satin? Is it 1987 again? Who is in charge of lipstick on this show, and why is it always so bad? And why is Khalia's dress emphasising her vagina like that? It's like a frickin' black and beige target. RIGHT HERE, BOYS.
Back at the house, the girls are getting increasingly pissed, both in the annoyance sense, and the inebriated sense. Richie is late.
"Where is Richie?" enquires Noni. "We've eaten all the cakes".
Richie is off having little mini-dates with the intruders. Lots of tomboy activities doing doughnuts on quadbikes and such. Lots of sitting on blankets and chatting while ignoring perfectly good food.
But suddenly! A helicopter arrives and all the girls are sent into a tizzy.
Richie's here! But hang on, there are THREE shadows in that chopper. And Richie doesn't have long blonde hair.
INTRUDER ALERT!! INTRUDER ALERT!!
Alex is not pleased.
"I think Richie deserves the best, and I don't think the intruders are gonna cut it", quips Keira, in between licking her teeth.
Osher arrives and introduces the new ladies as "guests". After hours of waiting impatiently for their Bachelor while drinking plenty of house wine, the original girls are getting shitty. Especially when they find out that all three newbies have already met Richie and spent alone time with him. He stood them up for these new girls! Not happy, Jan.
Fights begin to break out between the ranks. The old girls agree that they have done their time, they deserve Richie's attentions, not these new dolly birds. Thirteen is far too many women, ten is the perfect number.  (really?)
The new girls ask about the old girls, who is naughty and who is nice? Kiki takes this opportunity to warn the new girls about Keira, then Georgia runs straight to Keira to tell her that Kiki was bitching about her.
Shit's about to go down, y'all.
She's like some pretentious hormonal frog, you guys.
Keira, despite summoning Kiki to "come here, right now", has shut herself in the dunny and is telling Kiki to leave her alone, or, as she colourfully put it…
Keira is pissed as hell, but no one else seems to care because she's always pissed about something. *LICK*
On to the Rose Ceremony, and Rachael is safely clutching her rose in the corner as Richie calls out the girl's names.
All goes as per the script until he calls Megan's name.
She steps forward, but says that she cannot accept.
Richie is crestfallen. The other women are shocked, but secretly thrilled. Georgia says what we are all thinking.
She takes him outside to explain. "I can't fall in love with such competition and such intensity." In other words, "this is bullshit and I'm done".
Yay! Go Megan!
"What just happened?", Richie wonders. "SHIT!"

He pulls himself together and continues with the ceremony.
It comes down to new girl Khalia and Georgia. And he chooses Khalia.
Georgia is mad as hell, and after she breezily says goodbye, she goes on an epic rant in the car.
And then drops this clanger…
Farewell, Georgia. Kinda wish we'd seen more of that mouth earlier.
Stay tuned, for the second Bachelor ep will screen tonight at 7:30 on Channel Ten.
ScreenQueen x
Catch all of ScreenQueen's Bachelor Australia episode recaps here.
Images courtesy of Channel Ten.