The Bachelor's Richie shares WAY too much info about his first night of passion with winner Alex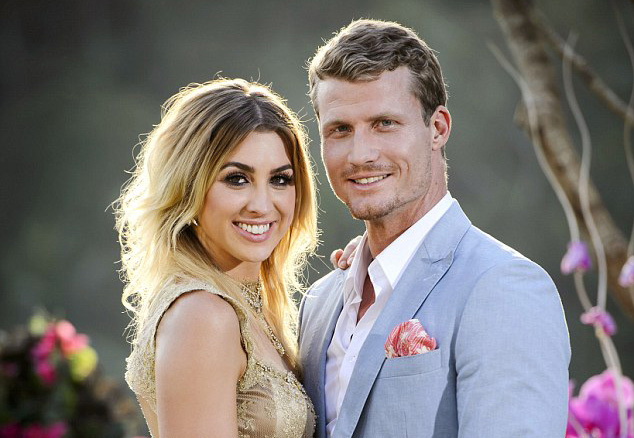 The Bachelor's Richie shares WAY too much info about his first night of passion with winner Alex
The Bachelor Australia has signed off for another year with Richie Strahan declaring his love for single mum Alex Nation. The result has left viewers shocked and dismayed after fan favourite Nikki Gogan was heartbreakingly ditched in the finale.
Richie, 31, and Alex, 24, discussed their journey of love with Kyle and Jackie O on Friday morning, opening up about their first night of passion. The Bachelor admitted that it came as a relief after months of built up sexual tension.
'There was so much built up tension, it was three months of having the biggest blue balls in Australia. To get to the finale was great!' Richie declared on national radio. He actually said that.
The couple revealed that they wasted no time getting intimate after the production crew had finished packing up the equipment.
'There was a funny story. After the finale we got dropped back to villa and the moment we got back [to our room] we just looked at each other … the camera crew were trying to leave,' Richie shared candidly. Great!
His break up with hot favourite Nikki was as brutal as it was shocking. All signs indicated that she would be chosen to win Richie's heart but at what seemed like the final moments of the series, he told her that his heart was with Alex instead.
Perhaps it was a ploy by Channel Ten to creatively edit the series to make it look like Nikki was a clear favourite? It certainly worked.
Following the shocking result, Bachie fans took to Twitter, slamming Richie for his decision.
YOU CAN FOLLOW YOUR HEART STRAIGHT TO HELL RICHIE #BachelorAU

— mimi petrakis (@mimi_is_bored) September 15, 2016
I'm not one for violence but I would 100% punch Richie in the face if given the opportunity. #TheBachelorAu

— Osman Faruqi (@oz_f) September 15, 2016
Honestly what the hell. Royal commission into the Bachelor ASAP

— Hannah (@HannahBarry93) September 15, 2016
RICHARD, I hope your mother reminds you every single day how disappointed she is in you #BachelorAU #TeamNikki

— Hayley Fitzpatrick (@fitzhayley) September 15, 2016
This is like that year on The Block when no one got any money. #TheBachelorAU

— Chris Urquhart (@chrisurquhart) September 15, 2016
Even former Bachelorette Sam Frost expressed her confusion.
WHAT IS HAPPENING????!!!!!!! ??????????????

— Sam Frost (@Sam_Frost) September 15, 2016
Right or wrong, at the end of the day it is his decision and I wish Richie and Alex (and her 5 year old son, Elijah) all the very best. And to the producers, please, please make Nikki the Bachelorette next year. She is sweet and gracious and so, so deserving of finding love. Make it happen. #teamNikki
images courtesy of Channel Ten