Bathing in Lindt Chocolate – The Bachelor's Idea of a Romantic Date. Sexy or Not? S4E10 Recap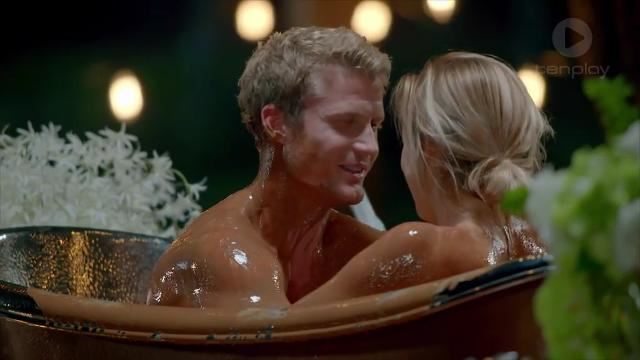 Bathing in Lindt Chocolate – The Bachelor's Idea of a Romantic Date. ? Sexy or Not?  S4E10 Recap
In this episode recap, the ladies partake in a revolting competition and Bachelor Richie and single mum Alex relax in a chocolate bath.
Osher arrives with the surprising news that one of the ladies will have a single date with Richie. Naturally, all the ladies want it to be them. And they are all secretly horrified when it is revealed that the recipient is…
No, she's not creepy at all.
It's time for the date, and Richie shows up in a motherfucking Ferrari.
Alex, the least petrolheaded of the ladies, is suitably impressed and throws her head back with delight as Richie speeds through the country roads of NSW. I'm sure he's breaking the speed limit as he crosses the double yellows around the bends but no one cares. I'd like to see the first venue of the date set in the Bowral police station holding cell, with scatter cushions, tea light candles and throw rugs decorating the wooden bench and concrete floor. Their passionate kisses interrupted by the local sargent explaining his conditions of bail.
But alas, they end up at a fancy manor house instead, ready for a chocolate making afternoon with a Lindt chocolatier.
"Chocolate is easy to flirt with," says Richie, as he and Alex start the sort of chocolate smearing fight usually reserved for wedding cake cutting.
They create their own chocolate concoctions under the watchful eye of the chocolatier.
"I'm going to put some salt in mine, because you're incredibly grounded," says Richie assuredly.
I think we're gonna need an interpreter from now on.
Back at the house, the other women receive the invitation to their group date and are shocked to learn that Alex has been invited too. They think she's been spending too much time with Richie and want her to take a break. Not likely.
Our bachelor has one last surprise for Alex on their chocolatey date. Someone was certainly high on something when they devised this shit, I swear. Behold, the chocolate bath…
Seriously.
"Chocolate's good for releasing serotonin, the chemical of lurrve," Richie wisely tells Alex as they get in.
Can you imagine how long it would take to get clean after this? Not sexy.
"You're like a Coconut Rough," Richie says. Richie says a lot of confusing things.
"I'd like to propose a toast. Here's to releasing the chemical of love"
And I am forever telling my kids not to drink the water in the pool at swimming lessons because there's bottoms in the water. This is a whole nother level of stupid. 300 litres of stupid.
The Bachelor produces a rose and immediately drops it in the chocolate. He tells Alex that she's sweet.
Then they both dunk themselves into the chocolate.

I think Australian television has hit a new low.
Alex returns to the house and is forced to stand in front of the other ladies and explain why her rose is drenched in chocolate. They are not pleased at all.
The next day is the much anticipated group date. How can the producers top that chocolate bath?
Haggis Eating! Caber tossing! Sheath throwing! Bagpipes! Kilts! Tartan! Truckie singlets!
The First-Ever Bachelor Highland Games!
As exciting as all that sounds, it's wasn't very.
That is, until Osher led them to a table set with three silver cloches. Sarah and Rachael represented each team to compete with Richie to see who can win an eating competition. A haggis eating competition.
Nikki summed the situation up pretty well. "The haggis looked disgusting. It was a balloon. A really gross balloon."
Richie was repulsed, voicing his disgust to Osher as the challenge was revealed.
"It smelt like the devil's armpit. This thing was horrible."
Richie, Rachael and Sarah had five minutes to eat as much of the Highland delicacy as they could – right after Osher told them what was in it –  lamb's liver, lungs and heart, oatmeal, onion, and seasoning, all wrapped up in a sheep's stomach.
*blerk*
The ladies on each team took turns to dig into the haggis and I couldn't watch. And I thought the chocolate was too much.
In the end it was a three-way tie and everyone got to attend a Highland Hoedown and dance the night away.
Really starting the think the producers are just taking the piss now.
At the cocktail party, Richie pulls Olena aside to talk about their feelings. He feels that Olena isn't giving him as much of her personality as he wants. She fears she is going home.
Over at the Rose Ceremony, the script is being followed as per usual. Osher runs everyone through the simple math that means that one lady will miss out on a rose and be sent home.  Only Alex is safe and blessed be, they've given her a new rose to hold instead of that soggy chocolate-sodden excuse for a flower she came back from the choco-mansion with.
One by one the girls are called up to receive a rose until finally, only two remain. Sarah and Rachael.
Predictably, Richie gave the final rose to Rachael and intruder Sarah is sent home.
Could see that coming a mile off. Girl couldn't even tell him what her deal-breakers were.
Catch you next week!
ScreenQueen x
Read more of our The Bachelor Australia 2016 episode recaps here.
Images courtesy of Channel Ten.