Topless Tongans and Giant Goonbags – All the Best Bits from the Rio 2016 Olympics Opening Ceremony – in Gifs!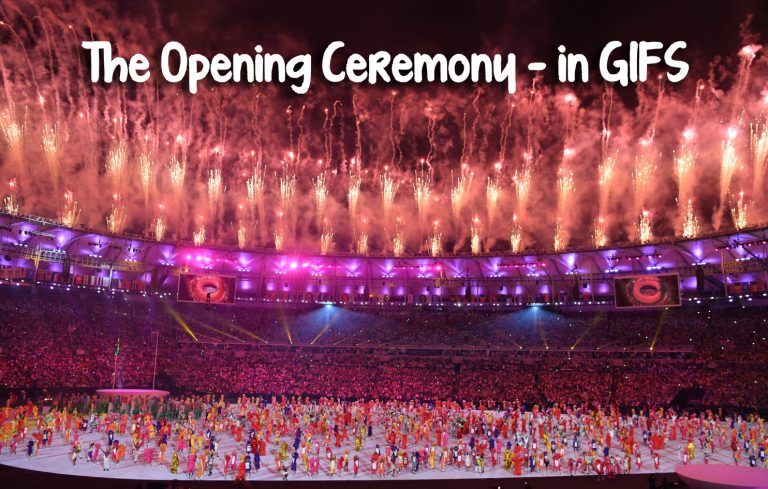 Topless Tongans and Giant Goonbags – All the Best Bits from the Rio 2016 Olympics Opening Ceremony – in Gifs!
Here are all of the very best moments from Maracanã Stadium, at the Opening Ceremony for the Rio 2016 Olympics. Watch the Australian's enter the arena and check out the glory that is Tonga's flagbearer! Hubba hubba!! You won't see these gifs anywhere else – they are exclusive to Mum's Lounge.
There were fancy fireworks that spelled out the host city's name.
Loads of fireworks. So many fireworks!
They had massive goon bags!! Dozens of them! I thought for one magical moment that maybe there was some mistake and the Olympics were being held in suburban Australia! Heartbroken at the thought that there really weren't giant bags of wine, I sat back down again.
There were creepy giant spiders, wandering across the arena.
European settlers on boats moved through fibreoptic vines, symbolising colonisation.
The cities grew fast shortly afterwards, with parkour athletes bounding across the rooftops and scaling walls effortlessly. These people in pink were pretty amazing to be honest. Flipping upside down and moving across the vertical walls like insects. Amazing to watch.
Giselle Bündchen strutted her stuff across the stadium. I'm glad it was her and not me, I would have stacked it for sure!
And then the entire event turned into a massive dance party, with people rocking out everywhere, paying tribute to Brazil's rich musical history.
That's Giselle in there, dancing like there's no tomorrow.
The athletes were led out by happy Brazilians riding colourful tricycles with spinning signs and whirling flowers on the front. Kinda want one of these if I'm honest.
The Aussies marched out proudly lead by our flagbearer Anna Meares.
And check out the Tongan flag bearer, you guys!

Finally, it was time to bring in the Olympic torch to light the cauldron.
Brazilian marathon runner Vanderlei Cordeira de Lima was given the immense honour.
His big moment in front of his country, and the cauldron caught the flame immediately.
The cauldron began to rise, up, up…
We got a glimpse of where it might reside for the next 2 weeks.
Wow, just WOW!
The Olympic cauldron from other angles is just as amazing.
Game on!!