The Very Best Moments from the Rio Olympics So Far {UPDATED}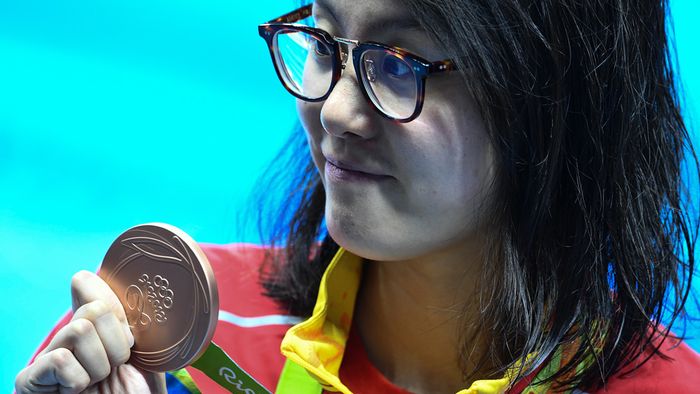 The Very Best Moments from the Rio Olympics So Far {UPDATED}
UPDATED AT 10.40am Wednesday 17th August
As Mum's Lounge's resident television correspondent, I take my job very seriously. I'm here to wade through all the crap that is on the box these days, and bring you the good bits, the funny bits, and the sheer insane bits. We're busy mums, we don't have time to watch two solid weeks of Olympic action to see the all the moments worth watching! So here they all are, in one spot. The very best moments from the Rio Olympics. I'll be updating as we go.
x ScreenQueen
Aly Raisman's parents are all of us
US gymnast Aly Raisman performed during the the U.S. women's gymnastic team's qualifying round on Sunday and her parents were nervous as hell. They sat squirming in the stands while their daughter executed her routine, sparking much amusement around the world.
We all want our kids to do well, I get it. And whenever my children make me play MarioKart or whatever on the Xbox, I'm always stupidly leaning to the right as I use the controller, like it makes any difference to my steering at all.
Apparently they do this all the time, which is why they have at least one camera trained on them during Aly's performances.
North and South Korean gymnasts embody the Olympic spirit with a selfie
During a practice session, 17-year-old Lee Eun-Ju of South Korea and 27-year-old Hong Un-Jung of North Korea laughed and chatted and took a photo together.
This sweet moment, captured by another photographer, positively radiates Olympic spirit amid hostile relations between the two countries. Political scientist Ian Bremmer shared the image and tweeted: "This is why we do the Olympics."
Brazilian women's rugby player gets first Olympic marriage proposal
Isadora Cerullo, 25, was a member of the Brazil squad that narrowly missed out on reaching the knockout rounds.
After the medal ceremony following the first women's rugby sevens final had ended, Marjorie Enya, Cerullo's girlfriend and a manager at Deodoro Stadium, asked her to marry her.
"As soon as I knew she was in the squad I thought I have to make this special," she said.
Congratulations to them both!
Michael Phelps and his terrifying game face
US swimmer Michael Phelps was spotted preparing for his 200m butterfly semi-final practically snarling at South African arch rival Chad le Clos who was warming up in front of him. Seriously, his nostrils are flaring and everything.
41 year old Gymnast competes in her 7th Olympic Games
Oksana Chusovitina is currently competing in her 7th Olympic Games, and at 41 is the oldest female gymnast in history. She has competed for 3 different countries at Olympic level -the Soviet Union, her native Uzbekistan after the fall of the USSR, and her home country Germany while her son was receiving treatment for leukemia. She is currently representing Uzbekistan again and competing against gymnasts younger than her 17 year old son. Age is but a number, ladies!
The Mens Gymnastics was Beautiful
I'll just leave these here. 
Michael Phelps says 'everybody pees in the pool'
With a total of 26 medals (and still counting), US swimmer Michael Phelps is the most decorated Olympian of all time. And if he says that everyone pees in the pool, I'll believe him.
"It's kind of a normal thing to do for swimmers. When we're in the pool for two hours, we don't really get out to pee, we just go whenever we are on the wall," he said during a 2012 interview with the Wall Street Journal. Great! Good to know.
Santo Condorelli flips the bird before every race
This is actually super awesome. Before every race, Canadian swimmer Santo Condorelli flips the bird. Lots of people get confused, thinking he is flipping off his fans or his rivals, but there is a great story behind it. He is doing it to his dad, who's watching from the stands.
When Santorelli was about eight-years-old, he was frustrated because he kept losing at all of his swim meets. He was small for his age and intimidated by the bigger guys he was competing against. That's when his dad, Joseph Condorelli, came up with a way to build up his son's confidence. "I told him 'enough is enough'," said Joseph. "When you get on the blocks, just put everything out of your mind and swim like there's nobody near you. He said to me 'how do you do that?' and I said 'well, you say **** it'. So he looked at me in the crowd, and we both gave each other the finger, and he started winning race after race and we never looked back."
As his career rose to Olympian heights, he's had to curtail the gesture slightly to avoid upsetting people. Here he is adjusting his swimming cap.
We know Richard can swim, but can he dance?
I'm sure he can. 
Naked Diving!
Well, maybe not really. But it certainly looks like it.
I, for one, would welcome naked diving as an official Olympic sport in 2020. And yes, that man's real name is Steele Johnson. See, he'd be perfect for the sport!
The internet has fallen in love with adorkable Chinese swimmer
Chinese swimmer Fu Yuanhui has won the hearts of internet users around the world following her adorkable reactions during tv interviews. In the footage above, the happy 20 year old learned that she made the finals and clocked her personal best.
Sometimes you just gotta let your light shine and forget about playing it cool in front of the whole world like everyone else.
Kyle Chalmers' Grandparents Celebrate his Gold Medal Swim
Malcolm and Julie Bagnell screamed and cried as their grandson Kyle Chalmers swam into the history books, winning gold in the 100m freestyle final. The couple watched the race from their Adelaide home, and their reactions warmed the hearts of many Australians. Mr Bagnall jumped from his seat while his wife sat quietly with tears in her eyes like every proud nanna that ever lived. ♥
Two hours of action came down to one kick
PENALTIES #AUS 6-7 #BRA. The game goes to #BRA after a thrilling penalty shoot-out! #Football #Rio2016 https://t.co/HfIGhRGGOB

— 7Olympics (@7olympics) August 13, 2016
The Matildas bowed out of the Rio Olympics after a heroic penalty shoot out in the quarter finals. They were beaten by Brazil 7-6 on penalties after the sides were locked in a nil-all stalemate after extra time.
It always sucks to lose in a penalty shoot out.
"Shattered. Such a shit way to go. Proud of everyone tonight, we gave it everything," Australia's Caitlin Foord tweeted.
Poolgate
Days after two pools at the Maria Lenk Aquatics Centre in Rio de Janeiro turned emerald green, we finally have some answers. Apparently 80 litres of hydrogen peroxide was dumped into the two pools instead of chlorine, neutralising the effects of the existing chlorine and causing them both to turn a murky shade of green.
Even worse, US swimmer Ryan Lochte recently dyed his hair silver (for reasons best known to himself) and unfortunately, he is no longer a silver fox as the Rio pool water has turned it a fetching shade of green. Ha.
Multicultural beachwear
Women's beach volleyball uniform rules were changed before the London 2012 Olympics, allowing competitors to wear the hijab during competition, including this member of Egypt's women's team. Kinda makes you wonder why women are forced to wear tiny bikinis to play the sport in the first place, hey? I know which outfit would give me more sun protection and keep sand out of my hoohah. But hey, whatever. The winner here is diversity.
Little and Large
Ragan Smith, 16, is a reserve for the US gymnastics team, and is just 137cm (4'6″). Here she is posing for a photo with US basketball player DeAndre Jordan, who is 210cm (6'11") plus hair. What a great photo!
Did she dive or did she stumble?
Call it whatever you want, because it doesn't matter – Bahamian Shaunae Miller won a gold medal in the women's 400m race for crossing the line with part of her body before anyone else, even if she wasn't still on her feet. And because an American sprinter came second, US internet users are kicking up an almighty stink over it.
This sort of thing is allowed in the sport, and athletes all over the world having been doing it for years. Good on her. It must have hurt like the devil too.
Fu Yuanhui mentions her period in a post-race interview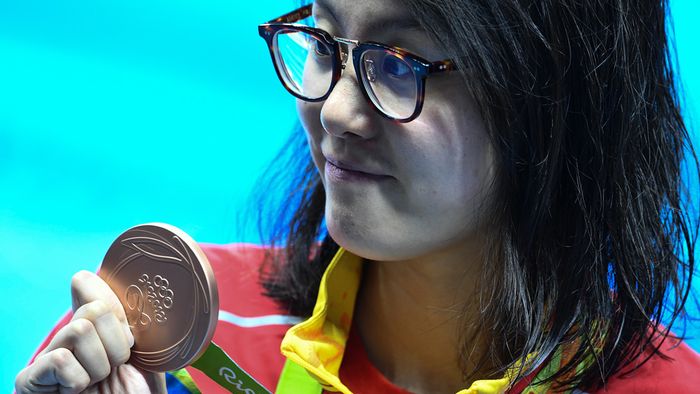 Chinese swimmer Fu Yuanhui is being praised by women the world over for her honest post-race interview, where she mentioned that she was on her period.
The 20 year old backstroker helped China's 4×100 medley relay team to a fourth place finish in their final on Sunday, narrowly missing a medal. As her three teammates were being interviewed, Fu was spotted near the starting blocks doubled over in pain.
"I didn't swim well enough this time," Fu later told Chinese broadcaster CCTV. "It's because my period came yesterday, so I felt particularly tired. But this isn't a reason, I still didn't swim well enough."
Publicly discussing periods has become somewhat of a taboo subject of late, especially for female athletes at an Olympic level. Swimmers even more so.
Fu has become an internet sensation for her larger than life personality and hilarious post-race interviews.
After winning bronze in an event, the interviewer told her she was only one-hundredth of a second off winning the silver medal.
"Then I blame it on my arms being too short," Fu replied.
Of course they are Australian. 😀
This is something we'd all do at some point, right? And the supportive repositioning by her teammate positively screams "you're an idiot but I still love you". One of the best Aussie moments of the Olympics so far!
When you're in the middle of a 100m sprint and remember you need a new profile pic for your Facebook
The fastest man in the world, Usain Bolt, flashed his fellow competitors a cheeky smile during his 100m semi final. The whole race goes for less than 10 seconds and the man is so fast that he had time to smile at people and still win. He went on to win gold in the final thirty minutes later.
As to be expected, the internet went nuts with funny new memes, like this one.
Even commentators have bad days too
Here are the top nine comments made by sports commentators and athletes during past Olympic Games that they would like to take back if given the chance:
1. Weightlifting commentator: "This is Gregoriava from Bulgaria . I saw her snatch this morning during her warm up and it was amazing."
2. Dressage commentator: "This is really a lovely horse and I speak from personal experience since I once mounted her mother."
3. Paul Hamm, Gymnast: "I owe a lot to my parents, especially my mother and father."
4. Boxing Analyst: "Sure there have been injuries, and even some deaths in boxing, but none of them really that serious."
5. Softball announcer: "If history repeats itself, I should think we can expect the same thing again."
6. Basketball analyst: "He dribbles a lot and the opposition doesn't like it. In fact you can see it all over their faces."
7. At the rowing medal ceremony: "Ah, isn't that nice, the wife of the IOC president is hugging the cox of the British crew."
8. Soccer commentator: "Julian Dicks is everywhere. It's like they've got eleven Dicks on the field."
9. Tennis commentator: "One of the reasons Andy is playing so well is that, before the final round, his wife takes out his balls and kisses them . . . Oh my God, what have I just said?"
MORE TO COME