Catch up with ScreenQueen's 2 Minute TV Review (NSFW)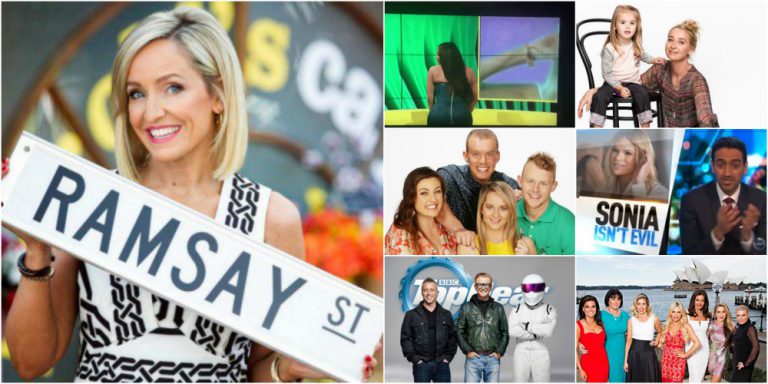 Catch up with ScreenQueen's 2 Minute TV Review (NSFW)
Catch up on the tv news that everyone's talking about with ScreenQueen's 2 minute TV review of some of the most notable things that happened on Aussie television this week. Not Safe For Work tag due to a hilarious wardrobe malfunction gif. POPflubb!
Offspring
Angus is upset with Nina for leaving him in a bar and going home with Franklin instead, and calls her a "pantslady". Mick comes home from London to see Billie and brings some stability and calm to the Proudman family. Geraldine leaves to holiday in Amsterdam but stays with Marjorie instead, and Jimmy decides to become an Uber driver after Boomer from Wentworth accidentally gets in his car. Staff photos are taken and Nina becomes the face of the hospital right before a video of Kim mistreating a fake baby goes viral. Next week Nina guest stars on The Project to address the concerns that St Francis is the worst hospital in Australia. Read a full recap of the episode here.
Sonia Kruger
The Voice host Sonia Kruger appeared on The Today Show calling for a ban on Muslim immigration. Her extreme views shocked co-hosts David Campbell and Lisa Wilkinson but Sonia insisted that her opinion be discussed as free speech is important. It was obvious that her views stemmed from fear after the Nice terrorist attack and the whole thing blew over pretty quickly. Now we want to know what XFactor host Luke Jacobz feels about the situation in Turkey, and if The Block's Scott Cam is for or against Brexit.
Waleed Aly responds
Australia's most prominent Muslim TV presenter, The Project's Waleed Aly responded to Sonia Kruger's extreme views with possibly the most constructive response yet. Waleed said that Sonia Kruger isn't evil, just fearful of the future of Australia – something that he can relate to. He said he has lost count of the times that hostility and outrage have gone viral, and just once he'd like to see forgiveness go viral. He has clearly forgiven Kruger for her comments and agrees that these are dark times. "But the best thing to do is reach for a flashlight and not start a fire."
New TopGear
We got a gander at the new series of TopGear sans Jezza, Hamster and Captain Slow. And while it was absolutely slammed by critics, I actually didn't mind it at all. Not entirely in love with red headed host Chris Evans but I will happily watch Matt Le Blanc boil an egg, so his inclusion as co-host was a welcome change. And good news – they got custody of The Stig! Just don't mention the caterers…
Biggest Wardrobe Malfunction Ever
Lateysha Grace, a poor lass on the British version of Big Brother, did some twerking on stage in a very very tight dress and the zipper gave way under the extreme pressure of her glorious arse. While this is my personal nightmare, this is possibly every reality star's dream, extending her 15 minutes of fame by another three minutes or so. It's just mesmerizing, isn't it? POPflubb!
Masterchef Update
Mimi Baines was eliminated from the cooking competition on Wednesday with controversy surrounding the error-riddled challenge. All the contestants screwed up in some way or another but her mistake was apparently unforgivable. She used the wrong cheese. It is now semi final week and there are four remaining contestants, Elena Dugan, Matt Sinclair, Elise Franciskovic and Harry Foster. The winner will be announced during the big Grand Finale on Tuesday 26th July.
Fifi Box to join Neighbours
And not for a quick publicity stunt either, but for an honest-to-goodness actual acting gig. Fifi Box will play Brooke Butler, an "opportunistic, flighty and dubious woman who relies on her looks to get by." Brooke is also the wayward mother of Xanthe Canning, estranged girlfriend of Gary Canning and de-facto daughter-in-law of the Canning family matriarch, Sheila. Alrighty then!
The Real Housewives of Sydney are here
The Real Housewives of Sydney will begin filming in September and will premiere on Foxtel's Arena in 2017. The housewives are…
• artistic, free spirit Athena X Levendi
• energetic ex-model turned real estate agent Krissy Marsh
• funny, opinionated mother of two Lisa Oldfield
• cosmetic nurse and Beauty Expert of Sydney Matty Samaei
• triple threat, actress, model, singer Melissa Tkautz
• photogenic party planner and former Miss Australia Nicole O'Neil
• entrepreneurial mum and social scene queen Victoria Rees
Play School
Australia's best loved children's programme celebrated it's 50th birthday this week with a star-studded series of episodes, including the likes of Missy Higgins, Magda Szubanski, Molly Meldrum, You Am I, Adam Goodes, Hamish Blake, Charlie Pickering, Guy Sebastian, Josh Thomas and Carrie Bickmore. Have a squiz at some of their funniest moments over the years here.
Now you're all caught up! You know everything you need to know about things that happened this week on Aussie telly.
ScreenQueen x