Celebrity Lookalikes, Models and Strippers – The Bachelorette Australia kicks off in fine form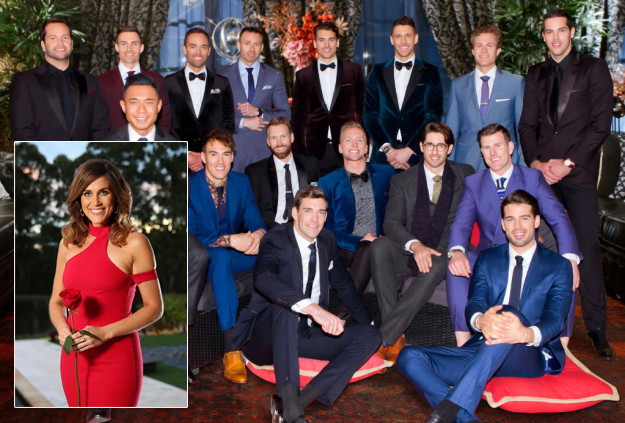 Celebrity Lookalikes, Models and Strippers – The Bachelorette Australia kicks off in fine form
The Bachelorette Australia began last night, and the appropriately named bachelorette, Georgia Love, met all of her potential suitors for the first time. She certainly got her fair share of first impressions, and here are ours. Let's meet the sixteen men vying for Ms Love's heart.
Cameron – 26, Hot Firefighter
The first one out of the car, seems really sweet. Reminds us of Chris Isaak for some reason. If he were a bachelorette on the recent series of The Bachelor, he'd be Faith.
Jake – 30, Broody-Eyed Sales Professional
This guy seems to have it all right now – good looks (Ben Affleck, anyone?), calm self-assuredness, humour and relatability. If he were a Bachelorette, he'd be Rachael. Georgia said he has broody eyes.
Rhys – 29, Model and Entrepreneur
The first thing the other men noticed, is that Rhys looks like a big Harry Potter. Rhys seems to think he is the whole package, looks, body, hair… but Georgia doesn't seem interested yet. He pulled some intense yoga moves poolside, encouraging others to join him in a pose-off. Our Bachelorette was not impressed.
Aaron – 34, Marketing Company CEO and funnyman
This guy reminds us a little of Jon Lovitz, both in looks (this is a flattering image) and hilarity. He's the funny man of the group. He and Rhys immediately bonded and there looks to be a bromance underway between the two men.
Dale – 29, Personal Trainer
We know very little about Dale, on account of the fact that he was eliminated immediately with barely a moment's screentime. Didn't even notice him until the final minutes of the rose ceremony. Reminded us a bit of Stifler from the American Pie movies though.
Courtney – 30, Industrial Designer and Pasta Bracelet Maker
Things didn't get off to a great start when our first impression of this guy was his loud shirt. But, within 3 minutes, I called it. This guy will win. Courtney gave Georgia a bracelet made out of penne pasta, relating how he once gave a girl a pasta bracelet in year 2 but she fancied his brother instead. He came across charming, chatty and friendly. Georgia looked to be really into him and gave him the prestigious 'first impression rose', the equivalent to the Bachelor's white rose.
Ryan – 28, Sailing Coach
Another one that sailed through without any major fanfare (see what I did there? hehe). Ryan looks like Heath Ledger. *sob*
Matty J – 29, Marketing Manager
I'm sure we'll either learn more about this bloke in the coming episodes. Either that or he is just good looking fodder for the first few rose ceremonies.
Ben – 32, Miner
This guy is out there. If it were The Bachelor, this one is Janey. I almost expected him to take off his shoe. He told Georgia within 15 seconds that he'd done 3 nervous poos before jumping in the limo. I think he did three pingers instead. There's enthusiastic, and then there's enthusiastic!!! He looks like he'll be fun to watch.
Matt D – 29, Security Specialist
Another Neville nobody hanging about in the background while the men with bigger personalities get more screen time. Seems nice enough.
Carlos – 33, Entrepreneur and Stripper
There's something very sexy about a confident man. Carlos is good looking, suave and very, very confident. But he's also an enormous wanker. He gave Georgia a Tiffany bracelet upon meeting her, and went on to tell her that he could give her all the finest things in life if that's what she was interested in. She gave him the arse instead, and I expected him to ask for the bracelet back as he left.
Jay – 33, Wellness Coach
Another one we know very little about. Think he could have done better than that velvet jacket though.
Lee – 35, Mechanical Plumber
Look out ladies, hot stuff coming through!! Lee is the oldest of all the bachelor contestants, and showed up to meet Georgia with a donkey. Yes. A donkey. I'm predicting this guy to do well.
Tommy – 31, Employment Coach
Didn't see that much of Tommy during the opening episode either, which probably means that he'll be booted soon. Moving right along…
Clancy – 29, Medical Sales Rep
Clancy, ohhhh Clancy. So this dude shows up with a full beard and an electric shaver, telling Georgia that if she doesn't like the facial hair, she can shave it off. We're like, yeah righto, whatevs. She approaches him during the cocktail party and tells him it has to go, then proceeds to make him look like a cross between Merv Hughes and Mr T. All the bros watching on are laughing hysterically, telling him he looks great.
Then he goes to the bathroom to finish the job, and when he comes out…
hubba hubba!
and finally…
Sam – 27, Electrician
Rex Manning lookalike, Sam, comes across as a bit of a twat. He's over confident, claims to be a massive hit with the ladies and says that most of them can't keep his attention for longer than a week. He is surprised when Georgia doesn't agree with everything he says, and clearly wants nothing more than to get in her pants. BUT, he's funny, he's charming, and he may do well, providing he calms down a bit and puts his ego aside. I don't hate him, but I'm not won over yet either.
So who do we think will dominate this series? I'm with this guy…
Calling it now: Top 5 (no order) – donkey guy, shaver guy, broody eyes, fireman and pasta bracelets. #BacheloretteAU #TheBacheloretteAU

— kemunto amoro (@hermosa_kemi) September 21, 2016