Elena wins MasterChef Australia 2016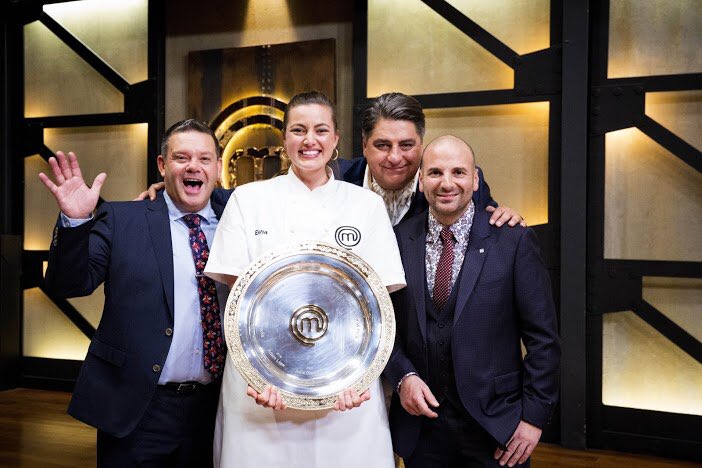 Elena wins MasterChef Australia 2016
After what seemed like an eternity, Elena Duggan was crowned the winner of MasterChef Australia.
The 32 year old school teacher from New South Wales fell behind friend and fellow competitor Matt Sinclair after the first two rounds of the finale, but came through in front after Matt stuffed up his final dish – Heston Blumenthal's "Verjus in Egg" dessert.
That little egg sitting on a nest took five and a half hours to make. Serious. It had 91 steps. Remember back in the olden days when the hardest thing the finalists had to accomplish was a simple croquembouche?
Dessert shouldn't be this complicated. I'd be happy with a $3 Chocolate Bavarian from Coles. You don't even have to defrost it first, I'd still be stoked.
Elena helped Matt complete his dessert at the very end, saying that she wanted to see her friend get over the finish line, but his egg split apart after he missed a vital step.
Matt lost points for his split egg, giving Elena the opportunity to catch up to him on the scorecard. She won the competition by two points, taking home $250,000 and her own monthly article in Delicious magazine.
"I'm ecstatic," Elena says. "To have such a good outcome after what was a very emotional day was amazing."
The three judges, Matt Preston, George Calombaris and Gary Mehigan each scored the pair 10 points for their second dish, giving the contestants perfect scores of 30.
Elena scored a perfect 30 out of 30 for her 'twice-cooked lamb, lamb jus, with a macadamia, garlic and onion puree, pickled beets and vegetables'. While Matt also scored a perfect 30 for his 'crispy skin barramundi with brussels sprouts and a pancetta and prawn broth'.
Matt Preston's choice of outfit was somewhat puzzling. The portly gentleman appeared to have dressed as a 19th century admiral for the big event.
It's all over for another year. Congratulations Elena!
ScreenQueen x
Images courtesy of Channel 10