First Impressions of The Real Housewives of Auckland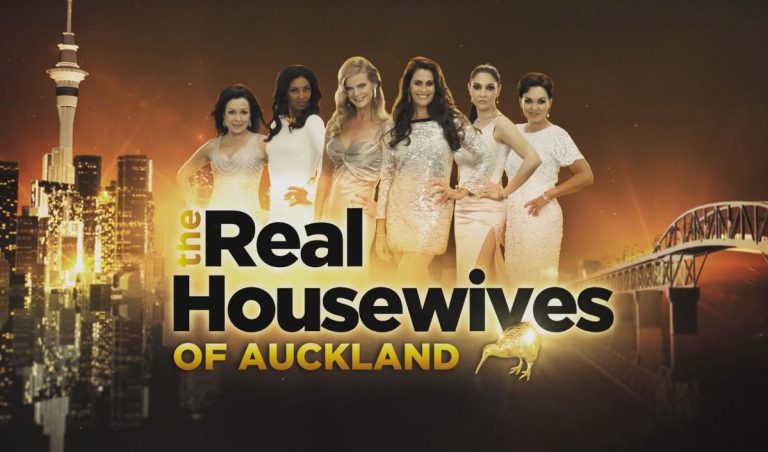 First Impressions of The Real Housewives of Auckland
The first episode of the much anticipated The Real Housewives of Auckland aired in Australia on Sunday night. Here is what we think of our sophisticated sisters from across the ditch.
Louise Wallace
TV presenter, face of NZ's The Weakest Link, London-trained actor and owner of a theatre company in Auckland. Married for 33 years to a guy that looks like Moby who is an ex-rugby player "with the thighs to match". Two adult children whom she likes to embarrass on international tv. Lots of staff including a gardener, ironing lady, pool boy etc.
Personality so far: calm, relatable, sophisticated and classy, but with a sense of humour. Seems like the kind of lady that holds the group together.
Who she reminds us of: Kyle Richards and Chyka Keebaugh
Best line of episode one: "She's not overweight, but she's a big unit."
Gilda Kirkpatrick
Over-achieving Iranian-born architect, author and ex-wife of 85 year old rich estate mogul James Kirkpatrick. Creative director and marketing executive with her own advertising firm. Has two young boys, aged two and a half and 7 months. Lives with her boyfriend and children in a mansion on one of Auckland's richest streets, Paritai Drive.
Personality so far: Beautiful and sophisticated but quiet and measured. Doesn't say much but when she does, you listen. Watch for her micro-expressions in conversations, they speak louder than her words. And don't mess with her, she'll take you down as soon as look at you – with the help of her minion, Michelle.
Who she reminds us of: Lisa Vanderpump and Adrienne Maloof
Best line of episode one: "I think if you want to be like Oprah, you need to talk less."
Julia Sloane
Well known socialite, newly married, spends her days going to multitudes of appointments for her own personal upkeep – waxing, botox, manis, pedis etc. She's an ex-model who did a lot of tv commercials back in the 80's. Has a teenage son who she enjoys taking adventure holidays with, and a teenage daughter who she enjoys trying on clothes with. Buys expensive art and owns a vineyard.
Personality so far: Bright and bubbly, sassy and funny – and clearly chasing eternal youth. Honest in her confessionals and while flashy and clearly well-heeled, seems down to earth and friendly.
Who she reminds us of: Dorinda Medley and Yolanda Foster
Best line of episode one: "My name is Julia Sloane, I live in Parnell, and I like looking good."
Angela Stone
Over confident model, author, claims to be the "face of Tourism New Zealand", fashion stylist and "lifestylist" from Christchurch. She spends one week in CHCH and one in AKL, admitting to be a "serial commuter". Handed out her 'style self help' book to other ladies within seconds of meeting them, which resulted in a few raised eyebrows – serious faux pas territory.
Personality so far: Big, bold, beautiful and extremely talkative. Smiles brightly and speaks condescendingly but is probably tearing up inside. The drama will follow this one wherever she goes. And that fake smile is doing my head in already.
Who she reminds us of:  Jackie Gillies and Andrea Moss
Best line of episode one: "This is my chance to share my knowledge and expertise."
 Anne Batley Burton
Known simultaneously as "The Champagne Lady" and "The Cat Lady". Grew up in a wealthy home and likes to lecture others on the etiquette of holding a wine glass. Has lost count of the number of fiance's she's had but thinks it might be seven. Married to a guy that dances in the lounge room with her when they come home from dinner. Has a cattery out the back for old, stray or un-re-homeable cats. Thinks she might have been a pussy in a past life. Always, always drinks champagne and greets her friends at the door with a glass for them.
Personality so far: A little pocket rocket. Full of fun and honesty. Looks like she'll be the 'nice' favourite (Gilda being the 'evil' favourite).
Who she reminds us of: Janet Roach, Heather Dubrow and Lisa Vanderpump
Best line of episode one: "I have no intention of going through menopause, ever."
Michelle Blanchard
One of Gilda's best friends, came over from the UK for a holiday nearly twenty years ago and stayed. Married for 17 years, two teen children. Lives in the country "not a farm" and is often kicked by her horses because she doesn't spend enough time with them. Another ex-model who loves fashion. Doesn't seem to have a filter. When Angela told her that she is a model, Michelle asked if she was a plus sized model.
Personality so far: Brash, unsympathetic and indifferent. Lets her mouth run and is clearly Gilda's mouthpiece.
Who she reminds us of: Brandi Glanville and Magali Gorre
Best line of episode one: "Sweetie, with tits like that you're not a normal sized model. Get over it."
Catch episode two of the first season of The Real Housewives of Auckland on Sunday at 8:30 on Arena.
ScreenQueen x
Images: Google