A Girls-Only Guide to State Of Origin Rugby League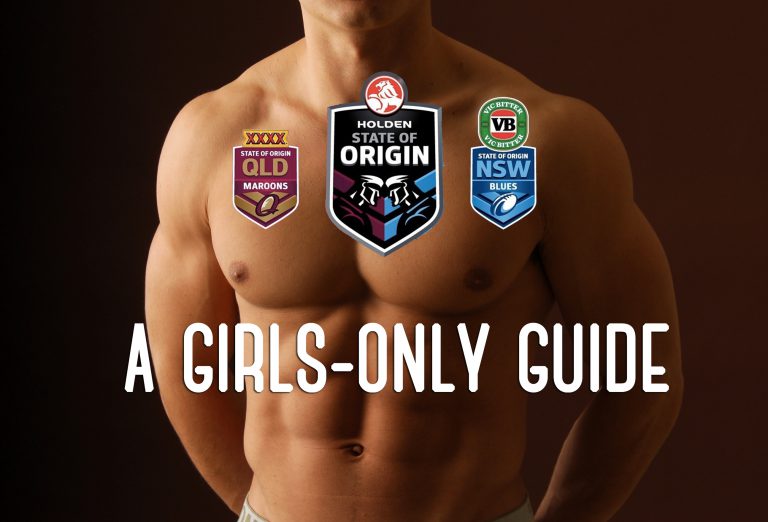 A Girls-Only Guide to State Of Origin Rugby League
Feign an interest in the big State of Origin game two match on Wednesday night with this handy Girls Guide to State of Origin Rugby League! Catch up on who's who, get into the vibe and read on for a quick heads up on what's happening, because a lot of us will have to watch this game whether we're interested or not!
I am of the understanding that the gorgeous men in our lives may find this match not-so-trivial at all, and will perhaps want to view it loudly, with lots of beer and chips, for about three hours. With this in mind, I thought I would try and make it at least bearable for those of us lacking in interest. You will be well rewarded, I promise.
A few points of note:
Queensland always win. They will probably win on Wednesday night. If they do win on Wednesday night, they will win the 3-game series because they already won the first match. Queensland have won 9 out of the last 10 series and the only reason they lost that one year is because they felt sorry for New South Wales. So act surprised if New South Wales do win.
The match is being held at Suncorp Stadium in Brisbane. The first match was held in Sydney and the third match will be held back in Sydney in three weeks time. If NSW do spring a win on QLD turf, the third match will be "the decider" and will be BIGGER THAN BEN HUR.
The players are selected not for their home state or their birth state, but for the state where they played their first registered game of rugby league. Kind of a tricky little loophole in the system that the team officials like to argue over every now and then.
The players of each side are the best in the NRL competition, and Origin is like a beefed up grand final spread out over 6 weeks. This shit's important, yo. To a lot of people, anyway.
Kick off is at 8pm AEST, but coverage will start at 7:30pm and go through until about 10:30pm. It will be on Channel 9.
So now that's out of the way, let's have a look at the teams. Losers go first.
Now some of these lads are a bit more out there than others. We have the glamour players and the modest quiet ones here, and the very best images of them that google has to offer.
I did my best.
NEW SOUTH WALES BLUES
1 Matt Moylan, fullback
2 Blake Ferguson, winger
3 Michael Jennings, centre
4 Dylan Walker, centre
5 Josh Mansour, winger
Josh is a hottie so he gets two pictures…
6 James Maloney, five-eighth
7 Adam Reynolds, halfback
8 Aaron Woods, prop forward
I just adore this guy. He wears his hair in a headband sometimes and is just the biggest cutie.
9 Robbie Farah, hooker
10 James Tamou, prop forward
11 Greg Bird, second row
12 Josh Jackson, second row
13 Paul Gallen, lock forward
15 Tyson Frizell, interchange
16 David Klemmer, interchange
17 Andrew Fifita, interchange
18 Jack Bird, interchange
QUEENSLAND MAROONS
1 Darius Boyd, fullback
2 Corey Oates, winger
3 Greg Inglis, centre
4 Justin O'Neill, centre
5 Dane Gagai, winger
6 Jonathan Thurston, five-eighth
7 Cooper Cronk, halfback
8 Matt Scott, prop forward
9 Cameron Smith, hooker
10 Josh McGuire, prop forward
11 Matt Gillett
12 Sam Thaiday, second row
13 Corey Parker, lock forward
Corey Parker has announced his retirement recently so this will be his last Origin series. Love this 34 year old silver fox!
14 Michael Morgan, interchange
15 Jacob Lillyman, interchange
16 Aidan Guerra, interchange
17 Josh Papalii, interchange
18 Ethan Lowe, 18th man
Well there you have it. Everything you need to know about State of Origin. I hope this has made it all the more enjoyable to watch!
Until next time,
ScreenQueen x