House Rules Recap – Claire and Hagan's Industrial Chic Lego House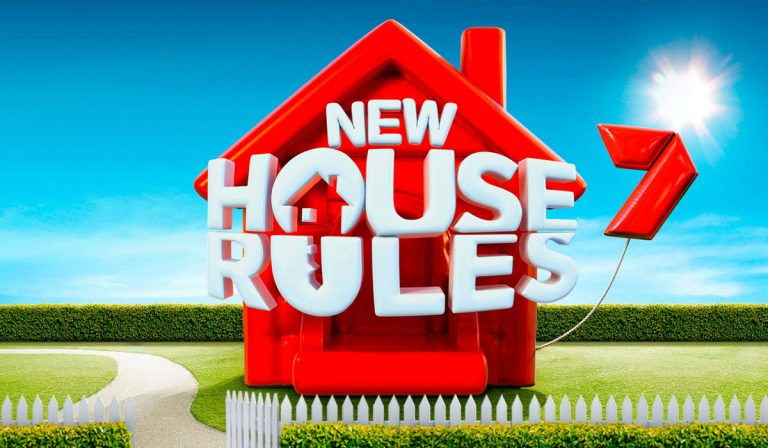 House Rules Recap – Claire and Hagan's Industrial Chic Lego House
This week on House Rules, the teams were tasked with renovating Claire and Hagan's tiny little one bedroom  lego-block flat behind Claire's hair salon on the Mornington Peninsula in Victoria. It was a big reno for a little house – they added a whole new level to the home, doubling the floor space and allowing the family room to have a bedroom each.
Luke and Cody were given the dining room and master bedroom zones and gave us so much to love with their designs. They suspended a push bike above the dining room table, making full use of the dramatic void and skylight.
Their master bedroom was a winner as well, with a reclaimed wood panelled feature wall and fresh bright colours.
Another couple who nailed it this week were Fil and Joe. Their zones were the kitchen and Matilda's bedroom.
There was a bit of a drama regarding a shared part of the design – Rose's tv cabinet was built into Fil's island benchtop, so while Rose and Rob designed and paid for the feature, the credit went to Fil and Joe because technically it was part of the kitchen.
Fil installed a large reclaimed beam across the kitchen, fulfilling the brief and adding interest at the same time.
Next up, we checked out Matilda's bedroom, decked out in Alice in Wonderland style, complete with secret passage through a cupboard into little sister Darcy's bedroom next door. The ceiling was covered in brightly coloured flowers and themed wall art covered the walls.
South Australian couple Brooke and Michelle were in charge of Darcy's bedroom and the laundry. Their magical doorway between the girls bedrooms was every bit as charming as Fil and Joe's version on the other side, although the judges agreed that it didn't has as big a wow-factor as Matilda's bedroom, despite having the same brief.
Their laundry was functional and pretty fabulous too. Michelle found a reclaimed paddleboard and attached it to the wall opposite the subway tiled splashback.
Western Australia's Rose and Rob were given the family room, ensuite, stairway and hall zones and were scored harshly for their efforts. Namely, their bannister (while attractive and perfect for the brief) contained a fatal flaw considering Claire and Hagan have two young children. You'd think a mum of three young boys would be quick to notice a climbing hazard on the second story, especially when there's a cool bike with lights hanging off it on the other side of the railing.
Their ensuite was not much better, namely because it didn't have a dividing door between it and the bedroom, and the shower screen was clearly visible from everywhere in the room. Their 'tapware' were clunky and unsophisticated and the tiles were dodgy as.
Rose and Rob's family room was okay, but still kind of half arsed.
Lastly, it was Nancy and Daniel's zones – the living room and bathroom. They chose to keep Claire's paddleboard as part of their design and hung it above the lounge in the centre of the house. Daniel revealed his artistic side, creating an original (even for him, he didn't know he could paint!) work of art that incorporated bits of wood and stuff lying about during the reno.
Their bathroom was okay, but the red and black tiles on the far wall lacked the sharpness required to cut through the black and white features.
All in all, it was a fabulous effort and Claire and Hagan adored it. They shed a lot of tears (as did I, watching them) as they explored their new home and took great delight in showing their little girls their new rooms.
The Scoring:
Luke and Cody (QLD): Dining Room, Master Bedroom = 30
Fil and Joe (VIC): Kitchen, Matilda's Bedroom = 28
Nancy and Daniel (NSW): Living Room, Bathroom = 24
Brooke and Michelle (SA): Laundry, Darcy's Bedroom = 23
Rose and Rob (WA): Family Room, Hallway and Stairs, Ensuite = 19
After the scores were revealed, it was time to eliminate the team with the lowest combined total score from all the renovations so far in the competition. And that turned out to be…
Next up, the remaining teams must return to their own homes and target an area that they feel the other teams dropped the ball in. They have 24 hours to put it right before the next elimination. Things are starting to heat up a little!
Until next time,
ScreenQueen x
All images courtesy of Channel Seven.