Kiss Bang Love Episode 1 Recap – Downtown Cringe City!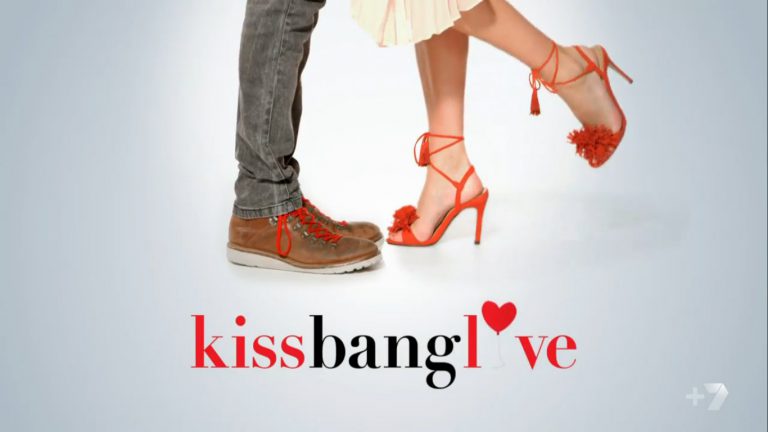 Kiss Bang Love Episode 1 Recap
Last night I sat down to watch Channel Seven's new reality series Kiss Bang Love, the latest in Australia's current obsession with awkward dating shows. At first I thought it might be a pervy, more extreme version of Snog Marry Avoid but apparently not. It's more like The Bachelorette on speed.
"There's nothing quite like the magic of a first kiss", the voice-over lady declares as I grab my wine glass and settle in for sixty minutes of sheer awkwardness.
We are told the premise of the show – it's a dating experiment derived from a Danish programme where a single lass gets to kiss twelve potential frogs in order to find her prince. Oh, but there's always a catch. Everyone is blindfolded! How fun! Looks do not count in the first impressions, only the chemistry of the kiss. All the senses are heightened and everything sounds a little bit sexy, right?
No.
Watching strangers clumsily stumble towards each other before somehow moving in and lip-locking for the first time is downtown Cringe City.  They are stood two metres apart so they have to find each other first. Plus, the couple are not allowed to speak otherwise it might turn into a sexy game of Marco Polo, but with more black satin and shirts unbuttoned to the navel.
#sexypirate #dontspeak
So now the contestant, 28 year old hospitality cutie Lisa, has to awkwardly pash twelve guys blindfolded and then describe each encounter. One after the other. We're treated to such descriptive gems as…
"good rhythm"
"nothing forced"
"room for improvement but yeah, it was nice"
"no teeth bashing"
Did I mention that the cameramen (who I think are not paid nearly enough for this gig) zoom in on the moment while smoochy noises fill our ears and dramatic music plays softly in the background? Clearly the intent was to make this all look as steamy and sexy as possible but in reality it looks like the Ugly Lights were suddenly turned on at the end of the Blue Light Disco while teenagers continue to pash-on obliviously. Come on kids, wrap it up. Mum's outside with the stationwagon.
All the while, Lisa's sister and best friend get to watch the whole thing unfold from another room with a lovely big bottle of champagne. Their commentary is often spot on, putting into words what we are all thinking here at home.
#chinoshorts #worstkiss
As they wheel all the men out, we learn a little about some of them. There's Josh, the fireman/surfer;  Jaxon, the magician/electrician; Andrew, the postal worker/erotic novelist (I shit you not) and Ryan, the secret pasher already known to Lisa and thrown into the mix to stir the pot a little. Apparently he's her local plumber who struts about the neighbourhood with his power drill and big hose. Subtlety is not a strong suit of these producers.
#hubbahubba #crotchcam
Once she has snogged all twelve men and given her evaluations, it's time to whittle them down to just five, having still never locked eyes with any of them. She predictably chooses the five best kissers, and then has to meet them all face to face for some strained small talk and another awkward pash.
This is where things get a little uncomfortable as you can see her trying to reconcile the men's attractiveness (or lack thereof) with how their kisses made her feel. Despite a couple of them sweeping her off her feet while blindfolded, she chooses boy wizard Jaxon and hot tradie Ryan. Just when you think the cringefest is easing off, it is revealed that they are each taking her on a 24 hour date which includes a hotel room.
So this is where I was assuming the Bang part of the title comes into play, and while I certainly wasn't wrong, the banging was not televised. I don't know if I'm pleased or disappointed to be honest.
#upnext #teehee
After the excitement filled dates, everyone packs their bags and heads out to the exit lounge at the airport where Lisa makes her decision on who gets to go on a holiday to Noosa with her, winning her heart in the process.
Nobody is surprised when she reveals that the winner is Ryan, and we watch as Jaxon attempts to nonchalantly leave the Virgin lounge while blushing furiously. How embarrassment.
Instagram worthy images and grainy smartphone vision gives us all the sense that the holiday to Noosa was just as perfect as can be. Once the happy couple arrive home they sit together and say with no certainty that they'd like to continue spending time together.
Turns out they are no longer dating.
#nosurprisesthere
All images courtesy of Channel Seven