The Ladies Get Down and Dirty to Win Richie's Love – The Bachelor Australia S4E11 Recap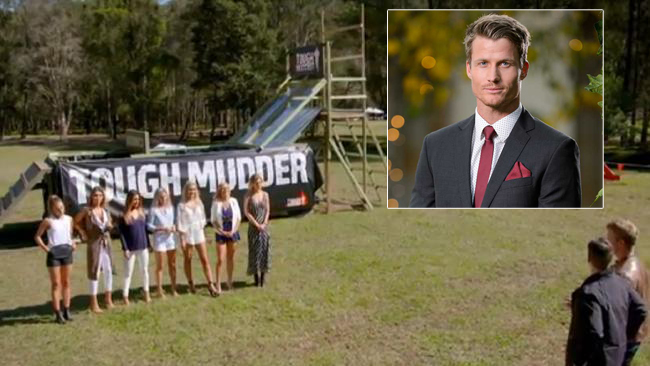 The Ladies Get Down and Dirty to Win Richie's Love – The Bachelor Australia S4E11 Recap
A single date to warm a country girl's heart and a muddy obstacle course of love – what more would you expect from the latest episode of The Bachelor Australia?
There are only seven ladies remaining in the house as Osher arrives with a date card.
And the lucky recipient of the single date is….
Nikki!
I'm calling it now, you guys. Nikki to win this whole thing, or at least score the next Bachelorette gig after Georgia Love has a go.
Nikki is waiting patiently by the side of the road for Richie to arrive for their date. And he shows up in a vintage pick up truck (complete with arooga horn and bales of hay on the back) looking like an oversized kid from The Little Rascals.
"What I've learnt about Nikki is that she's a country girl. She's not about all those bells and whistles. So I thought I'd pick her up in an antique car and hit the road."
Yeah, great. Just because she's not into "bells and whistles" doesn't mean she wouldn't appreciate modern suspension and air conditioning. Probably basic hygiene too.
But bless her lovely heart, Nikki is very gracious. She climbed in happily, looked at her feet and said "So we don't have to pedal it?"
Richie fires up the old girl and the car dutifully blows a little smoke and backfires in response. He limps the car to 'one of the oldest pubs in New South Wales" and it's practically abandoned but still overflowing with naff vintage homewares.
He takes off his trucker cap (didn't think they had those back in the day) and is horrified to see he has developed a nasty case of hat hair. Like it wasn't already bad enough.
In a shocking turn of events, they drink a beer and talk about their feelings. They each reveal that they are basically falling for each other. Richie even says the magical words "perfect match", generating a nervous feeling in the slightly older generation that remembers Dexter and Greg Evans.
Meanwhile, the group date card arrives and the ladies back at the mansion are annoyed to discover that they are all invited along. Rachael is relishing in her role as Villain 2.0 and is quoted as saying "I won't be paying attention to any girls today, I'll just be paying attention to my man!" I don't think I'd be sitting quite as comfortably as she is, on account of the fact that she is the last remaining brunette and therefore sure to be eliminated at the next opportunity.
As the sun sets, Richie leads Nikki outside to a legitimately beautiful country setting. Imagine the swishest hipster wedding you can think of, fairy lights, hay bales, random chickens, wooden crates full of wildflowers, paper lanterns, product placements…
They sit and drink their wine and suddenly a country band appears – The Morrisons! Nikki is forced to act impressed, like she had heard of them before today. One of the band members makes a smooth announcement.
This is where I expected them to start playing Cotton Eyed Joe but apparently country music is much more classier than that nowadays. Richie and Nikki get up for some thigh slapping, hand clapping hoedown dancing. Richie is adamant that you "have to get the leg going" first, in order to feel the music but Nikki calms him down and they twirl each other around in the dirt and hay.
They sit and talk about their feelings some more. Nikki lays it all out on the table for Richie…
"I'm telling you, that, if you choose me, you will have all of me. And I know that our life would be amazing. You make me happy. You make me want to be around you. I just want to be around you all the time."
"You're incredibly beautiful." 
Damn, Richie. It's no wonder you needed to go on The Bachelor to find love.
He does respond in a much deeper way shortly afterwards though, and tells Nikki that he can see her in his future.
Nikki reveals the depth of her feelings in her confessional piece.
Richie gives Nikki a rose and they kiss passionately, and with that, their country date is over.
The next day dawns and we are still in the country. You can tell because there is a distinct guitar twang in the music. Plus there are horses and the ladies are forced to walk across a paddock in heels.
As they arrive, they see the most horrifying words ever to appear in a dating scenario.
"Ladies. I thought it would be a great idea to get down and dirty and have a crack at our own Tough Mudder course."
This is where I would go "Fuck this shit, I'm out" and leave. I'd eat haggis, I'd push other girls over in a roller derby. Hell, I'd even wrestle that damn white rose off Alex and smack her stupid face. But this crosses the line entirely. How is this a good idea for a date?
The ladies are told that they are not competing with each other today, but need to work together as a team.
"This is about a team effort but I think there might be a few girls who stray a little bit. 'Cause I think there are a few girls that are competitive on a whole nother level."
Alex actually said that. ALEX. The most competitive bitch out there.
The girls then fall over themselves to help each other out in front of Richie. It is all very fake.
They have to go through the "Kiss of Mud 2.0" where they crawl through a mud pit under "real barbed wire".
Olena challenged Richie to see who could get through the mud pit the quickest. Richie is surprised and impressed and takes up the challenge. Olena knows she will kick his butt and hurrah! She does!
"That was a good way to get Richie's attention!", chirps Faith happily in a confessional.
After she poured water over her face in the sexiest way possible, Olena was very happy with herself.
They carry on with the ridiculously stupid obstacle course that includes an ice bath and lots of running. The only ice bath I want to see on a date is in the bucket where the champagne goes.
Finally, the girls have to try and drag Richie up an oversized slippery dip but they are all muddy and tired and fail repeatedly.
Finally though, they make it, and celebrate by turning the hose on themselves.
Richie then announces that the woman who has impressed him the most during the muddy date is Olena. They head off for some alone time, still drenched and filthy.
The wardrobe department has stepped in before we next see the couple, and they are immaculate again. They discuss their day.
"I ate mud for you, Richie, I ate mud!"
Richie chats about his feelings for Olena, and Olena chats about her feelings for Richie. Everyone has feelings and they are being talked about. Lots of feelings.
Suddenly, Richie makes a grand statement. "A day like this wouldn't be complete without…"
That's right, ladies and gents, a rose and a pash.
We're at the cocktail party and the girls are getting nervous because there are only seven of them left – Alex, Nikki, Faith, Rachael, Kiki, Steph and Olena.  They start making predictions as to who might be going home this evening. Faith becomes rather upset, revealing fears that she will be the one sent home. Alex decides that the obvious choice would be intruder Steph. Nikki and Olena are both safely clutching their roses.
At the Rose Ceremony, everyone is considerably shocked and upset when intruder Steph was given a rose. It then comes down to the final two ladies with just one rose left. Kiki and Faith.
In the end, Richie chose Faith and the gorgeous and funny Kiki was left without a rose. She said her goodbyes and breezed out of the room gracefully and graciously.
And now there are only six!
Catch up with all of ScreenQueen's The Bachelor Australia recaps here!
Images courtesy of Channel Ten