"It's like a car crash. It's horrific, but you can't look away" – The Bachelor Australia S4E9 Recap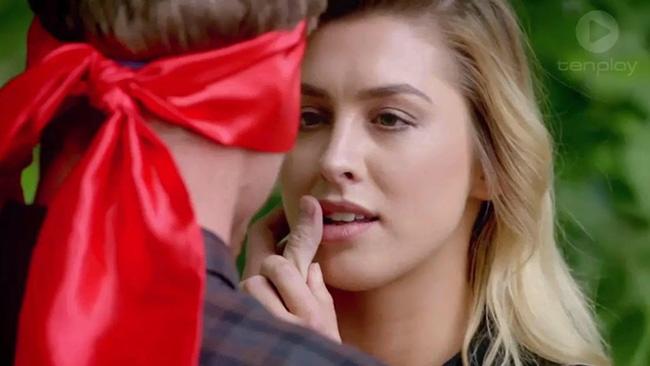 "It's like a car crash. It's horrific, but you can't look away" – The Bachelor Australia S4E9 Recap
As with all The Bachelor Australia episodes, we begin with Osher delivering the news that one of the ladies will be going on a single date with Richie. This seems to happen immediately after the previous Rose Ceremony, as it is night time and the ladies are still in full hair and makeup.
"Let's take it up a gear" the card reads.
"That's like cars and driving!" These girls are smart. "Motorcycles?"
Noni is starting to get desperate. Apart from the intruders, she's the only one that hasn't been invited on a single date.
Whatever it is, Noni clearly isn't doing it because it is Steph that is chosen.
She is taken away to meet Richie on an actual yacht and is clearly pleased about it.
Suddenly, Richie appears on a jetski and Steph just about wets herself with delight.
Richie explains that he knows that Steph enjoys anything with an engine and that picking her up on a jetski would be something that she'd like. I was hoping that the producers would get Richie to ride a bit closer to the speeding yacht and then make Steph jump onto the jetski like in one of those awful movies.
But no. They moored the boatercycle sensibly alongside the yacht instead. Damn.
They compliment each other on their choice of attire – jumpsuit for Steph and "sexy" lifejacket for Richie – because they have nothing else to say besides lots of nervous laughter.
Steph reveals what she's looking for in a partner. "Someone honest and trusting, and can communicate. That's it." She's setting the bar pretty low, I have to say. She reasons that when you have a massive list of qualities you are looking for in a partner, "you are setting yourself up for failure". Yeah, I'm not so sure she has that the right way around.
After their little chat, they jump on the jetski and go for a ride.
The rest of the date is fairly standard. A room full of throw cushions, tea light candles and other assorted homewares. Lots of sitting around an open fire, chatting, drinking wine, ignoring perfectly good food.
After agreeing that they've enjoyed their day, Richie produces a rose and a kiss on the cheek.
The next day dawns and the ladies wander outside to see "some blonde girl standing with Richie".
"oh my gosh, pleeeeeease no more intruders!!!" whines Rachael.
But no, she is a relationship expert, and she is here to check how the girls and Richie interact one on one. That's right, their group date is a "Bachelor Compatibility Test". How romantic!
First up, a multiple choice exam with a "What's the time, Mr Wolf" feel.
The expert will ask questions, the girls will hold up cards revealing their answer and if they match Richie's card, they get to take a step forward. The first one to reach Richie will be eaten shortly after he turns and screams "DINNERTIME!".
After the first part of the multiple choice test, it was revealed that Rachael and Steph were the winners and advanced to the next round. Rachael is shocked that she has that much in common with Steph. "I just thought she was, like, the bogan," she said.
A few more questions and Faith, Alex and Kiki are through to the next round too.
Part two of the day's compatibility challenge is "The Touch Test". The five winners each get to silently manhandle the blindfolded bachelor for two minutes while the five losers watch on a monitor in the other room.
First up, the adorably bubbly Faith. They danced for a moment and he twirled her around. Then she got the giggles and went in for a man grope. As she left, she waved goodbye. To a blindfolded man.

Then Steph had her turn. She said in her confessional that she's not a very touchy feely person and that was fairly evident in the awkward exchange. She repeatedly scratched him on the chin. Sexy.
Next up was Kiki, who basically just found lots of ways to touch Richie with her boobs.
Rachael had her turn next, and managed to make the odd situation all the more weirder. She just kept stroking his arms.
Finally, it was Alex's turn. She made the most of her two minutes, brushing Richie's lips with her fingers, pulling him close and placing his hands around her waist, bringing his fingers to her lips and eventually placing a soft kiss on his cheek. She said she didn't care that the other girls were watching and that she felt really good.
The other girls were not pleased. Very upset, even. Nikki was quite devastated to see how much of a connection that Alex and Richie have together.
Osher and the relationship expert lady arrive and announce that Richie would like to send Lady #1 and Lady #5 through to the next round. When Osher revealed that the mystery gropers were Faith and Alex, he responded suavely with two thumbs up and "Awesome!".
And with that, we're off to Round Three, the final compatibility test featuring communication, trust and teamwork. The ladies get to nag navigate Richie through an obstacle course in a golf cart while he remains blindfolded.
Alex actually gave the man hand signals and told him to go "this way" more than a couple of times. She was very controlling and they ran over many cones, spilled the beer and hit a table.
Faith was up next and while she started out a bit clueless, she had a much gentler way of delivering instructions. Richie had a lot more fun and was more at ease with Faith than he was with Alex. Not only that, but they didn't knock over a single cone or spill any beer.
So Faith was declared the most compatible Bachelorette, and suddenly all the other girls see her as a threat.
They share some alone time and what do you know, Richie produces a rose and a pash.
Cocktail party time!
After nine cocktail parties, Alex's wishes finally come true as Richie approaches her to steal her away to the romantic folly. It's always been Alex taking him away from the group and she is thrilled that he has eventually reciprocated.
The first thing Richie talks about is Alex's son Elijah, giving Alex the opportunity to reinforce her feelings for Richie – if she wasn't into him so much, she'd have left already to go home to her son.
But then Richie takes Rachael aside for some quiet time – so far aside that none of the other ladies know where they've gone. They've literally gone round the other side of the mansion, causing major controversy among the Bachelorettes.
Alex reveals to Nikki that Rachael had asked her why she was still here when clearly Nikki was the favourite. She told her she should go home to her son, leaving Alex shaken. She feels that Rachael bringing up her son was a way of manipulating her into backing off. Nikki reassures Alex that Rachael doesn't speak for Richie and that she was just putting her insecurities onto Alex.
And with that, we have a new villain – Rachael.
Over to the Rose Ceremony. There are ten ladies and just six roses. Faith and Steph are already safe. Doing simple maths, we figure out that two ladies will be leaving the mansion this evening.
It comes down to three – intruders Sarah, Khalia and bacon girl Noni, who was yet to go on a solo date with Richie.
The result is kinda heartbreaking in a #girlpower kinda way. Sarah swans about like a pageant winner while behind her Kiki drops to her knees with sadness as her best friend in the house, Noni, is sent home.
It appears that winning Richie's heart isn't the only focus of these women. Some genuine friendships are forming along the way too.
Noni is devastated, but in her final words to Richie, she tells them how amazing these women are.
"Don't go bacon their hearts," she says goodnaturedly.
Stick around for our episode 10 recap very soon!
ScreenQueen x
Read all of ScreenQueen's The Bachelor Australia recaps here.
Images courtesy of Channel Ten.