Love Hurts – Courtney Humiliates Georgia with a Silly Stunt on The Bachelorette Australia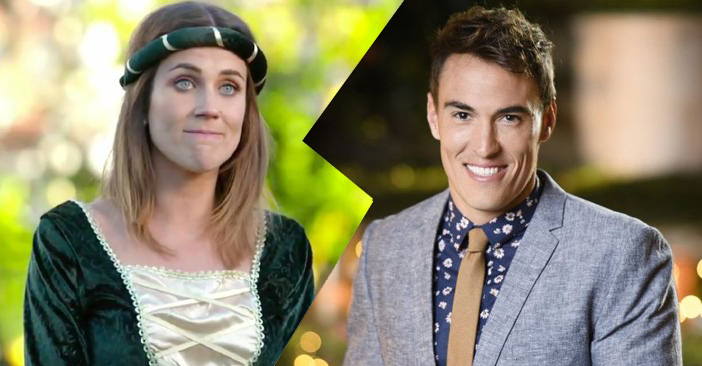 Love Hurts – Courtney Humiliates Georgia with a Silly Stunt on The Bachelorette Australia
The Bachelorette babe Georgia Love has been left confused and humiliated after one of her favourite bachelor boys pulled a thoughtless stunt during a group date.
Courtney Dober made no attempt to win a contest which came with the chance to spend extra time with Georgia. This came after a disastrous single date where he played it cool, leaving Georgia wishing that he'd kissed her. And let's not forget the moment he selflessly chose Tommy to spend alone time with Georgia instead of himself.
In last night's episode, the group date featured a blow up castle, tinfoil knight's costumes and serious competition for Georgia's affections.
All the dude-bros were instructed to fire arrows at each other as they took turns to run the gauntlet between the bouncy castles. The guy that is hit the least gets to spend alone time with Georgia.
Courtney and Sam decided to try and fix the event so that Rhys or Ryan would win it. Rhys so that Georgia would see how awful he is (I think she's in the loop now), and Ryan because he has barely spent any time with her.
When it came time for Courtney to run the gauntlet, he threw the game, walking slowly through the obstacle with one hand on his face and the other over his 'nads.
Georgia was left questioning his intentions in the competition for her love.
"I've got no idea why Courtney did that," she tells us. "It was all about spending extra time with me and he just couldn't have cared less it seems. I was totally humiliated by that. All of these guys that made an effort — and then Courtney. Couldn't have cared less. How embarrassing."
Later at the cocktail party, Georgia pulls Courtney aside and calls him on his behaviour that day.
"I'll just come out and say it straight away — I really like you," she begins. "I felt like we had this great connection, I feel like we clicked straight away. And then the group date this week … I mean, the whole idea of it was that at the end of it the winner gets to spend time with me. It just made me feel shit. Full disclosure."
Courtney was immediately taken aback.
"I don't want anything more than to spend more time with you. I'd give anything to spend more time with you," he tells Georgia.
"But you didn't," she says, cutting him off.
He tries to explain he was trying to get her to spend some time with Ryan, who is apparently really shy.
"At the time I thought, 'OK, Ryan is someone who wants to present more of himself to you than he has.' I suppose I wanted to try and 'fix' the game so to speak and give you some time with Ryan."
Georgia is not impressed.
"At the end of the day he's really upset me and really hurt me," she tells us. "I don't know if the explanation of being a good mate is sitting very well with me."
At the Rose Ceremony, it was down to the final two gentlemen, and Georgia made it clear that it was payback time. Courtney and sexy Italian intruder Matteo stood nervously awaiting the verdict, and Georgia made her decision. Courtney got to stay and hot Matteo was sent packing.
Let's hope he's learnt his lesson – it's every man for himself on The Bachelorette. You're not there to make friends, Courtney.
images: Channel Ten