Meet the Brand New Cast of Hi-5!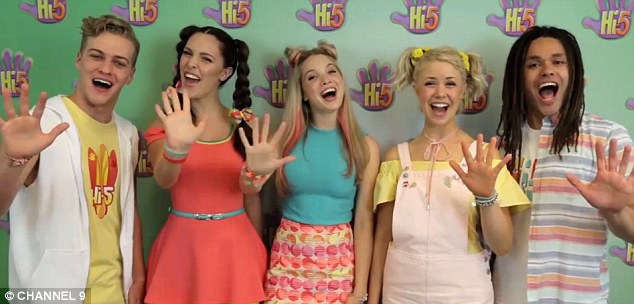 Meet the Brand New Cast of Hi-5!
It has been nearly 20 years since Charli, Kathleen, Tim, Nathan and Kellie first hit our screens as part of the beloved preschool group Hi-5. Since then, there have been many cast changes, international performances and a five year hiatus, but now Hi-5 ARE BACK!
The new cast will make their first public performance at Carols by Candlelight on Christmas Eve next week before heading into production for their new TV series that will screen on Go! Kids in 2017.
"We're elated to have Hi-5 return to the Nine family. A new generation of Australian kids and parents will be able to discover this cherished children's group reimagined for a modern world," Hamish Turner, Nine Network Program Director, said.
So let's meet the new cast members that will soon become household names!
Meet Lachie!
Lachie Dearing is a 19 year old sports fanatic, who thrilled Hi-5 live audiences when he began touring earlier this year. He chose to re-audition for the role and was successful. He said: "I'm relieved and excited to be starting with a cast that are all new, similar ages and excited by the opportunity. Being in Hi-5 is such a humbling and rewarding experience."
And Bailey!
Bailey Spalding also 19 years old, is a former WAAPA graduate and appeared on X Factor this year! The Perth teen says making the cast was a lifelong ambition. "Wow. I cried with I found out. I've been so emotionally invested in Hi-5 and have dreamt of being in the show since I was a little girl."
And Joe!
Central Coast resident, Joe Kalou, 24, is a regular performer, doing live gigs and touring. He appeared with the late Jon English in The Rock Show, both nationally and in Sweden. "I was on my way to a gig when my agent gave me the good news and decided to drive home and tell my parents face-to-face. There were tears all round."
 And Courtney!
Gap year student Courtney Clarke is 18 and hails from the Blue Mountains near Sydney. She has recently returned from volunteering in Cambodia where she worked on community projects including building a primary school.
And finally, meet Shay!
Eighteen year old Siobhan (Shay) Clifford is also from the Blue Mountains, and has just completed her HSC. She discovered her love of musical theatre at 13 and has been performing ever since. "When I received the call that I had made the cast I cried and mum and I headed out to celebrate."
Bailey, Courtney, Joe, Shay and Lachie will front the popular children's show in 2017 after being chosen from more than 450 hopefuls after proving their "triple threat" talent – singing, dancing and acting – during a rigorous nationwide audition process.
"We were blown away with the enormous interest from performers across Australia wanting to be part of Hi-5," Julie Greene, Executive Creative Director and Executive Producer said. "The judging process was extremely tough with so much talent on show, but we know our audiences will fall in love with the new members, just like we have."
The revived act will head into production on a new series in January.
The first Hi-5 performances in Australia include:
December 24 8.00pm Vision Australia's Carols by Candlelight
Sidney Myer Music Bowl, Melbourne
January 14 2.00pm Hi-5 Summer Holiday Show
Crowne Plaza, Hunter Valley
January 15 2.00pm Hi-5 Summer Holiday Show
Fairmont Resort, Blue Mountains
Images: Channel 9