A MiniGolfing Group Date With Some Newborns – The Bachelor Australia Takes a Turn Into Parenthood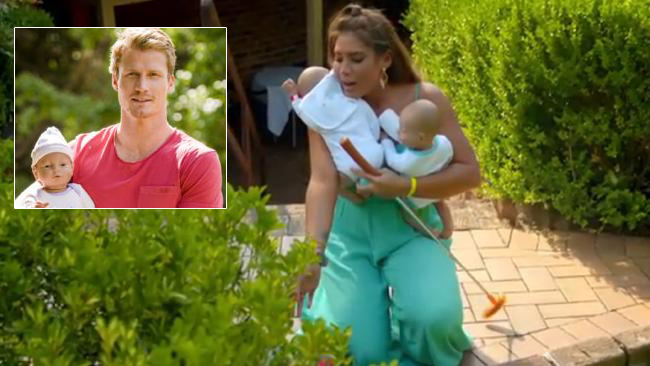 A MiniGolfing Group Date With Some Newborns – The Bachelor Australia Takes a Turn Into Parenthood
The Bachelor Australia 2016 – Season 4, Episode 5 recap
We rejoin the adventures of our Bachelor boy as he attempts to sift through the remaining women holed up in the extravagant Bach Pad.
Morning breaks, and the women are lounging around the kitchen area in their expensive and stylish pyjamas. There are no holey tshirts and saggy-arsed trakkydaks to be seen in this house.
Osher pops by to deliver another mysterious blue rectangle, containing the details of a single date to be had today.
And the lucky recipient is…
Alex!
Much to Keira's immediately apparent distaste.
At the first stop on Alex and Richie's "big city" date, the couple stop by their first sponsored establishment for a little subtle product placement.
Having been brought up in a household of women, Richie knows how important embellished kaftans are to a girl. He wisely takes Alex to a fancypants boutique for changing room twirls, champagne and some solid fashion advice.
Like he knows anything about tucking maxi dresses into your knickers for increased mobility and style.
After Alex manages to find the shortest, tightest, un-kaftan-like kaftan, the couple sit on a handy in-store loveseat and sip champagne. Because what else would you do in a shop?
But the date isn't over yet! Richie whisks Alex away to a hotel rooftop where "he's" arranged for a "renowned international artist" to play them a few songs.

I have legit never heard of this guy. Allen Stone is his name apparently. I'm guessing the producers couldn't afford Noiseworks.
Alex is so overcome that she is moved to tears. They chat over some more champagne, and then, while sharing a romantic pash, Richie does the UNFORGIVABLE.
He takes the poor girl's champagne away.
Seriously, I have dumped men's arses for less than that.
Alex doesn't seem fazed though, and continues to mack on, giving us the biggest close-up tongue pash since Kiss Bang Love last aired.
He should've swung the limo through the Maccas drive-through before the date, then they wouldn't have been forced to eat each other.
He gives her a rose there and then, as is his style, and they go about their day.
The next morning, the ladies are awoken by hideous screaming. No, Richie didn't accidentally stumble into Keira's bedroom by mistake.
BABIES! Babies everywhere!
The awful truth dawns on the girls – this is their group date! Caring for babies!
When Osher turns up with Richie to collect the ladies, the new mums are told more details. They are going minigolfing. With their babies. As new mums often do these days.
Osher announces that their date will be a family day out, with the group enjoying a picnic and some minigolf.
As they drive off, the babies start to cry. Because that is what babies do. Some of the ladies sing to their babies, but Noni just straight up grabs one of her twins by the head and arm and drags it over into the front seat while Richie freaks out.
Megan employs the head-grab/stomp combo to get her baby to sit still, a move that is not recommended by the baby experts last time I checked.
Sasha was just doing her best. Motherhood is slightly more forceful in Russia.
As the group date came to an end, Richie chose one of the women to have some alone time with him. He picked Nikki, and they go off somewhere for a quiet chat.
Nikki asks Richie if she can kiss him, and in a line straight out of a Mills and Boon novel, Richie replies suavely, "Yeah, if you want".
After the Official Pash Tally rises, Richie gives Nikki another rose. Something she totally wasn't expecting.
Back at the house during the pre-rose ceremony cocktail party, the ladies discuss the day, no doubt relieved to be away from those crying plastic babies. Nikki tells the girls about the kiss that she shared with Richie, and Alex, fresh from Keira's flesh-coloured lipstick tutorial, is not impressed.
Actual quote from Alex in the confessional piece:
"I didn't realise that they had actually kissed. I was like whoahh."
Someone explain to this girl how the show works, please.
Suddenly, Eliza, the weird singing one, pulls Richie aside and feels the need to remind him that she is the weird singing one by giving him a blue velvet "rose" she made from a piece of ribbon she pulled out of her bra.
He is justifiably mystified. Especially after she rubs the tip and tells him how soft it is.
On to the Rose Ceremony, and as Alex and Nikki already have roses, they are safe from elimination. There are only 9 roses to be handed out, and 10 ladies willing Richie to pick them to stay.
It came down to Noni and self-proclaimed weirdo Eliza.
BaconGirl scored the rose and sweet, singing Eliza was sent home. She had some final wise words to say to the other ladies as she left though…
Stay tuned for part two as the second episode for this week airs tonight on Channel Ten from 7:30. Join me over on Twitter as I live tweet the action with a glass of wine and a packet of TimTams. I'd love to chat about what's going down over at the Bachy Pad, but I'm not sharing my bickies.
ScreenQueen x
images courtesy of Channel Ten