Neighbours Spoilers – All the Latest News From Ramsay Street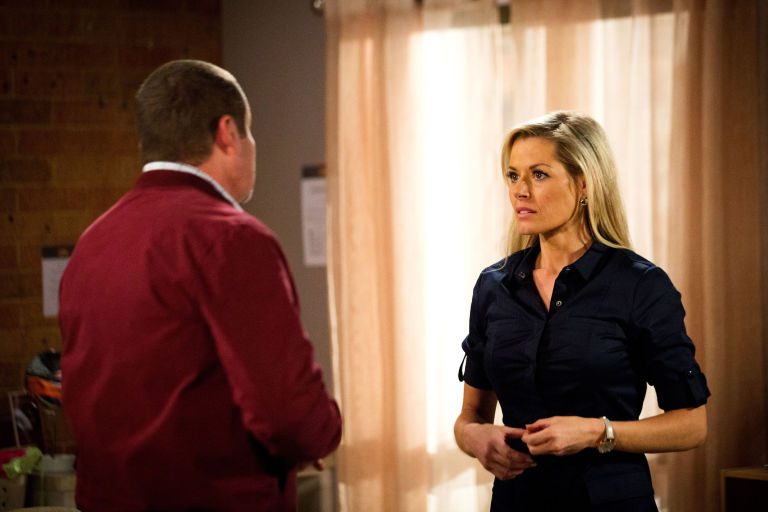 All the latest news and weekly episode spoilers from our favourite Neighbours on Ramsay Street
This week on Neighbours… 20th – 24th March
Monday
A phone call at the wrong time leaves Toadie reeling and he decides to go to London to track down Fake Dee and Willow. The citizens of Ramsay Street rally round Sonya, but someone needs to go to London to bring Toadie back. Meanwhile, Tyler has some bad news for Piper – their situation is about to become a great deal worse.
Tuesday
Toadie finally tracks down Fake Dee and Willow in London. After an emotional confrontation, he has a decision to make. Meanwhile, determined to discover the real reason for Sindi's return, Susan makes contact with her ex-husband Stu and learns that things are not as they seem. Mark enjoys a dream about Sonya, but is disturbed when he considers its implications.
Wednesday
Toadie is torn by his feelings, but is totally unprepared for a fresh revelation from Fake Dee. Realising what he has done, Toadie paces the streets of London with his head spinning. Meanwhile, Sonya feels contractions and fears that she is going into premature labour. She rushes to the hospital, accompanied by Mark.
Thursday
Toadie asks Willow to come home with him, but whether he can keep his promise of a better life in Erinsborough is uncertain. Meanwhile, reminded by Mark and Sonya that parenthood is a gift, Jack has much to think about. After Sonya retreats from the world, Nell is upset as she senses that something is wrong.
Friday
Paige considers Jack's proposal that she stay in Erinsborough. Everyone seems to have an opinion on the matter, but she knows that the decision must be hers alone. Aaron has a fresh idea for tracking down David's father, but only succeeds in deepening the mystery. Elsewhere, Elly is happy for Xanthe to see another tutor – until she realises who he is.
And coming soon…
A heartbroken Toadie and Sonya discuss whether their relationship has a future.
Mark struggles to contain his anger.
After begging Paige to reconsider leaving, Jack tries to reconnect with the community.
Sheila makes a hasty decision which she soon comes to regret.
Leo and David learn that their mother is coming to town.
---
Catch up on the latest 

Home and Away

 spoilers here.
---
This week on Neighbours… 13th – 17th March
Monday
With her departure imminent, Paige tries to tell Jack the truth about her baby, but cannot find the right moment – until it's too late. Meanwhile, having resolved to help Willow reach her ambitions, Toadie finds himself drawn closer to Fake Dee. Plus, Ellen is overcome with jealousy when she sees Steph and Victoria together.
Tuesday
Mark is horrified to find Paige trapped in the wreckage of a car. With the emergency services delayed, Paige's life is in the balance. Meanwhile, Victoria is glad that she and Steph can be open about their relationship, but whether Steph feels the same way remains to be seen. Elsewhere, Toadie and Sonya decide to offer Willow a room at their house.
Wednesday
Everyone now knows who is the father of Paige's baby. As Paige undergoes surgery, Jack has a potentially life-changing decision to make. Toadie needs Sonya's support after matters take an unexpected turn. Elsewhere, Elly offers to help the new teacher settle in, only to find that she already knows that he is bad news.
Thursday
New teacher Finn Kelly impresses Susan and settles in comfortably at Erinsborough High. Meanwhile, Tim Collins asks Paul for help in his mayoral campaign and takes drastic action when Paul refuses. Sheila finds out that Xanthe has run up a serious debt in Terese's name, and is furious when Terese gives her granddaughter the benefit of the doubt.
Friday
Elly tries to get Susan on her side by exposing Finn's past. Meanwhile, Paul plans vengeance after discovering that Leo helped Tim Collins to blackmail him, but his scheme is thwarted by Amy. Piper and Tyler are struggling to make ends meet. Things get worse when Elly makes a scene at the bar where Tyler works, putting his job in jeopardy.
---
Catch up on the latest 

Home and Away

 spoilers here.
---
This week on Neighbours… 6th – 10th March
Monday
After an incident with her bike, Steph worries that she is suffering psychiatric symptoms again. Sonya and Mark come to a decision over the baby but decide not to tell Toadie, only increasing his unease when he sees the two of them talking. Elly comes clean about Willow's actions, jeopardising her dream.
Tuesday
Elly is devastated when a photo of her and Angus appears in the paper. She accuses Willow, but Willow knows the real culprit. Steph is both relieved and surprised when she catches her harasser tampering with her bike. Toadie comes close to breaking point when he catches Mark with Sonya.
Wednesday
Toadie tells Sonya that he has thrown Mark out of the house, but is later shocked by a revelation from Fake Dee. Meanwhile, Jack's suspicions are aroused when he sees Dustin with Paige. Gary is keen to reveal his relationship with Terese to the world, but this seems to be going too fast for her. Is she ready to take a leap of faith?
Thursday
When Toadie comes home after a night out, Sonya confronts him with an ultimatum – he must choose between herself and Fake Dee. Meanwhile, Leo realises that he cannot ignore the threat to his business posed by Lassiters, but he has a decision to make when Jasmine offers him a pay-off – under certain conditions. Terese and Gary are ready to go public.
Friday
After receiving some distressing news from the Gold Coast, Brad and Lauren reconsider their plans to move there. Meanwhile, uncertain of what to do after Jasmine's offer, Leo tells David everything he has discovered. Elsewhere, when Steph's bike is vandalised, she is certain that she knows who is responsible, but Mark is concerned that she may be taking things too far.
This week on Neighbours… 27th February – 3rd March
Monday
Fake Dee worries that she has pushed Toadie away and manoeuvres Susan to bring Toadie back into her life. Meanwhile, Piper is nervous about going to school and facing the wrath of Bec's friends after her suspension. Elsewhere, struggling to process Bishop Green's harsh words, Paige nevertheless chooses to keep the truth from Jack.
Tuesday
Toadie goes to Karl for advice about his growing feelings for Fake Dee. Sonya worries that Mark might be dating Elly, fearing she would not be a great parental figure for the baby. Elsewhere, Piper is feeling the financial squeeze on her and Tyler, and sees an opportunity to ease her money worries with Xanthe's plan.
Wednesday
Toadie is unsettled by Sonya and Mark's close bond. After her break-up with Mark, the surrogate baby and her mysterious attacker, Steph is finding it difficult to sleep, let alone maintain her new relationship with Victoria. Terese tries to dig for information about Jasmine Udagawa's vendetta against Leo.
Thursday
Amy overhears Jasmine reveal to Terese that the contents of the briefcase could lead to Leo becoming the owner of Lassiters. Meanwhile, Ben and Xanthe start their work experience at the hospital. Eager to spend time with Terese, Paul invites her to attend Aaron's barbeque with him. Terese turns Paul down, but later Gary charms her into attending.
Friday 
Elly springs Piper with the fake IDs and cottons onto a scheme she suspects is much bigger than Piper is willing to admit. Meanwhile, Amy is thrown when Leo shares a theory about who his father might be, and involves herself further. Xanthe's confidence is at an all-time low as she struggles to complete her work experience at the hospital.
And coming soon…
Toadie's unease about Sonya and Mark's secrecy intensifies.
Steph comes face-to-face with her harasser.
Jack suspects that he has met the father of Paige's baby.
Lassiters launch a promotional deal that could cripple Leo's business.
David finally learns who his father may be.
This week on Neighbours… 20th – 24th February
Monday
Dee is becoming increasingly invested in her relationship with Toadie. Meanwhile, David feels trapped by the choices he has made. When an understanding Paige releases him from his commitment, he goes to see Aaron, ready to take the next step. Piper gets a hold of a fake ID so she can see Tyler.
Tuesday
Paige and David come clean to Brad and Lauren. Piper panics over the financial and personal ramifications of Elly busting her with the fake ID. Elsewhere, Toadie disappoints Sonya by placing an appointment with Dee ahead of a mayoral function with her.
Wednesday
Steph invites Victoria to stay at the motel and they promise to keep their distance from each other. Dee strikes out to get some alone time with Nell. Elsewhere, at another Ramsay Street barbecue, Gary grills his sausages and waxes lyrical about his process, as both Paul and Karl try their best to undermine him.
Thursday
Leo searches known homeless encampments for Bradley Satchwell, determined to help David in his quest to find their father. Meanwhile, Steph has a run-in with Ellen and begins to wonder if she could be the culprit. Determined to impress Terese, Paul goes ahead with his gourmet sausage sizzle breakfast.
Friday
A nervous Paige comes up with a novel way of revealing to Jack that he is the father of her baby. Meanwhile, following the revelation about Bradley, Amy sees through Leo's bravado. Jasmine Udagawa demands Terese focus on bringing Paul Robinson down.
This week on Neighbours… 13th – 17th February
Monday
Toadie's curiosity is piqued when Dee alludes to having secret plans on Valentine's Day.
Meanwhile, overwhelmed at the thought of meeting Mark for a romantic lunch, Steph distracts herself by inviting Victoria over.
Elly is annoyed with Ned for baiting Mark.
Tuesday
In the wake of her encounter with Victoria, Steph realises what must be done with Mark – she has to end it, once and for all.
Meanwhile, having connected with Dee, Toadie feels a strong pull to try to help her achieve her dreams.
Wednesday
Sonya is thrown when she is thanked for her and Toadie's generous offer to Dee, so she confronts Toadie about it.
Terese arranges for Lassiters to be the replacement venue for the Pieces of Hollywood exhibition, but one of the display items is found to be missing.
Thursday
Steph is hurt by Mark's heartbroken attempt to shut her out.
Meanwhile, with the Udagawas' arrival imminent, Terese is desperate to get the missing crown back.
Ben and Xanthe come clean about their rekindled relationship, and Susan thinks it's time to bury the hatchet between the two families.
Friday
Piper decides that getting a fake ID is the only way she can spend more time with Tyler.
Ned decides to leave town to follow an opportunity on the Gold Coast, and Brad struggles to come to terms with losing his son again.
Elsewhere, Ned falls into paranoia, believing that Elly and Mark must have a thing going on.
This week on Neighbours… 6th – 10th February
Monday
Tensions mount between Sonya and Toadie after Dee's bombshell.
Later, Toadie's world is rocked again when a mystery visitor arrives at Dee's motel room.
Meanwhile, Mark tries to reconnect with Steph by inviting her to stay the night. But having just run into Victoria, will a rattled Steph accept Mark's offer?
Tuesday
A surprise visit from a former Ramsay Street resident complicates matters even further for Toadie.
Following her kiss with Victoria, Steph confides in Lauren that after being intimate with Mark, she could not get away fast enough.
Elsewhere, Brad and Terese refuse Piper's reluctant request for a short-term loan.
Wednesday
Toadie has terrible news for Dee – there is no money left in the Bliss estate.
Piper applies to 'divorce' her parents in the hope of accessing Centrelink payments.
Disaster strikes after Amy recruits Ace, one of Jack's disadvantaged kids, to help her with a repair job at the Flame Tree.
Thursday
Amy's guilt mounts when she learns that the damage to Paul's restaurant has cost him a lucrative cross-promotion deal.
Ben and Xanthe's secret affair is almost outed.
Elsewhere, Gary suspects his family is being targeted by his vengeful former boss.
Friday
Desperate to blow off some steam, Mark heads to the bar where Tyler is doing a trial as a barman.
Jack struggles to come to terms with Paige's news about her baby daddy.
Karl threatens to call his solicitor in the wake of Gary accidentally attacking him.
This week on Neighbours… 30th January – 3rd February
Monday
Sonya continues to feel the strain of Dee's miraculous return. Later, a sceptical Mark is mystified when he suspects there is someone other than Dee in her room.
Meanwhile, Steph runs into Victoria, who has been stood up by a date. By the end of the night, Steph ends up getting kissed.
Tuesday
Toadie finds himself receiving a life-changing shock in Dee's motel room.
Meanwhile, Steph comes clean to Mark about the kiss, her feelings for Victoria, and her doubts about the baby and the surrogacy.
Ben and Xanthe's dodgeball rivalry intensifies so strongly that Susan enlists Sheila to supervise with her.
Wednesday
Toadie and Sonya are rocked when they learn that Dee's return has heralded the arrival of someone who will change their lives forever.
Mark wonders if Steph's attraction to Victoria points to a deeper problem.
Ben and Xanthe put their rivalry aside to bring Susan and Sheila together.
Thursday
Sonya is convinced that Dee's bombshell will cast an even greater shadow over her marriage.
Steph accuses Mark of prioritising Sonya over her.
Meanwhile, Paige begins to question her decision to keep Jack in the dark and admits a truth of sorts to her new baby daddy – that the real father is 'married'.
Friday
Reeling from Steph's decision to break off their engagement, Mark prepares to be a single dad.
Meanwhile, Toadie gets an unexpected reprieve from the surrogacy drama at home.
With their families refusing to bail them out, things look dire for Piper and Tyler, until Leo suggests a lifeline.
This week on Neighbours… 23rd – 27th January
Monday
Toadie is stunned by the resemblance of their mystery visitor to his 'late' wife Dee, and by the stranger's familiarity with the details of the accident that took her life.
Dee then reveals her true self and explains away her years of absence. She convinces Toadie that she was saved by a miracle, but Sonya does not buy it.
Neither does Mark, whose questions put him at odds with Steph…
Tuesday
Toadie spends the day getting reacquainted with Dee.
Sonya tries to hide her fear that Dee has returned to win him back.
It's the day of the Erinsborough Backpackers' launch and Leo is both nervous and excited. He has organised events like this before, but it has always been other people's money at stake.
Wednesday
Sonya discovers that Toadie is looking into the Bliss family estate to help Dee get back on her feet.
Meanwhile, Paige gets a surprising offer from someone proposing to 'become' her baby's father.
Steph and Mark plan an engagement lunch, but an unexpected turn of events results in both of them spending the day in intimate encounters with other people.
Thursday
Leo is frazzled in the lead-up to the opening of the Backpackers, but the day goes horribly wrong when a kidnapping occurs. Who has been taken?
Paige decides to take her baby's surrogate father up on his offer, but as she prepares to tell her family at an Australia Day barbecue, she learns that Jack is also invited.
Elsewhere, Piper is missing Tyler, who has been spending all his time looking for a new job.
Friday
Paige's announcement leaves Brad and Lauren with a lot of questions, including why it took the 'father' so long to come forward.
Meanwhile, Leo is convinced that Paul and Terese are behind the kidnapping, and discovers a way to get back at Terese by making Piper and Tyler an offer they can't refuse.
This week on Neighbours… 16th – 20th January
Paige is eager to forget her problems and hits the city with David, but the night takes a terrible turn. Meanwhile, more desperate than ever, Gary turns to an old friend for help. Feeling neglected, Steph stumbles into a conversation with a surprising new confidant with whom she shares some unexpected chemistry.
Following the scare at the nightclub, Paige and David wait in agony to learn if the baby will survive. Mark and Ned head off after Tyler and Piper, but what will it take to convince the pair to return to Erinsborough?Steph wrestles with coming clean to Mark after her unexpected moment with another woman.
Terese organises a family lunch, but tensions bubble to the surface. Meanwhile, Tyler is worried that his job is in jeopardy since taking off with Piper, so he arranges for a meeting with Lucas. In the midst of a heatwave, a hot and bothered Elly comes across a sweltering Ned as he begins his community service at Erinsborough High.
Paige's pregnancy bombshell and her refusal to reveal the father sends shockwaves through the family. Sheila and Amy do not suspect that Gary is at risk of turning to old criminal habits. Elsewhere, Leo offers Aaron work marketing the new Backpackers hostel, but the partnership puts his friendship with Amy on the line.
Hoping for some quality time with Toadie, Sonya opens the door to a shock from the past. Gary loses a car and ropes Tyler in to help him find it. Xanthe is incensed when Ben suggests that she will not want to play in the dodgeball game at the rec centre because she is not into sports.
This week on Neighbours… 9th – 13th January
Sonya confesses that she is pregnant, and she and Toadie worry about breaking the news to Steph and Mark. Meanwhile, Terese bans Piper from seeing Tyler while she is living at home. Elsewhere, Paige feels adrift in the wake of her own news and takes a surprising someone up on their offer to join them in the bedroom.
Toadie is plagued by bad dreams so Sonya, thinking he is upset by the surrogacy, brings all involved together to discuss the matter. Meanwhile, Piper organises a dinner to get Terese and Brad on side with her and Tyler. Feeling guilty after the previous night with Paige, Leo is desperate to get a second chance with Amy.
Aware of the growing bond between Mark and Sonya, Steph begins to feel ostracised. Meanwhile, Piper and Tyler return to face the music, but the confrontation leads to a huge decision. Amy is almost ready to give Leo a second chance during their dinner date, but she makes a discovery that confirms her worst fears.
Brad and Terese begin a frantic search for Piper and Tyler, who have done a runner. Elly plans to leave town to protect a secret from her past. Elsewhere, Terese and Paul scramble to get their tender finished, leading Terese to consider taking things further. Aware of the fake necklace, Susan decides to play a cheeky prank on Karl.
Sonya is struggling and considers quitting her job for the good of the baby, but a concerned Toadie reminds her that it's not her child. Leo partners up with a powerful ally to topple Paul and Terese. Xanthe arranges a street cricket match to lift Gary's spirits but some creative umpiring sparks new tensions.
This week on Neighbours… 28th November – 2nd December
Face-to-face with her ex, and needing to save her relationship with her daughter, Brooke pays the money she owes him. She then sits down for a heart-to-heart with Xanthe. Meanwhile, Leo reaches an all-time low following a series of unfortunate events. Elsewhere, with the Maxine story in Tim's hands, both Paul and Terese work to keep it from becoming front page news.
Sheila, Gary and Xanthe are stunned when they learn the extent of Brooke's deception. Despite their shock, the Cannings present a united front and make Brooke an offer. Meanwhile, Elly has nowhere to live and feels helpless while Susan decides what to do about finding her and Angus together. Later, Elly learns that Susan has had to inform the education department and her job is on the line.
The Cannings come clean to the neighbours about the faux-jewellery scam – and tension grows between them and the Kennedys. Meanwhile, a worried Angus begs Elly to keep quiet about their kiss for both their sakes. Elsewhere, Kathy surprises Lauren by coming early for the wedding, but she can see her mum is distracted with thoughts of Lou.
It's the day of Brad and Lauren's wedding and the happy couple come dancing down the aisle. The wedding causes Lou, Kathy, Piper and Tyler to reflect on their respective relationships. Meanwhile, following a talk with Mark, a spooked Elly interrogates Ned about his feelings. She is convinced that her best course of action is to run away with him after the wedding.
Lauren and Brad's marriage is off to a tumultuous start when Maxine shows up at their reception. Meanwhile, Lou and Kathy are loved up, so Lou decides they should make things official by having Susan renew their vows. Later, as the wedding comes to a close, the day brings revelations for several favourite neighbours, as well as a giant shock for Toadie.
This week on Neighbours… 21st – 25th November
Sticking to her plan to encourage Xanthe to leave town, Brooke drives a wedge between her daughter and Ben. However, Sheila's bond with Xanthe proves much more difficult to break, leading Brooke to take drastic action. Elly is shattered after failing to win back Derek and Angus is first to offer consolation.
Steph drops a bombshell on a disappointed Mark and then approaches Sonya with an impossible request. A concerned Susan has no option but to confront Elly and nip the Angus problem in the bud. When Brooke weaves a story to Gary about needing to come up with a chunk of cash to save her jewellery order he gives her his prize money.
Asserting her desire to pull out of the surrogacy arrangement, Steph asks Sonya to take the morning after pill to end the first cycle. Amy embarks on her date with Leo and gets a better insight into the Tanaka family. Despite Brad's best efforts to derail the council meeting, Paige and Jack face off in a battle between Blaze Outreach and the Church.
Tragedy strikes the Tanaka family and David takes out his grief on Aaron. Brad receives a mysterious text message from Maxine, who is threatening to reveal his secret if her accommodation is not improved. Paige confronts Jack about the closure of Blaze and is disappointed with him for failing to separate his personal feelings from those of the Church.
Paul discovers that Leo is behind a secret tender for the Men's Shed. Lou's mysterious date turns out to be Trixie Tucker, who is more than happy to see if there is still a spark between them. Amy is hurt when she learns of Leo's bet with Elly and throws herself into her work. Brooke's chickens come home to roost as she prepares to make her getaway and is cornered by an old mark.
This week on Neighbours… 14th – 18th November
Elly is alarmed by a late-night call from an intoxicated Angus and sets out to bring him home before he comes to harm, but Angus misinterpret her intentions. Brooke worries that Xanthe will not leave with her while she is still attached to Ben. Paul contacts Maxine Cowper to uncover the purpose of the secret payments, but nothing prepares him for the discovery of who she really is.
Paul uses the information about Maxine's identity to force Terese out of the Men's Shed tender. When Tim Collins threatens Tyler with criminal charges over his crashed car, Piper decides to take matters into her own hands to help him avoid jail. Xanthe starts to doubt Brooke's intentions when she starts reeling Gary in.
Xanthe turns to someone outside Erinsborough to save Gary when he rekindles his relationship with Brooke. Following more disappointing news about his father, David loses his cool with Aaron in the worst possible way. Lou is determined to find a date for the wedding but his quest for a woman only causes a frustrating setback to Lauren's plans.
Sonya tests herself and discovers she is ovulating, but in the haste to take advantage of the timing doubts emerge and not everyone's cards are on the table. Amy asks Leo to help deal with David's outburst. Jack is thrown when Paige is inspired to start a new programme of sex education and LGBT awareness at Blaze Outreach.
Elly is torn when she receives a text out of the blue from her ex Derek, wanting to catch up. Toadie's misgivings over the surrogacy situation are worsened when Victoria comes out against it. Appalled by her decision to meet Derek because of their chequered past, Angus recruits Piper to help him thwart their date.
Who do you think is behind the graffiti?
This week on Neighbours… 7th – 11th November
Lauren is caught by surprise when Lou and Kathy arrive from Brisbane at the same time and are at odds. When tensions finally erupt over the dinner table, Lauren presses her mum and dad to stop lying and tell her the truth. Why are they suddenly fighting?
Xanthe is tentative with her mum, still unsure if she can fully trust her. Brooke works hard to prove herself and Xanthe signals that she's open to rebuilding their relationship. But Brooke's attempt to step in and play a maternal role only triggers Xanthe's resentment and hurt, causing sparks to fly.
Karl is on the hunt for a wedding anniversary present but recoils at the prices. Brooke and Xanthe make a power sales team, pressing Karl to name a price for Susan's love and devotion. But has he just made a huge mistake in trusting Brooke?
Lou and Kathy awkwardly discuss their night of romance, but while they both felt something special, it soon becomes clear that they both blame the other for seducing them and there's been a big misunderstanding about what happened the next morning. Can they get their act together?
Brooke's plan to fleece the Cannings is still in motion, but she's beginning to enjoy being part of the family again. Feeling drawn to Gary again – something that Xanthe loves the idea of – Brooke's jealousy is unexpectedly piqued when she hears of Terese sniffing around.
Emotionally drained, Steph and Mark return from hospital having received crippling news regarding their possible future as a family.
Angus is loving his new college, but is frustrated to realise that everyone has their own music video except for him. His friends quickly suggest making his own video, and the Willis backyard becomes the set for the budding love, frustrated romances and sexual tensions in play on Ramsay Street.
Leo is confident he's got the tender for the Men's Shed all sewn up. His cockiness rapidly fades, however, as he realises he's not alone in eyeing the potential. In spy mode, Leo digs amongst Terese's paperwork to source information that will give him back the edge, and soon stumbles across more than he bargained for.
Mark is willing to consider Sonya's offer of donating an egg as well as being the surrogate, but he's not sure how Steph will react.
Leo is determined to track down the mysterious Maxine Cowper and uncover the nature of her relationship with Brad and Terese. He drops the information to Paul, hoping that he'll find out for him, but will Paul have other plans?
Brad keeps Jack in the dark when one of the Blaze Outreach kids drops out of the program because he has an issue with the involvement of Catholic priests, but a brazen act soon leads to Jack being unable to be kept in the dark.
Toadie and Steph are still processing the way they each heard about Sonya's egg donation offer. While they meet to air their frustrations over their partners' actions, they're still left to decide – do they agree to the plan?
Angus's self-confidence has sky-rocketed and he is keen to impress another student at the school, but Elly becomes worried about the type of company he wants to keep.
This week on Neighbours… 31st October – 4th November
Brennan is left helpless when Steph refuses to discuss their break up. Angus dedicates a song to Elly at a school dance. A mixed up Tyler steals Tim Collins car.
The local press run details of Sonya's surrogacy… Is Tim Collins behind the expose? Tyler manages to cover up his part in the joyride after crashing the car. Angus plants an unwanted kiss on Elly.
Leo warns Angus off Elly following the kiss, causing Angus to quit school. Simone offers to take the blame for Tyler's joyride… What is she up to? Tim Collins dirty tricks rile Sonya.
Paige grows more wary of a manipulative Simone. Elly tries to persuade Angus to stay in school… Will her words work? Ben helps Xanthe deal with her issues.
David discovers nurse Eva is close friends with a woman from Karl's past… Could she help clear his name Lauren's troubled when Kathy visits. Mark discovers Tyler broke the law.
This week on Neighbours… 24th – 28th October 
The Canning´s debut on Family Feud goes to air, which leads to a shock visit. Heartbreak leads to an unexpected hook up. Leo plays Paul and Terese at their own game.
Xanthe and Gary deal with a blast from the past when Fifi Box arrives as Brooke Canning. Can Leo win over Amy? Tyler is devastated when he finds out about Piper.
Has David found his father? As Xanthe reconnects with her mum, Sheila investigates Brooke´s true motives. Amy prepares for her date with Leo – but will she get her fairy tale?
As his illness worsens Brad reveals a compelling secret to Terese. Tensions boil over between Paige and Simone. Leo gets a disturbing glimpse into his future.
Lauren begs Karl to help save Brad´s life. Mark and Steph receive shocking news. Could his latest stunt to impress Elly put Angus in peril?
This week on Neighbours… 17th – 21st October 
Leo tries to benefit from Paul and Terese's rivalry. The Canning's prepare to take on Family Feud. Jack introduces Paige to his ex.
Secrets are revealed as the Canning family take to the stage. Terese confides in Susan about Gary. Jack's reluctance to commit angers Paige.
Amy struggles to understand David and Leo. Angus's infatuation with Elly continues to grow. Lauren struggles in the wake of the accident whilst Brad deteriorates.
The first surrogacy meeting throws up some questions.  Brad's mystery illness causes concern.
While Brad's condition worsens, Karl begins to doubt himself. Tyler and Piper bond at the memorial. Angus's tattoo plan puts him in danger.
This week on Neighbours… 10th – 14th October 
The women of Ramsay Street dress up for Lauren. Gary tries to make amends with Terese. Ellie struggles in the wake of Ned's departure. Paige's choice of costume strikes a nerve with Jack. Jacka plots his revenge.
The hot air balloon trip ends in disaster. Paige faces up to her feelings for Jack. Steph has a nasty accident.
Ramsay Street deals with the fallout of the day's events. Karl finds his career on the line following a risky surgical move. Jack and Paige give into their feelings.
Jacka lashes out. Amy and Aaron's involvement with the Tanaka brothers gets complicated. Karl fears the worst.
Mark rethinks his decision about the surrogacy but is Toadie still on board? Gary finds himself wandering Erinsborough in a compromising position. Aaron worries about David and Amy.
This week on Neighbours… 3rd – 7th October 
Returning for Brad's bucks party, Ned learns that Elly saw him with Regan. Paige decides to cut all ties with Jack, but is this what she wants? Upset by Ned's actions, Elly heads to the Waterhole for a distraction, but ends up in dangerous company.
An upset Terese is disappointed to learn that the police can do nothing and that Jacka is able to walk free. A returned Angus sets his sights on Elly. Paul's true feelings for Terese begin to resurface when he sees Terese kissing Gary. Elly gets flirty with Jacka unaware that he's out for revenge on Ned.
Leo organises a group outing with Aaron, Amy, and David.  Paul is jealous of Terese's closeness to Gary, so vows he's going to ruin her. Aaron is disappointed when it becomes clear that Leo is interested in Amy, not him. Angus hopes to get closer to his teacher Elly.
Piper is upset when she realises her family & friends have forgotten her birthday. Paul warns Leo to stay away from his daughter Amy, but has he met his match? Mayhem ensues when Xanthe enters the Cannings for the game show Family Feud. Tyler gives Piper a surprise birthday treat – will their romance be reignited?
Ned forms a plan to keep Jacka away from his nearest & dearest. Steph prepares to meet Adam, the son she gave up at birth, but decides to keep it a secret from Mark. Elly lays her heart on the line for Ned. Gary is confused when Terese gives him the cold shoulder.

This week on Neighbours… 26th – 30th September
Steph receives a surprise phone call and hesitantly goes to see Jacka in prison. He's heard his wife is cheating on him and has to know if it's true. Steph reluctantly agrees to approach her.
Steph tracks down Ned to tell him that she knows he was the one who had an affair with Jacka's wife Regan – and that it's only a matter of time before Jacka does too. Ned is terrified by the revelation, sending him into the arms of Elly.
Ben and Xanthe are ready to take their relationship to the next level, but when they retire to their room, they find an unexpected guest there waiting. And the guest is not happy…
With Jacka knowing about his affair with Regan, Steph tells Ned that he needs to leave town. Ned is reluctant, knowing that he needs to be here for Brad's wedding.
A mortified David convinces Amy to call Dr Kennedy instead of security when she catches him snooping around where he shouldn't be. Despite his actions, Karl is ready to give David support when he learns that the young doctor is searching medical records to uncover a mysterious piece of his past.
Finally in agreement about the surrogacy, Toadie and Sonya nervously prepare to talk to Steph and Mark about it. Steph and Mark are at first shocked, but then they have to decide whether they want to take Sonya and Toadie up on the offer.
This week on Neighbours… 19th – 23rd September
Kyle´s return pushes Amy to move out. Steph and Mark fear they've lost Charlie forever. Is this the end for Elly and Ned?
Ned reveals a dark secret. Amy and Jimmy find a home. Sonya puts herself on the line to help her friends.
Sonya deliberates on a life-changing idea. A handsome stranger sparks hope in Paige.
Who is the new guy in town? Paige fears she has made a life threatening mistake. Toadie is confronted by Sonya´s proposition.
Xanthe´s FOMO causes her to take drastic action. Jack flies to Paige´s rescue. Terese is piqued by Gary´s low key seduction.
This week on Neighbours… 12th – 16th September
The pigeon races brings rivalries to the fore. Xanthe finally realises the truth about Ben. Steph and Mark fall out over Elly, but Steph's day then takes a turn for the worse.
Ari and his snakes hold Steph hostage. Elly is confused by Ned's behaviour. The pigeon race is hit by a doping scandal.
Paige prepares for her first professional fight. Steph's ordeal is finally over. Paul's plotting pushes Gary and Terese closer together.
Paige's fight has a tragic ending. Ben and Xanthe make plans to visit Queensland. Sheila receives a surprise visitor.
Why has Kyle returned to Erinsborough? Paige feels guilty over Angelina's hospitalisation. Gary stands up Terese – but someone soon takes his place.
This week on Neighbours… 5th – 9th September
Ned is torn between Elly and Piper. Amy feels betrayed. Steph finds out who's been tormenting her.
Mark has a dangerous showdown with Ari. Is Paige's life in danger? Jack and Amy grow closer.
Mark fights for his life. Steph says goodbye to Charlie. Paige receives a warning.
Terese plays Paul at his own game. Paige realises the consequences of her actions. Xanthe is jealous of Ben and Madison's friendship.
Sheila makes a big mistake. Ned's good luck starts to run out. Susan attempts to fix Piper and Elly's problems.
Source: Digital Spy and Google Images