Nina Becomes an Angry, Horny Werewolf, Plus a Zombie Apocalypse – Offspring S6E7 Recap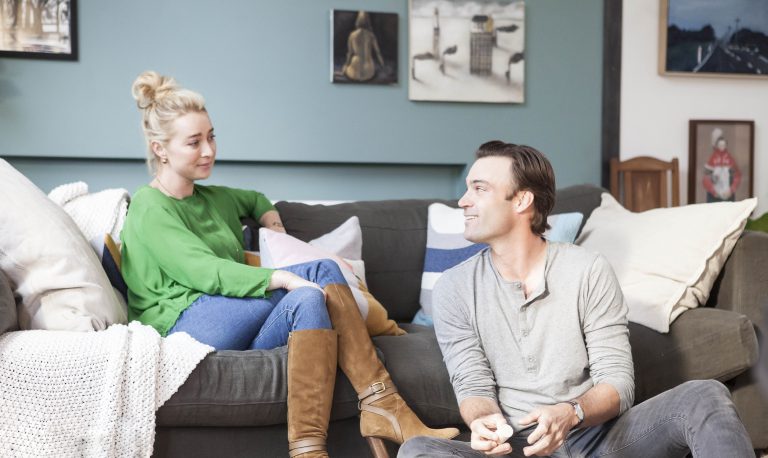 Nina Becomes an Angry, Horny Werewolf, Plus a Zombie Apocalypse – Offspring S6E7 Recap
Last time we saw Offspring on our screens, we were left with a bit of a cliffhanger – Nina was offered Patrick's frozen sperm by his ex wife, just in case she wanted to use it to grow her family.
She is now puzzling over her big decision while watching Zoe play happily.
"You seem fine by yourself, you don't need a sibling. But what would your Dad have wanted?"
Suddenly, Patrick appears in Nina's fantasy. "If you do keep it, life could be so much more fun."
At St Francis, Martin is talking through the options for his bucks night. Korean Baths (they come to your house and walk all over your back. Woo!), paintball, fencing camp, Meatfest BBQ (eight different animals on your barbecue!), wrestling, jungle drumming… but then Elvis has an idea.
"The Dark Night of the Apolcalypse – when zombies, demons and chainsaw wielding murderers rise up to destroy humanity. We drop you and your mates in the middle of ground zero. For the survivors who make it out, your reward is a keg of your favourite craft beer."
Naturally, Martin is thrilled with the suggestion and the men wander off to their next appointments making ghoulish noises at each other.
Nina meets with a fertility clinic to discuss potentially freezing some of her eggs. "And I'll just let Billie casually know that there are some eggs there if she wants them." But is Nina going through with the procedure to give some to Billie or to use them with Patrick's sperm? Maybe both?
The fertility specialist warns Nina of some of the side effects of the hormone injections required to begin the process.
"A little more intense than PMS, some women will describe it as feeling like a werewolf. It will make you extremely fertile and easily aroused. So keep away from any unwanted men."
Immediately after returning to work, Nina is stopped by Hot Harry Hemsworth, the PR guy from a few episodes ago, who promptly asks her if she'd like to go out to dinner sometime.
"Who with?", Asks Nina.
"Me!", replies HHH.
She thinks it over and wants to say yes but realises that she can't trust her body because she's all "sex and fury". So she tells him no.
"Good choice, your body is not your own, Nina. It's Billie's," she tells herself.
Martin pops in to see Nina with another one of his massive dramas. Martin is in a panic because he is to be married next week but it turns out he has lied on a government form.
Nina: "Where is she? Who is she?"
Martin: "Brief and to the point! It was many years ago. I was new to this country, I met Justine! She was the secret lesbian daughter of an ultra-conservative farmer whose cruel ultimatum forced her hand! To either marry a man, me, or lose the farm! We quickly realised our mutual need to get married. I for citizenship, she for inheritance! Nina! I LIED ON A FORM!"
Nina urgently suggests that he find Justine and get their marriage annulled, something Martin did not think of.
Later, Nina is loitering about in the corridors waiting for HHH to leave his meeting. She apologises for turning down his dinner date earlier and explains that while she does see them in a romantic situation, her body is not her own at the moment due to her fertility treatment "for Billie".
"So you're saying 'no', but that I should possibly ask again."
"Yep."
Nina's go-to seduction technique is to leave them frustrated and confused. And she's good at it.
As they part, Elvis asks Nina for final numbers for Martin's Dark Apocalypse bucks night and she invites HHH along too.
It's time for Brody's first ultrasound, and naturally, because Nina is a skilled radiologist as well as an excellent obstetrician, she is charged with performing the procedure. This woman is indispensable to St Francis, despite spending most of her day riding in elevators and loitering in corridors and chatting in supply closets.
While performing the ultrasound, Nina discovers that Brody's baby is much bigger than they thought, meaning that she is much further along in her pregnancy – about 25 weeks.
This has left Brody without any option but to deliver her baby, she no longer has the choice to abort. This is devastating news for the fifteen year old, who is terrified of giving birth and ending up like her mother, who told Brody that she ruined her life. Maybe Billie and Mick could adopt the baby? Just saying…
Billie tells Brody that she is not her mother and that she is surrounded by people that love and support her.
Kim has organised "pizza and a DVD at my place" for Cherie's hen's night, thinking that it doesn't need to be that big a deal because "the marriage isn't that genuine" on account of Cherie and Martin's waning sex life. Zara and Nina tell her it has to be bigger and that it doesn't matter what Kim thinks about their relationship. Naturally, Cherie is around the corner and is listening to everything. Nice, Kim.
Kim admits that she was wrong to begrudge Cherie and Martin's union and that she was being mean about it because her own relationship is lacking sex. She declares that she is going to "pamper the shit out of Cherie" and has booked the penthouse at the Park Hyatt.
"I'm gonna bring every scrub, cleanser, toner, moisturiser, champagne. I'm gonna paint 'er nails, rub her hair, smear her face." *whispers* "So many products."
"She's gonna be so relaxed she's gonna be like a sleeping monk in a spa bath."
Billie has invited her work colleague, Kerry, over for dinner in an apparent set up with half brother Will-who-drafts-wills. They get along nicely and the night is flowing wonderfully, and it becomes somewhat apparent that while Kerry and Will are clicking, Brody is hanging on to everything Will is saying. Things are going to get messy, not in this episode, but one day.
Billie tells Nina that she has found a house for her, Mick, Brody and the baby. Nina tells Billie about Patrick's sperm and the decision she has to make. They discuss it at great length, the pros and cons of keeping the genetic material of a past lover to use instead of those of a new husband or partner.
Martin has tracked down Justine and arrives at her farm in a taxi. He calls out to the farmer unloading bales of hay and asks him if he's knows the whereabouts of Justine, the owner of the property.
"Well, well, well, Martin Clegg!", replied the farmer, and the realisation dawns on Martin.
Justine is now known as Justin. They sit and have a chat over a few beers. As it turns out, Justin needs to change his birth certificate to reflect his new gender so they happily agree to get divorced with a clink of their beer bottles.
It's time for the zombie bucks night and everyone meets at Nina's place ready for the big event. Right when they're about to leave, Billie rings Nina and they have a quick, intense chat about Patrick's sperm. Billie tells Nina to keep the sperm, don't make it any more complicated than that. Keep them just in case. Decision made.
Over at the Park Hyatt, Cherie is enjoying some pampering.
Meanwhile, Nina and co have arrived at the undisclosed location, ready to start their zombie experience. Elvis is in character and keen to begin.
They are led into a warehouse and told to make it out alive. Fires in empty drums greet them and there are strange noises and creepy shit all over the place. Everyone is into it except Nina and Harry. Agreeing to stick together, Harry and Nina decide to stay near the fire drums until the event is over, and just let the others have fun with this silly experience. But then…
They run, terrified, through the warehouse, as other hideous zombies leap out at them from behind blood-spattered plastic sheets to the sound of screams and moans. It's all a bit silly but freaky at the same time.
Then, while in the depths of the apocalypse, Nina decides to tell Harry about her egg harvesting procedure. How she's horny and angry and very fertile. Then suddenly, they reach the end of the apocalypse alive and ready to drink eyeball martinis. "Thank god that's over, cheers." But they are only halfway. Great!
Nina makes a sudden announcement that Cherie wanted both of the parties to come together, so how about she and Harry head over to the hotel now, and then the rest of them can finish their vampire zombie experience and join them afterwards? Nina and Harry hastily put their drinks down and leave quickly.
They meet up with the ladies in the penthouse at the Park Hyatt and discover Cherie sleeping on the lounge after too much champagne. Nina pours a glass for Harry to toast surviving the apocalypse. They continue to flirt a little more, and then HHH ponders a question.
They run, run to another room. In between kisses, Nina explains that she's very fertile. Like very. HHH tells her he has three condoms. She tells him he has to wear all three.
So, while wearing three condoms and having issues with blood circulation, they are ready to go for it. But Nina isn't sure. She wants to stop, maybe this isn't right?

And with her decision made, she swiftly slips out from under him and flips him over for a little spooning. Just like that.
Frustration and confusion. Works every time.
Oh Wa.. Oh Wa… Oh Waaaaaaiy won't you stay?
ScreenQueen x
Read all of ScreenQueen's Offspring recaps here.
Images courtesy of Channel Ten