Nip Slips, Celebration Fails, Sex Scenes and Jail Homecomings – This is the Week in Television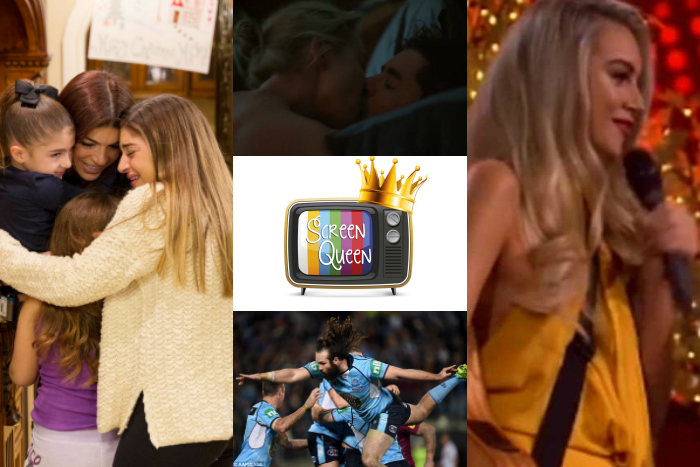 Nip Slips, Celebration Fails, Sex Scenes and Jail Homecomings – This is the Week in Television
It's been a big week. Funny, morally confusing, titillating and steamy, all in seven days of television viewing. Here are the highlights in one fun-sized pack.
Firstly, a nipple
While I'm never one to be shocked by the sight of a human nipple, to be confronted with a perfectly natural part of human anatomy unexpectedly during prime time generally makes the news. Just ask Janet Jackson.
It all went down on Sunday night during Channel Nine's finale of The Voice. Tash Lockhart felt a slight breeze while chatting to Ronan Keating and Sonia Kruger and then went on with her day. The rest of us though…
Here is the moment in question, not that big a deal really…
Happily, Tash finds the humour in the whole thing, posting this to her instagram shorty afterwards.
Good on you Tash, and congratulations on a fantastic competition. We wish you all the best for your future success.
Speaking of success…
A failed celebration
New South Wales won the third State of Origin match on Wednesday night, beating Queensland 18-14 in the dead rubber that saw Queensland win the series overall.
It was an exciting final few minutes of the game, with NSW snatching victory from the jaws of defeat at the very last minute. Adrenaline was running high, victory was in sight, and the celebrations were poorly planned in the heat of the moment.
Watch Aaron Woods, the big hairy guy running in to high five his team mates after the match winning try was scored…
Teresa comes home
On Monday we watched as convicted felon, Teresa Giudice was released from jail on the season 7 premiere episode of Real Housewives of New Jersey. It's hard to morally compartmentalise Teresa's homecoming and to not judge her on her husband's shady dealings. They did wrong, she paid the price – almost 12 months in the big house. He is currently behind bars doing his three and a half years penance.
After what seemed like forever we finally saw the emotional homecoming, with her four daughters running into their mother's arms. Love her or hate her, this was gut wrenching television, reality tv at its best.
We see the moments leading up to the reunion – Gia waking her younger sisters and helping get them ready, sassy Milania screaming at the paparazzi settled outside the Giudice residence, Joe sitting around doing nothing in particular as usual.
And then she's home.
Who are we to judge? A mother is home with her daughters. She didn't kill anyone, she just happens to be married to a bonehead. She's done her time and will continue to pay for her husband's mistakes throughout the rest of her life.
Editorial admission: I cried like a baby.
How Nina got her groove back
We were treated to a lil somethin-somethin on Wednesday night when sex was all anyone could think about over on planet Offspring.
It started out with a sex dream involving our heroine and Martin Clegg..
…and ended with a steamy sex scene between Nina and a handsome stranger she met in a bar while having drinks with Angus.
This sex scene felt particularly real, and not just for the way it was produced and edited – the handsome stranger that Nina hooked up with was played by Asher Keddie's real-life husband, Vincent Fantauzzo. No wonder it all seemed so vivid and lifelike. They've been rehearsing this scene for years!
Read my recap of the steamy third episode of season 6 of Offspring here.
Until next week!
ScreenQueen x
PS, join me over on Twitter  – I love having a chat with followers while watching our favourite shows.  SQx