Offspring, HouseRules, Kit Harington and Zumbo's Desserts – This Week's TV News & Reviews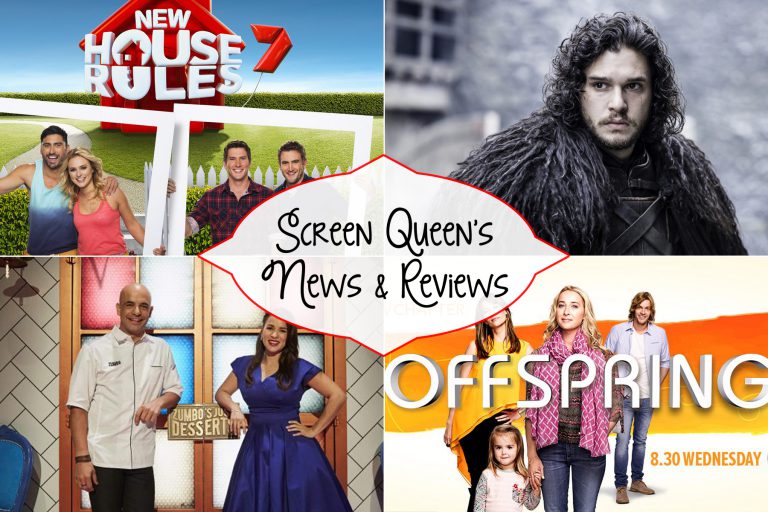 Offspring, HouseRules, Kit Harington and Zumbo's Desserts – This Week's TV News & Reviews
It's been an exciting week for Australian television – the return of Offspring, HouseRules finishes up this weekend, and final cast changes for Adrian Zumbo's new cooking show. Plus Kit Harington.
Firstly, the most important event of the week…
Offspring returned to our screens
Offspring premiered it's much awaited sixth season on Wednesday night to the delight of many. So many new changes awaited us, including the death of Nina's father, Darcy. Read a full recap of the episode here.
I took to Twitter to chat to fellow Offspring fans while the episode was on, and was surprised at the level of shock and confusion that the new episode had brought. I decided to run a little poll…
What is the most shocking new development in the #Offspring plot? @OffspringTV @channelten

— Screen Queen (@MumsLounge) June 29, 2016
Really not surprised at the results of the poll. Follow me on Twitter here, I'd love to have a chat in the ad breaks during next week's episode!
HouseRules Grand Final is on Sunday night
I'm a bit upset about this series of HouseRules finishing up. It will leave a big gap in my evenings where I'll have to choose between Selling Houses Australia repeats on The Lifestyle Channel and old Real Housewives eps on my PVR. In a stunning new development, it appears that I only watch programmes with the word house in them.  Strangely enough, I never watched House, that hospital show. Huh. Anyway..
It's down to the last two teams – Claire and Hagan and Luke and Cody. They will compete in a Live Grand Final for the big prize of having their mortgage paid for.
I'm in two minds about this – I'd love for Luke and Cody to win because they are just adorable, but their property belongs to Luke, a single 24 year old man living in country Queensland. I am obviously not privvy to what his house is worth but it was pretty run down when they started and the house is out in the sticks.
Claire and Hagan are both working parents with two young girls and live on the Mornington Peninsula in Victoria. I kinda think the money would be better spent paying off their mortgage as it would be a higher figure and more life changing than if it paid off Luke's mortgage.
Plus I reckon the boys are so marketable that they'll be sure to pick up some sort of tv gig somewhere. Certainly not on radio.
What do you think?
Who do you want to win #HouseRules on Sunday night? @Channel7 @HouseRulesOn7 @JohGriggs7 @CarolynBurnsMcC

— Screen Queen (@MumsLounge) July 2, 2016
I'll be live-tweeting the grand final too if you want to pop on by. 🙂
The HouseRules Live Grand Final airs at 7.00 pm on Sunday, July 3.
Adrian Zumbo will be joined by Rachel Khoo and Gigi Falanga on his new Just Desserts cooking show
In happy news, we'll be able to tune into another cooking show after the Olympics in August with upcoming Channel Seven series Zumbo's Just Desserts.
Devised by the makers of My Kitchen Rules, the series will put 12 amateur dessert makers to the test.  Host and judge Adriano Zumbo will be joined by Rachel Khoo (on the right) and Gigi Falanga (pictured left). Gigi will appear as an assistant & time-keeper.
I'm sure I'll gain six kilos just by watching all those desserts being made every week.
Kit Harington reveals how he scored his Game Of Thrones gig
Kit Harington has revealed that he owes thanks to a random guy at McDonald's for giving him a black eye before his Game of Thrones audition. Kit reckons that the black eye gave him the edge the casting crew were looking for for the role of Jon Snow.
"I had a black eye," he told W Magazine. "I'd been in a fight the night before. I'd went to McDonald's with this girl I had been dating, and it was late night and there were no seats. I asked this guy and this girl that he was with if we could sit at the same table as them.
"We sat down, and quite quickly he started being rude to the girl I was with, calling her names. He called her an ugly pig or something worse, and I said, 'No you can't, you can't call her that. Get up'."
"I realised I had to throw the first punch or else I'd look like a complete wimp," he says. "And I got battered. So I went to the Jon Snow audition with a black eye, which I think, that man who punched me in the face, may have helped me get the job, so thank you."
That's actually kind of sweet. Like we need any further reasons to adore the man!
Don't forget to follow me on Twitter for all the latest chatter on the box. And also just to have a chat while our favourite shows are on. 🙂
Until next time,
ScreenQueen x