OFFSPRING!! Offspring is back! Here's a handy recap!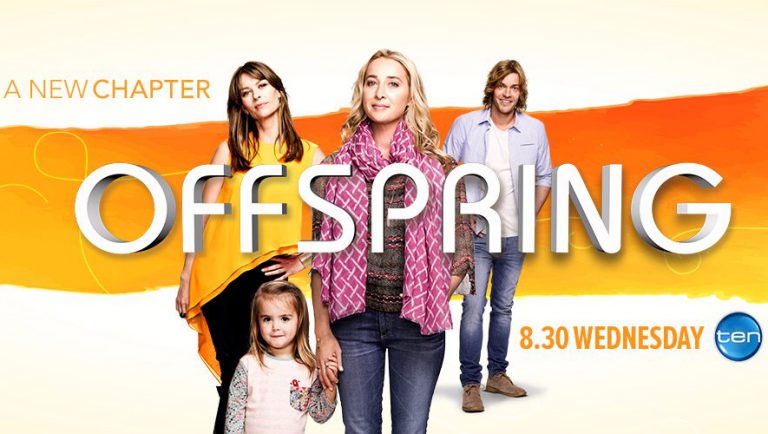 OFFSPRING!! Offspring is back! Here's a handy recap!
I know you're as excited as I am. I arranged my Offspring survival kit – wine, Tim Tams and a big box of tissues – and settled in to the much anticipated series return of one of Australia's best-loved dramas.
We have loads of questions – how long is the time jump? Where have we resumed the story? What is the big drama they've been alluding to in the commercials?
Well, it wasn't long before the drama began. Five MAJOR things happened before the first ad break.
Firstly…
Leo and Nina have broken up
As Leo is explaining the circumstances of his new relationship, Nina reacts enthusiastically but awkwardly, then misses a call from her dad, Darcy, in preference to chatting with her now ex-love. She feigns happiness for Leo's new status and declares that it's good that he's moved on. Very unconvincingly. Very awkwardly. Very Nina.
Darcy Proudman, RIP
She then moves towards Cherie's work station only to learn that her father (and Cherie's baby daddy) has had a heart attack. And died.
So that's two major plot twists and we are still yet to see an election commercial.
Nina joins her family to console each other over their father/ex-husband/baby daddy's death and strangely, no one seems upset. It hasn't hit them yet and they are all responding in a completely normal manner, like they are under water. No crying, no screaming, nothing. Swish new house though (major change #3)
Major change numbers 4 and 5 is that Nina has apparently upgraded her car to an Audi, has ditched her iPhone and iconic ringtone and has gone on an android plan with a Samsung. WHAT? HOW COULD SHE DO THAT?? WOULDN'T SHE LOSE ALL HER APPS AND iTUNES PURCHASE HISTORY??
After hearing from mum Geraldine that Darcy's will was a scribbled sheet of notebook paper from 1976, Nina and Billie attend a meeting with their friendly local estate lawyer-guy who tells them that Nina is to be the executor of Darcy's will.
And his name is Will.
The funeral is a disaster.
It still hasn't hit the Proudmans yet that Darcy has not returned for the latest series tragically passed away. Other mourners are sobbing uncontrollably on the town hall funeral home steps but the fam bam stoically ascend ready for an emotional send off.
Oh, and Geraldine is smashed. She was seen enjoying a spliff in the backyard before the event and is high as a kite.
Right before the funeral begins, Clegg, Cherie's partner, insistently tells Nina that her momentary love interest, the will-drafting Will, is actually Darcy's son, her adoptive half-brother.
So Nina has another brother. She tried to maintain her composure while delivering the eulogy, but after Geraldine stands up during the funeral, declares that "Darcy would have hated this", and storms out to a nearby taco joint, all hell breaks loose. Well, more than it already had I guess.
Nina chats to Will outside the town hall funeral home, and he confirms Clegg's bombshell. They are, in fact, related. Meaning that Geraldine's friend and neighbour up there in the the stoned pic, Marjorie, was banging Darcy all those years ago. Nina tries to keep this information on the down low and rushes off to deliver Lawrence and Maddie's baby, something she promised the nervous couple earlier in the episode.
So then Nina gets a call from Cherie and shit's gone down, yo.
Bloody Will and his big mouth can't keep a secret well enough alone and tells Jimmy, Nina's brother, that they are related through Darcy being their father. Jimmy announces this to everyone and Geraldine straight up loses her shit at Marjorie. Tacos are thrown. Geraldine leaves with booze and some guy that I'm sure I saw on Underbelly one time.
Next thing we know, Cherie and Nina are sitting quietly in a trashed taqueria. Bits of lettuce and corn chip are everywhere.
They finally come to terms with their loss and tears are shed. Cherie recalls her relationship with Nina's dad and is the REALEST anyone has been all episode. Someone give Deborah Mailman another Logie already.
Nina begins her grieving process and sheds a few tears too. She then leaves to ensure her mother got home safely before checking on her brother, sister, daughter and nephew, who are oddly, camping in a local park. As you do.
They are understandably shaken about the episode's events, as are we, and talk about their dad fondly.
This ride is just beginning!!
ScreenQueen x
Offspring airs on Channel Ten at 8:30 Wednesdays.
All images courtesy of Channel Ten and @OffspringTV.