Offspring S6 Episode 2 Recap – Nina says Goodbye to Leo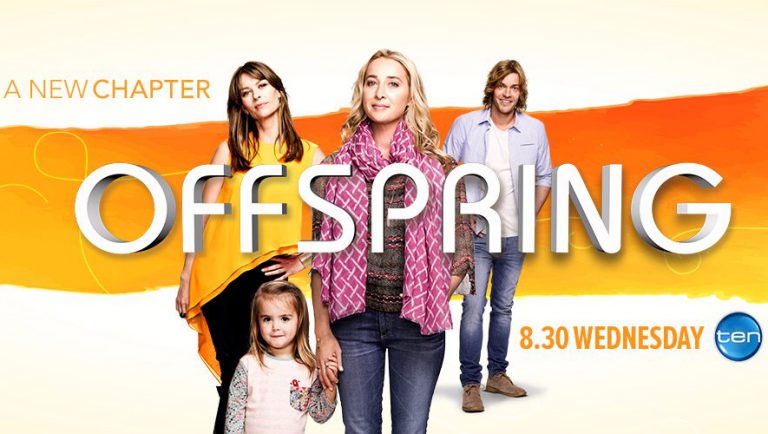 Offspring S6 Episode 2 Recap – Nina says Goodbye to Leo
We begin the second episode of season 6 of Offspring with Nina vagueing out in a coffee shop while Cherie bangs on the window trying to get her attention. She wants to give her the news that Leo is leaving St Francis.
Nina confronts him about him leaving only for him to introduce her to his new girlfriend.
Nina is then met by Zara, who seeks her advice as to how Nina is able to "turn off her sex" around all these hot doctors. Nina, shockingly, becomes flustered and confused.
Leo interrupts the ladies discussing their sex to inform Nina that her mother is waiting for her in her office. Assuming the worst, Nina runs through the halls to see what's the matter. Turns out Geraldine has been mulling over her late ex-husband Darcy's affair with Marjorie and wants some answers. Nina offers to act as a mediator as the last time Geraldine and Marjorie had words, shit went down.
So that evening, Marjorie shows up at the house with Geraldine and Nina.
An apology for the melee between the ladies at Darcy's wake ensues.
Geraldine: I regret the hair.
Marjorie: I accept.
Geraldine then slides  a sheet of notepaper across the table to Nina containing a handwritten list of questions she wants to be asked.
Geraldine needs to take several seats with that list of questions.
Nina did her very best to mediate but Marjorie leaves in a huff with her son, Nina's new half-brother Will.
Also, it turns out that Darcy loaned Jimmy a considerable sum of money in the year leading up to his death to help prop up Jimmy's failing taco eatery. Why is everyone obsessed with tacos in Melbourne?
This loan meant that most of Darcy's estate is now tied up in Jimmy's failing taco biz. Cherie, Billie and Nina say that it's fine, that they should just leave it, but Will encourages Cherie, a single working mother, to consider her options. Something about this Will character is decidedly dodgy. Can we trust him?
Next thing we know, Leo comes to see Nina in her office. He's upset.
We find out how they broke up – Nina told him it wasn't working out the way it should be and as it turns out, broke his heart in the process.  Nina realises that the break up wasn't mutual, and that Leo was still hurting. This is why he has to leave St Francis.
He says a whole bunch of mean things to her including the gem that Patrick had died before reality had kicked in to their relationship and that he lives on in perfection in Nina's fantasy world.
The man has a point.
Nina flees and leaves the remainder of the conversation for another day.
We cut to Geraldine babysitting Zoe and finding Marjorie on her doorstep with a bunch of flowers. She is invited inside and they have a heart to heart.
They reach a mutual understanding in a calm and gentle manner.
Marjorie: Darcy and I had one stupid moment together in a laundry on a washing machine.
Geraldine: Whose laundry?
Marjorie: Mine.
Geraldine: What sort of washing machine?
Marjorie: A Simpson.
Nina and Leo finally stop for a chat at work about what happened in their relationship and Leo apologises to Nina for being way harsh earlier.
The weird new doctor Angus interrupts to finally sort of flirt with Nina and Leo makes a hasty exit, cutting short the conversation once again. Angus asks Nina if he reminds her of someone, clearly alluding to their time together on Love My Way, but this just confuses Nina.
Nina leaves to try and find Leo but he's gone.
Cut to Billie and Jimmy having drinks with dodgy new half brother Will, the will lawyer. They chat about their father Darcy and try and explain to Will what he was like, as Will only met him once and it was weird.
While Billie is at the bar, Will pitches Jimmy an offer to save the taco restaurant, explaining how he could help extend the menu and expand into franchises for a 70% stake in the business. For a moment there I wasn't sure if I was watching Offspring or SharkTank.
Jimmy is horrified and says that he just wants to talk to people and feed them food. I think I can see where his business is going wrong, as can Will. We end the scene with the understanding that each of the men is "that guy".
Finally, Nina gets to resolve what happened at the end of her relationship with Leo. She calls to him right before he enters a pub and they have a chat outside.
Nina realises that she held herself back with Leo, and that while they shared a lovely chunk of their lives together, they both know it's over.
Leo's eyes fill with tears as he tells Nina that he wants her to find happiness in the real world. They share a big, emotional hug and say their final goodbyes just as Leo's new girlfriend arrives to meet him at the pub.
Nina heads home and chats to Billie before bed. She is doubting the happiness she shared with Patrick.
Nina puzzles over it some more, and it's obvious that her 'second break up' with Leo has unearthed some unresolved issues for her. Will she ever truly find happiness and be as happy as she can be? Or only as happy as she can be?
Until next week!
ScreenQueen x
Images courtesy of Offspring and Channel Ten.