Offspring S6E3 Recap – Sex Dreams and Steamy Scenes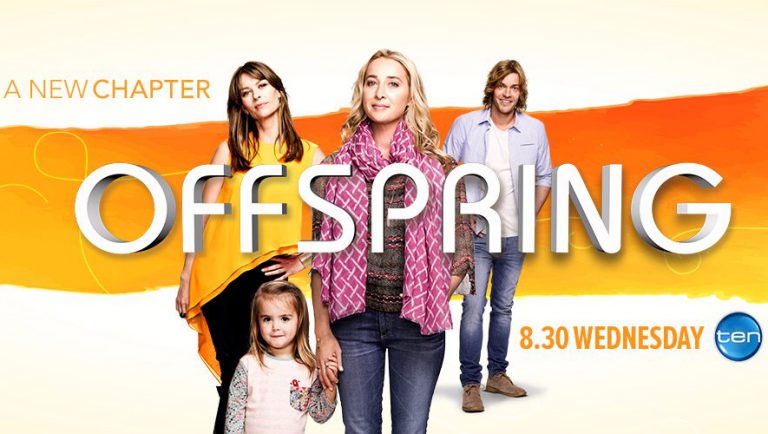 Offspring S6E3 Recap – Sex Dreams and Steamy Scenes
The episode of Offspring begins with an unexpected turn of events…
Love in an elevator
Trapped in a malfunctioning elevator, Nina and Martin sort out their work-related sexual tension while their colleagues look on with a mix of horror and what can only be interpreted as morbid interest.
Happily though, it was all just a dream. An awkward vivid sex dream. Involving Martin Clegg.
Nina is encouraged to get back into the swing of things
Nina confesses her sex dream to Billie while her sister is folding her knickers. It has been over seven months since she last had sex, and that was "warm woolly" sex with Leo, an event Nina once described as similar to putting ugg boots on at the end of the day. Perhaps it's time to get out there again? Sex dreams are clearly her body's way of saying she's ready for it again, although maybe not with a "slightly weird, yet compelling beardy man".
"I would not know where to start. How does sex happen?", Nina muses.
Nina tells everyone about her sex dream
Dr Angus walks by and tells Nina he had a dream about her last night. Nina assumes it was a sex dream but no, no it wasn't. Then lots of words fall out of her mouth onto the floor in front of her and next thing we know, she's discussing the details of her sex dream with Martin himself. And then with the rest of her colleagues. "Good! Well I'm glad we've all had this time together and now I've got to go and…..", she says as she dashes off.
Enter: Brody
Billie is called the railway station regarding Brody, the rebellious teen daughter of Billie's estranged friend Stacey. She is greeting by a police officer and a sullen looking teenager. You can tell she's a teenager because she's wearing headphones.
Brody has done a runner from her mother, and was caught by the officer for fare evasion. Billie agrees to pay the fine if Brody apologises, then takes her to breakfast where they discuss her predicament. Turns out that Brody got into a fight with her mother over her 23 year old tattood boyfriend who has two children. She has no where to stay in Melbourne and Billie offers to have her stay at Nina's house with her for a few days.
Did someone call for a "pantsman"?
Cherie approaches Nina, wanting the discuss the sex dream Nina had with Cherie's partner, Martin. Nina was worried that Cherie might be angry, but Cherie brushes it off as being completely normal, after all, he's a handsome man!
Cherie suggests that maybe Nina should enlist someone to help meet her sexual needs – like Angus!
Nina: That pantsman??
Cherie: Why not? No strings attached.
N: Not interested
C: Oh look, I'm sure he'd be up for it. And I reckon pantsmen get a lot of practice.
N: Never, in a billion trillion years would I have sex with Angus.
C: Oh! Hi Angus!
Of course Angus appears in the doorway behind Nina as she's talking about him. Of course he does.
More information required
Martin calls Nina into his office as an urgent matter needs to be discussed.
Martin is concerned that he brushed over the sex dream conversation earlier and declares that "when an issue like this arises between two professionals in the work place, the best practice is to examine it, to come at it from all angles, as it were."
He wants to know what he was wearing in Nina's sex dream. Specifically.
He then goes on to mention that if Nina would like him to service her sexually, he would have to ask Cherie about it first. But she'd have to understand that he could not give himself to her completely because his heart belongs to Cherie. He then bursts into tears. Cherie used to be "insatiable" but now the libido fairies have deserted the couple and Martin is struggling.
There's some trampolining with new brother Will who writes wills. Then it is revealed that Zoe has been "hedge clipped" with secateurs while in Geraldine's care and is now covered in band aids. And then Geraldine quits as a free childcarer for her grandchildren when Jimmy asks if she's been drinking while looking after the children. She stomps off citing "elder abuse". That woman has a flair for the dramatic.
Intruder Alert!
Nina gets home with Zoe to find a strange teen in her kitchen rifling through her fridge. Seems she forgot to return Billie's call and now has a new houseguest.
Ooh, this might work out well, maybe Brody can become the resident baby sitter? She mentioned earlier that she might like to be a child care worker but only for, like, you know, famous people.
There is a kerfuffle in the night. Brody's tatted up boyfriend has popped in and they are having a big old barney outside Nina's house, waking up everyone. Billie forces him to leave but it takes two hours to get Zoe back to sleep.
The next day Nina and Billie sit down with Brody to have a talk about the situation. Nina realises that Brody is young and lost, just like Billie used to be. Brody isn't going anywhere.
Adiós taquería
Jimmy gets an offer of $150K to sell his taco shop and finally comes clean to his wife Zara about the loan Darcy gave him. She is pissed, as well she should be. Zara was under the impression that they were doing fine financially, and has now learned that not only is Jimmy selling up, but that the money earned will be going straight to Darcy's son Ray.
Obligatory birthing scene
Angus and his obstetrics students, including Zara, are attending one of Nina's births (they booked it in the day before, as babies often adhere to a tight schedule) when things go horribly wrong very fast. In what can only be described as a harrowing moment, the baby gets stuck and Angus and Zara are called upon to help perform a manoeuvre to safely deliver the baby. It is successful, but shortly after Nina discovers Angus taking a moment in a washroom.
He reveals that he used to deliver babies but one time there was a situation, exactly like the one they just had, but it didn't go well and the baby was tragically lost. This is why he teaches, he can't handle it on the frontline.
Well whaddaya know, the pantsman's just a big old softie.
But then he says that he and Nina should have a drink together, so he can put his moves on her and then she wouldn't stand a chance. Tonight? Fine. Wait, what?
Jimmy buys a caravan
Yep, his answer to impending financial doom is to purchase a caravan, quit life (and his wife's med school) and escape the world. Zara is not impressed, but Geraldine tells him that he's exactly like his dad, Darcy. Put everyone you love in a van and drive off.
Sex with Angus, or not?
Meanwhile, Nina is having drinks with Angus and wondering how they move from drinks to sex, when Angus tells her that he's changed his mind about seducing her. He doesn't think they are right for each other after all.
But he still wants to kiss her. The question is, if she'll let him?
He moves to kiss her, but then turns his head and says, "not yet".
Nina seems aggravated and leaves to call her sister in the loo. Billie tells her to go for it but Nina isn't sure. She decides that yes. Yes she will have sex with Angus tonight! She walks back into the bar to see Angus flirting with two other women, while doing some sort of dolphin-related performance art.
She slips past him so he doesn't see her and bumps into one of Will's friends who she met briefly earlier.
Next thing you know….
He asks her to stay but she says she has to go. She thanks him and calls an Uber.
As she is being driven home, she checks her phone to see that Angus has called her three times, no doubt wondering where she went.
There are to be some awkward conversations to be had in next week's episode, that is for damn sure.
Images courtesy of Channel Ten.