Physically competing for The Bachelor's affections – It's the Bachelympics, and it's kinda sad tbh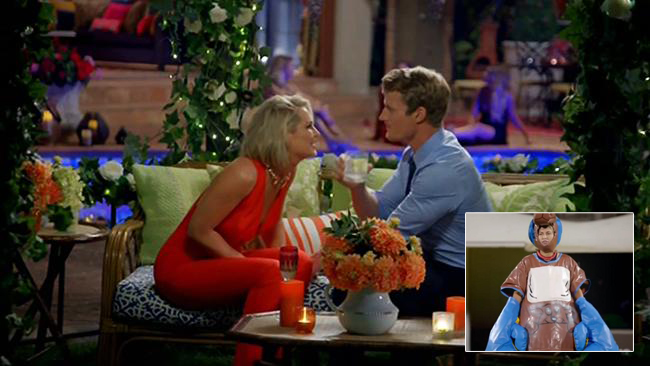 Physically competing for The Bachelor's affections – It's the Bachelympics, and it's kinda sad tbh
The Bachelor Australia 2016 – Season 4, Episode 6 recap
I mean, honestly, would you knock another woman in the face to win a man's affections? I think there might be a line around here somewhere, and I think it might have been crossed. But how entertaining would The Bachelor be without line-crossing dodgy dates and cheesy moments? That's why we watch! To see shit like The Bachelor Games!
Yes, that actually happened. Richie jogged along, carrying a flaming torch, until he reached a floral decorated fire pit on stilts, which was presumably made by the local highschool metal work class. Then, with great pride, he officially lit The Bachelor Games cauldron, and we were underway.
First up! Archery, with love heart targets. Richie, as expected, is a natural.
All the girls, wearing assorted pieces of flair, are suitably impressed.
In her confessional piece, Alex then refers to Richie, the man in the title role of The Bachelor, the man who is still pawing over 11 women systematically, as her man. Hers. In that he belongs to her. She owns him. Hers.
We got a Stage 5 Clinger here, ladies and gents.
Back to the "excitement" of the Bachelor Games, and all the ladies get their turn at winning Richie's heart by displaying their archery skills. Everyone was being super nice to Keira though, seeing as she was armed.
Next up, it was Zorb Sprinting For Richie's Love. And it was just as ridiculous as is sounds.
But the best part was when Faith crashed into Keira, knocking her onto her arse and warming the hearts of Australians everywhere.
On to the final tie-breaker round, and the realisation that maybe reality television has hit a new low. Keira and Faith are forced to wrestle each other while wearing recycled It's A Knockout! kangaroo suits.
The gorgeous Faith wins the day over misery-guts Keira and goes on to spend some alone time with Richie where he pulls out another red rose for her. And then they pash on again. Completely expected.
The next day dawns and it's time for Kiki's one on one date. She turns up at the aerodrome and Richie comes out standing on a big black helicopter. Again, the producers aren't much for subtlety where masculinity is concerned.
They take off and go for a joyflight around Sydney, pointing out where the rich people live and placing their orders for a house, a car, a yacht, children and dogs etc. It's all planned. Not creepy at all.
They settle in for a romantic meal without any actual food, while floating on a pontoon in a pond surrounded by fairylights. They chat and stuff. Richie produces another rose. This part of the date is as dull as it sounds and soon we are back to the pre-rose ceremony cocktail party quicker than you can say "incompatible".
Keira appears smashed. She's slurring her words and saying all the things you should never say to the man you are dating, like "you never think about me".
What else could he say to that? She is, after all, the producer's choice and good ratings material. We all know the script, we all know why she's still around, Richie included. I bet she scares the pants off him, and I bet she likes it that way.
Keira continues to throw herself at him, sniffs his neck and whispers confusingly, "you smell so good, but I could make you smell better".
The other ladies watch on in horror as the blonde lady in the red Gumby suit paws their man.
Alex is devastated at this display, and yearns for "her man" to come to her. She must have forgotten that she has the white rose, giving her the power to come for him and take him away whenever she wants. This is not the time to play hard to get, Alex.
Oh honey. Pull yerself together. There's no ring on it yet.
At the Rose Ceremony, Faith and Kiki are standing confidently clutching their roses. There are eight roses on the table and nine ladies standing before Richie.

The script is solid. He slowly reaches for a rose, takes a deep breath and exhales slowly while twirling the rose between his fingers. He announces a name, and the owner of it looks relieved and steps forward. He says "xxxxx, will you accept this rose?", they say "yes, of course", and take it. There is a slightly awkward hug and a kiss on the cheek and the lady steps to the side and joins her fellow rose holders. Then onto the next one until there are just two ladies and one rose left.
Tonight, it is between Rachel and Sasha.
And unfortunately for Sasha, her rose-eating Russian arse was sent packing.
During next week's previews, we are told that there will be three intruders landing in the compound. This causes the existing ladies to turn on each other, making most excellent viewing.
So until then,
ScreenQueen x
Read more of our The Bachelor Australia 2016 episode recaps here.
Images courtesy of Channel Ten.