Real Housewives of Orange County S11E1 Recap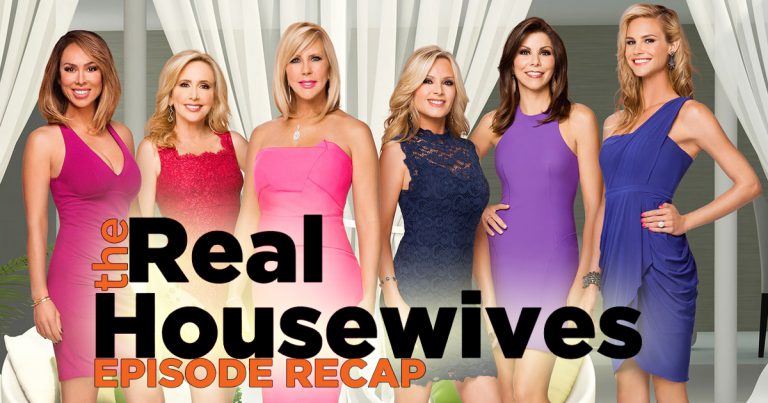 Real Housewives of Orange County S11E1 Recap
They're back! It was the episode we've all been waiting for – the premiere of Season 11 of The Real Housewives of Orange County. Will the girls finally forgive Vicki for lying about then-boyfriend Brooks' cancer diagnosis? Maybe eventually, but certainly not in the first episode!
We are greeted by all the ladies with fresh poses and taglines for the new season.
It's always so exciting to see the new taglines, isn't it? We'll be reciting them perfectly by the time the reunions drop.
There's a new face among our old favourites – 40 year old mother of one Kelly Dodd is introduced and her big personality screams at us straight up. Meghan describes her good friend's conversation style as "diarrhea of the mouth". Sounds promising. Tamra takes to her right away, saying she seems like good fun but Shannon is somewhat appalled by the newcomer's behaviour. We saw how long it took for Shannon to warm up to Meghan last season so I wasn't surprised she didn't have a good first impression of Kelly.
Nothing like a breast being shoved onto someone within moments of meeting them to seal a friendship. But I just frickin LOVE Shannon Beador and her judgey expressive eyes. This season's gonna be good.
The show began with Tamra busy doing pull ups and burpies and what have you. I have no idea what any work out stuff is called, on account of the fact that I don't do any. Plus I was busy eating potato chips and drinking wine at the time and kind of rolled my eyes through it. Apparently she was preparing for a fitness competition to prove it's possible to be hot in your late forties.
Tamra then told us all that ever since she got baptized last season, her sex with husband Eddie has been amazing.  "I scream, 'Oh, God!' at least 20 times!" she claimed. Great!
We then cut to Meghan chatting to Jim about how they finally moved out of the place he once shared with his ex, and how she was so happy that she now has her own home. They began picking through boxes while they chatted and it was revealed that Jim has started a perfumed candle business. This fits nicely with his Major League Baseball coaching career. Yes it does.
Heather revealed to her husband, Terry, that she was hesitant in inviting Vicki to her upcoming boat party. She said that she was waiting for Vicki to apologize for lying about Brooks' cancer-diagnosis. She wanted to invite Vicki, but wasn't sure how to go about it.
In the next scene, Vicki was telling us all about some of the major life changes she has put into effect. Apparently she cut her hair and had her kitchen renovated. Plus, Brooks moved out of her house and daughter Briana and her family are moving back to the OC from Oklahoma. She appeared lonely and sad, and admitted that she'd like to be back in her friends lives again.
She swore that she hadn't suspected that Brooks was lying but no one who saw what went down believes her, myself included. She had to know – she had that special folder and everything!
Meghan's mum came to town to hold her hand during an particularly invasive IVF procedure while hubby Jim was attending spring training. Poor Meghan, who has a terrible fear of needles, needed to have a hysteroscopy to commence her IVF process and while it was somewhat traumatic for her, she is now one step closer to successfully falling pregnant. Hopefully the producers follow her journey closely through out this season as overcoming infertility is an important issue deserving of attention.
Heather finally called Vicki to invite her to her fancy boat party, adding that she can invite a partner to attend as well. Vicki invited her friend and former co-star Jeana Keough as her plus one. "I definitely know Jeana will have my back," she said.
Vicki was last to arrive at the boat party and Kelly was the only one who looked happy to see her – they already knew each other as they share an esthetician. We can kinda tell.
At dinner, Meghan confronted her friend Kelly, asking what she thinks of Vicki. Kelly responded that she "seems like a lovely lady."
"'Seems' is the key word," Meghan replied. "Be careful."
"We got a wakeup call right before the holidays," said Heather, standing to make a toast. She explained to her guests they'd had a health scare and thought Terry would require heart bypass surgery. "As it turns out, it was a false positive." Well thank goodness for that. We can't have our favourite plastic surgeon having health issues, not after all the ribbing he's been giving to Paul Nassif about his weight!
Vicki later asked Heather to talk downstairs. She told Heather that she wanted forgiveness for what happened last year, but still refused to admit she knew her boyfriend was faking his cancer. Will Heather be the first Housewife to forgive Vicki for her deception?
Well, judging by the preview footage of the next episode, maybe not. We'll have to wait and see next Tuesday!
ScreenQueen x
The Real Housewives of Orange County airs at the express time of 1:35pm Tuesdays on Arena. An encore screening is aired at 8:30pm later that evening.
Images courtesy of Arena, Bravo and Foxtel.