Real Housewives Recap – All the Events from the Latest Episodes from Planet Housewives.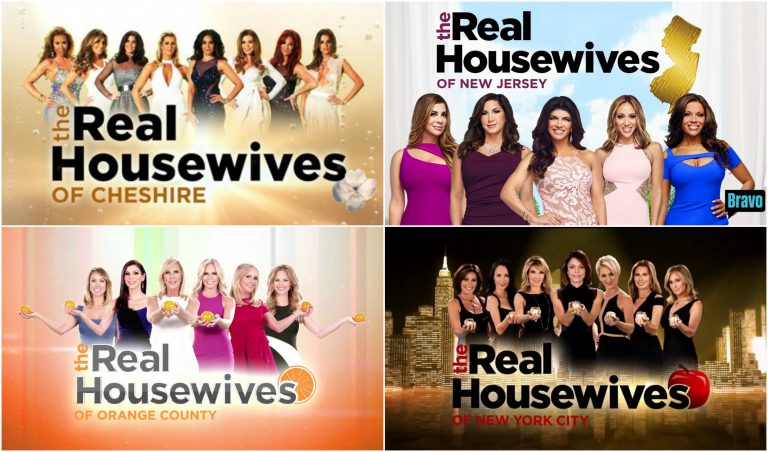 Real Housewives Recap – All the Events from the Latest Episodes from Planet Housewives.
Here are 5 thoughts from each franchise that aired this week – mini recaps from The Real Housewives of Cheshire, New Jersey, Orange County and New York City. What are your thoughts? Let me know in the comments below!
Real Housewives of Cheshire – Season 3, Episode 11 – The Reunion
Finally, a reunion!
After three series, the RHOCheshire producers have given us an all-important end of season reunion. And it was kinda lame, to be honest. There was no new information relayed to us, it was more a chance for Dawn to shout at people and to replay the highlights reel. But at least we got one. Would've been nice to have a reunion after the first two seasons though – wouldn't it have been great to see the verbal fallout from the "don't dog my daughter" dinner at the end of season 1, and Ampika's "thirty firth borthday" (no spelling error there) celebration in season 2?
The host of the evening, Brian Dowling, was a two-time Big Brother winner and I'm not sure he was the best choice for the gig. Also, he sounded like an Irish Luann de Lesseps.
Tanya Bardsley is glorious
She's heavily pregnant and perched on the end of the couch rolling her eyes and generally giving zero fucks.
When Tanya told Ampika to "piss off", Ampika said "you're the life coach, words of wisdom", Tanya shot back "Oh good one, you're the one bringing out a hair shampoo range", calling Ampika out on her average looking hair.
Ampika doesn't bring it when it counts
She might be brash and mouthy during her three seasons on the show but when it came down to the reunion, Ampika barely said boo. She did speak her mind and argued with Dawn and Tanya a little but to be frank, she was as tame as a pussycat compared to her outspoken behaviour throughout the season. She had every chance to publicly settle the score with Dawn once and for all but dialled her mouth down to a three instead. Odd.
The ladies' fashion was exactly as expected
Lauren, strapless and tight. Missé, plunging and stylish. Dawn, dramatic and one shouldered. Tanya, tight maternity sparkles. Seema, bright and breezy. Stacey, neutral but daring. Leanne, short fit and flared lbd. And Ampika, something that barely covers her tits.
Quote of the night
They covered a range of events that occurred throughout the season and focussed on Ampika's battles with Dawn, Tanya and Missé. They discussed Dawn not being invited to Paris – something that I feel was very unfair – ALL the ladies should have spoken up at the time and made sure she was included in some way. Ampika stood by her decision not to invite her to go on the private plane that she chartered, even though CLEARLY there were at least half a dozen empty seats behind them. Dawn wasn't having it.
Then when asked how her relationship is with Missé after the disastrous makeover, Ampika said she wasn't interested. "It's like I've had a poo, (and) flushed it down the toilet. Who gives a shit?" she spoke calmly. Righto! See you next season!
The Real Housewives of New Jersey – Season 7, Episode 4 – "A Life to Envy"
Joe Gorga is officially a Neanderthal
He might be a nice Neanderthal, and he might sometimes be lovely and supportive and loyal and what not, but he's living in the dark ages. Almost every episode this season he has whined and carried on whenever the topic of his wife's boutique comes up. "You're taking away from MY time and that wasn't our deal," meaning that he didn't sign up for his wife to work outside the home when he married her. "What about dinner?" is another little gem. He is unable to look after his own children for a couple of hours and complains and moans the whole time. Come on Joe, it's 2016, not 1950. Get with the program.
Teresa's book
Teresa had a meeting with her publishers to record the audiobook version of her soon-to-be released book, Turning the Tables, detailing her time in the Big House. She remarks that she hopes it will make the New York Times Best Seller list and is quickly assured by everyone at the publishing house that it will. Teresa gets very emotional while reading the dedication at the beginning of the book, recounting how she was afraid that her youngest daughter Audriana would think that she had abandoned her while she did her penance in jail.
Siggy is still awesome
We learn a little more about new girl Siggy Flicker this episode, and meet her two teen children, Sophie and Joshua. She wipes Sophie's makeup off and chides her into changing clothes because she deems tights and a crop top as inappropriate to wear to a party (gotta agree, her daughter is 13). "That shirt, give it to me. I'm going to give it to a two year old!" she shouts. Gold!
Melissa's boutique launch party
Melissa gets emotional on the way to her big event – the grand opening launch party of her boutique 'Envy', confiding in Joe that she wishes her Dad could see her. Her father passed away when Melissa was 17. Joe comforts her, telling her that her dad is right here with them and that he's proud of her. By the end of the evening, Joe tells his wife that he's proud of her too.
The event seemed to go rather well. All the cast members were there to support Melissa, with Teresa dragging daughter Gia along as her plus one instead of husband Joe, who opted to attend his granny's birthday party instead.
Joe looked fetching in a racy red number, reminding us all why big Italian men don't generally make good runway models.
Those rumours that won't go away
Being pretty much housebound and more or less broke, Teresa and Joe spend their time chatting and doing yoga on hot pink mats. After clipping Joe's toenails to the point of drawing blood, Teresa brings up the fact that people are talking about rumours of Joe's infidelity. Siggy had mentioned it to Teresa earlier in the episode, offering an ear should she ever want to talk about it with her, a relationship expert. The couple confirm that they are together because they want to be together and agree that the rumours are a load of rubbish. I feel like the jury is still out on that one. (see what I did there? hehe)
The Real Housewives of Orange County – Season 11, Episode 6 – "Frenemies of the State"
Meghan and Heather go to Washington DC
Meghan is the guest speaker at some form of colorectal cancer fundraiser in Washington DC and takes Heather along with her because Jim's off doing baseball things. Both women have lost friends or family to the disease and the talk is to help raise awareness and funds for a cure. As noble as it all is, I'm not entirely sure that having your husband's ex-wife pass away from the disease qualifies one as an authority on the subject, but hey ho. It's nice to see the Housewives doing something even remotely useful sometimes.
Tamra learns to walk in stripper heels
Funny, I thought she already knew how to do that. Anyway, Tamra will be competing in some sort of bodybuilding competition shortly and is busy getting ready for it. Her preparations include not drinking, practising how to walk all sexy-like, and selecting a skimpy bedazzled posing garment. Luckily, she has enlisted a woman who is not only on her payroll at Cut Fitness, but is some form of religious motivational speaker and ex-competition body builder. Perfect!
Vicki "bought" daughter Briana a house
After all of last year's dramas, the only thing that Vicki has got going on this year is her daughter Briana's health problems. I say we relegate Vicki to "friend" status and promote Briana to an actual Housewife. She's far more interesting right now – mysterious health issues, two little toddler boys, a new house to renovate, a husband back in Oklahoma and an overbearing mother.
Meghan has her egg retrieval
With Jim still away playing baseball-related golf games in Florida, Meghan takes her mum with her to her egg retrieval procedure. She is put under with the use of a magical gas that makes her want to do hard drugs. The special gas also has truth telling qualities with Meghan admitting to "doing weed" and telling the doctor that his ex-wife – who happens to be sequin jumpsuit-wearing Nina from the seventies party – has a colourful mouth. Is the OC really that small?
Kelly invites Shannon out for a drink
Shannon arrives at the restaurant to see Kelly, only to find that she's already started chugging a bottle of wine. Shannon was expecting an apology but instead, Kelly starts interrogating her. She asked how long she knew Jaci and Nina and if she threw the party with the sole purpose of setting Kelly up. That's when the arguing started. Kelly eventually throws Shannon a half arsed apology and when Shannon didn't jump on board, Kelly said "You're supposed to accept apologies. That makes things better for everyone." as though you can behave however you like as long as you apologise and then everyone forgets it ever happened.
Shannon won't forget though. You can bet your arse on that, Kelly. See you next Tuesday! 😉
The Real Housewives from New York City – Season 8, Episode 18 – "Body of Evidence"
Sonja is behaving uncharacteristically gracious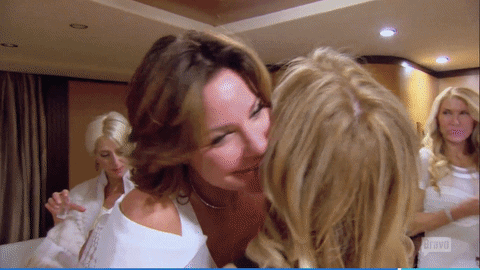 She has taken the news as well as can be expected, really. Her long term friend with benefits has moved on without so much as a break up coffee. They were together as recently as 2 months before the big engagement so she'd have every right to feel a little put out. As Carole worded it, in another time they'd have been considered lovers. Neither Luann nor Tom seem to care though and when Sonja said "it is so good to see you and Tom together", Luann interrupted by flashing her giant engagement ring in her face and repeatedly said "I'm getting married, I'm getting married". Have some class, Countess.
Dorinda gives the drunkest speech in Housewives history and Ramona shows us her moves again
There are some things that I wish I could unsee and Ramona attempting to dance like a drunken sexpot is one of them.
Later in the evening, Dorinda slurred one of the most inebriated speeches ever.
"We have no clue what she said," a guest said to Carole as Dorinda spoke. "Neither does she," Carole said.
Luann comes for Ramona and gets shut down with evidence
Luann is getting increasingly annoyed that the ladies are continually talking about her man and his connections with Sonja and Ramona. Perhaps if she would actually LISTEN to the ladies concerns they'd shut up about it. She comes down to their room aboard the yacht and tells them to stop talking about her fiance. Ramona takes this opportunity to tell Luann that it is SHE who needs to stop talking, and brings out newspaper clippings to support her argument. Luann spoke to the press about Sonja and Ramona having a relationship with Tom in the past, but the papers screwed up, and said it was Ramona who was sleeping with him on a casual basis for 10 years. Ramona was not impressed and shut Luann right down about it, and rightly so.
Jules' marriage takes a turn for the worse
There's nothing sadder than watching reality television that was filmed in the six months to air date, knowing full well what has happened in the stars' lives since. We all know that Jules and Michael are in the middle of a divorce, and we are seeing the dark clouds form over their marriage during this season. Jules calls home to find that her husband has again ditched their children with his parents and has gone off to the Hamptons. He's very sketchy on the details and Jules is upset. It's harder to watch than Shannon and David Beador's marital crisis over at the OC a few seasons back.
Bethenny's Intel
As hinted at last week, Bethenny has it on good authority that there is some damaging evidence about Luann's fiance Tom, that has the potential to blow up the engagement. She asks Luann if they are monogamous, as she was aware that Luann had an open marriage with her ex-husband. Luann thinks she's crazy and says NO! We just got engaged! Later, while talking with Ramona and Sonja, Bethenny reveals that she has a photo taken of Tom kissing a mystery Playboy Bunny JUST THE OTHER NIGHT. Luann does not yet know this news, but Ramona knows.
Shit's about to go down, friends. Shit's about to go down.
Catch you next week!
ScreenQueen x
Images courtesy of Foxtel, Bravo and Arena.