Real Housewives Recap – All the Events from the Latest Episodes from Planet Housewives.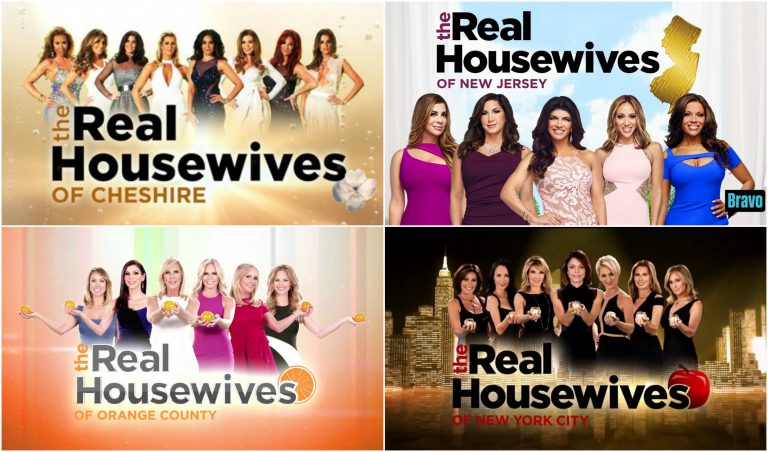 Real Housewives Recap – All the Events from the Latest Episodes from Planet Housewives.
Here are 5 thoughts from each franchise that aired this week – mini recaps from The Real Housewives of Cheshire, New Jersey, Orange County and New York City. What are your thoughts? Let me know in the comments below!
Real Housewives of Cheshire – Season 3, Episode 10 – "Point of No Return"
1. Ampika meets Dawn in an awkward showdown. As Dawn puts it, "It's either gonna be a disaster, or a massive disaster".

I just don't know what's wrong with Ampika when it comes to Dawn. She really dislikes her for some reason, and sticks the knife in at every opportunity. They've barely spoken this season, and yet Ampika is still inventing petty reasons to bitch about her all the damn time. I'm thinking some therapy might be in order. Ampika is massively insecure and claims that Dawn has broken her as a person. She suggests that they delete each other's numbers and the ladies agree to no longer be friends. Hopefully this will stop Ampika from banging on about Dawn all the time.
2. Dawn's daughter Taylor is given a Mercedes and a big party for her 18th birthday 
Despite failing her driving test FIVE times and still only being on her learner's permit, Dawn's lovely daughter Taylor is given a flash Mercedes for her 18th birthday. Then, at the big party in a massive tent on the grounds of the family estate, family hairdressers Nick and Royston give her a £3000 Cartier watch. Lucky girl! All the ladies attend the big party except Ampika, who's having a very staged drink with ex-husband Mark instead.
3. Tanya arrives to the party announcing that she looks like a "big fat canary"
No, really, she looks lovely. All pregnant women look lovely. I'm loving Tanya's hormonal mouth this series too. When told that Ampika wasn't to be attending Taylor's big party, she quipped "Ohhh what a fucking shame." She is also firmly on #TeamDawn, telling Lauren to "piss off, serious" when she suggested that maybe Ampika needed some love.
4. Lauren discusses her divorce with Tanya
I feel so sad for Lauren, as I get the impression that this divorce might not be what she really wants. She mentioned earlier in the series that she didn't want to spend another 12 years with her husband, Paul, but I think that might be a little false bravado in front of the cameras. She looks pretty devastated to be honest, and my heart goes out to her. She might be a bit 'gobby', but she has a good heart.
5. Dawn and Leanne resolve their issues.
The close mates fell out over Leanne jetting off to Paris with Ampika earlier in the series. But the two women resolved to put it all behind them – at least for now. Dawn said: "You're never going to break us. Next time you need to try a little harder Ampika." Leanne agreed: "I'm just glad this ordeal is over – until the next time."
Next week is the reunion episode, which is awesome because they've not aired any reunion for seasons 1 or 2. To say I'm looking forward to it is an understatement!
The Real Housewives of New Jersey – Series 7, Episode 3 – "Leopard Is the New Black"
1. Jacqueline does the unforgivable – popping in unannounced
I don't care who you are or how good friends you are, in 2016 there are about 15 ways to contact someone within seconds. Showing up unannounced and expecting your host to drop everything and have coffee with you is plain rude. Luckily for Jacqueline, Teresa was gracious and brushed it off, despite having plans. Finally Jac can stop banging on about not knowing if they have a friendship or not. They do. End of.
3. Dolores seems down to earth and lovely 
Great to have cast members that aren't all about drama all the time, although I'm sure it will be her turn eventually. We met her parents, brother, ex-husband, children and 102 year old nanna. She says she's from a strict Italian family but they seem much more normal and relatable compared to the Guidices, the Gorgas, or the Manzos etc. For example, Dolores is still best friends with her ex-husband!
4. Teresa refers to her time in jail as being "at camp"
And it's kinda weird to be honest. She reveals details here and there in everyday conversation but never says "jail" or "correction facility", it's "camp". Like she went off to a relaxing summer camp for 11 months. Call it like it is like you usually do, Tre. Also, the terms of her parole mean that Teresa can't even walk up the driveway to see her daughters off on the school bus without getting permission first. It's a huge driveway, but still. House arrest means HOUSE arrest, not property arrest.
4. The Leopard Party was awkward as hell
Siggy and Teresa were thrown together to arrange a party for Dolores' 45th birthday but as Teresa is still under restrictions (aka, "home confinement"), most of the organising is left to Siggy. She did a fabulous job with the decor and it all looked lovely. But Teresa kept bringing up cringeworthy lesbian sexual stories, Kathy and Rosie didn't know what to do with themselves, Melissa got wasted, and there were a whole group of Neville-nobodies with bad makeup hanging around in the background. Dolores seemed to enjoy it though and that's all that matters.
5. New girl Siggy Flicker is absolutely awesome and exactly what this show needs right now
She is loud and happy and injects so much life to the group. Plus she told the caterer to remove all the salt because "it bloats us" and she's wearing "three Spanxes" and can't afford to put on another one. And before walking across the carpark to the limo for the ride home, she took off her Louboutins and put on slippers. She's my kind of gal.
The Real Housewives of Orange County – Season 11, Episode 5 – Boogie Fights
1. Heather keeps on at Terry about spending more time with their family
And I don't know if it's because I adore watching him on Botched or what, but I'm kinda thinking Heather is being a bit too hard on Terry. He literally just walked in the door and she's always nagging him to spend more time with her and the kids. While her opinion is a valid one, her fancy pants lifestyle in Chateau Dubrow won't pay for itself. Plus it's honestly no big deal that he'll have to be away for Mother's Day – reschedule Mother's Day instead! Not seeing Heather's perspective on this one.
2. Shannon's 70's themed party is EVERYTHING
The costumes, the beer bong, the jello shots, the decor – it was all perfection! Seriously, the best 70's themed party I've ever seen.
3. New girl Kelly got MC Hammered and caused a massive drunken fight
Vicki went to the party with Kelly and they were both doing shots before they arrived, plus Kelly admitted that she had drunk 3 glasses of wine already. Later at the party, she picked a fight with two mutual 'friends' that Shannon had invited, not knowing that they all knew each other. Jaci and Nina were a tad bitchy, granted, but Kelly screamed obscenities at Shannon, accusing her of setting her up.
Honestly, Kelly said Shannon's husband David looked like a pedophile and that it was "no wonder he cheated on his wife", that Shannon was ugly, dumb, "standard Newport blonde woman with big boobs", kept saying that she looked like Mrs Roper from Three's Company (that was the whole point) and was just generally making a drunken pest of herself. I don't like this woman at all. #TeamShannon
4. Vicki rang Brooks for support
Seriously, Vicki?? Seriously? While she, Kelly and Kelly's husband fell into the limo for the ride home, Vicki was upset that she and David Beador had had "words" regarding Vicki's lying about Brook's fake cancer last year. David hasn't forgiven Vicki and leapt to Shannon's defence when Vicki made a snide remark about her during the Kelly shitfight. So in the dumbest drunk dial ever, Vicki rang Brooks for backup and left a message on his voicemail asking him to ring David to defend her.
5. The Streakers
In an effort to rekindle the atmosphere of the party after the Kelly blow up, Shannon and Tamra dressed as streakers and ran through the party. Everyone had a good laugh at the oversized genitals and 70's pubic hair and the evening finished on a high.
The Real Housewives of New York City – Season 8, Episode 17 – "And Away We Finally Go"
1. The ladies finally head away to their destination
It is a well accepted fact that every franchise goes away for a ladies-only trip every season. Due to Bethenny's health, the trip to Mexico was cancelled. Then last episode, Dorinda made the announcement that they were going to Hawaii instead. Now, we are told that Bethenny couldn't possibly fly all the way to Hawaii so they are going to Miami, Florida, for the weekend instead. Bravo must have used up their international travel budget flying the RHOBH ladies to Dubai.
I feel as let down as Ramona did. Her face froze like that for about 8 seconds when they told her. Devo.
2. Speaking of Bethenny
I'm actually really becoming a little concerned for her health. Like I know she's a wealthy celebpreneur on the other side of the planet and all that, but from one human to another, I am worried for her and her little girl. She is not in a good way and has mentioned that she does need to go through with the surgery to remove the fibroids in her uterus. She's strong in many ways, but not so tough in others, and I've been watching her long enough to know that this is rough for her.
3. The yacht, omg the yacht
The group head down to Palm Beach with plans to celebrate Luann and Tom's engagement. Luann has borrowed a massive yacht on which to hold their soiree. Bethenny is unable to attend but will catch up with the group the next day. As she said during her confessional, "It's like I got a hall pass. I got a busted uterus!" .
Ramona is like a cat on heat with the cabin crew, lifting her jumper and revealing her bra in front of one of the young crewmen and ordering him about like a servant, asking him to bring her her bags. The poor lad returns to find Ramona pantsless. Typical Ramona.
This yacht has loads of bedrooms (apparently never been slept in), living rooms and bars, plus an upper deck jacuzzi. It is honestly stunning.
4. This thing with Tom is starting to get a little weird now
The first time both Ramona and Sonja meet up with mutual ex-lover Tom is at his engagement party with Luann. And they'll all be staying on the one damn yacht. Things are starting to get awkward, that's for sure. Especially since it was revealed a few episodes ago that Sonja had been sleeping with Tom for the last ten years on a friends with benefits understanding – and that they had been together as recently as only a few months prior to the engagement party! Ramona claims they went on 8 dates but Tom says it was one dinner.
Either way, after a whirlwind romance, Tom is now engaged to Luann and they have plans to live happily ever after, no matter what these bitches say.
5. Speaking of which…
Bethenny reveals to a non-castmember friend that she received a series of incriminating texts at 2:30 in the morning the other day. She tells her that this information has the potential to blow up this engagement to the point that there will be no wedding. Bethenny being Bethenny, she has investigated the evidence and says it checks out. She feels she has no option but to pass this information onto Luann. Wonder what it is? As usual, right as we're getting into it, big letters fill the bottom of the screen…
TO BE CONTINUED…
Always!
Til next week!
ScreenQueen x
Images courtesy of Bravo, Arena and Foxtel