ScreenQueen Recaps Offspring – S6, E6 – "A Present from the Past"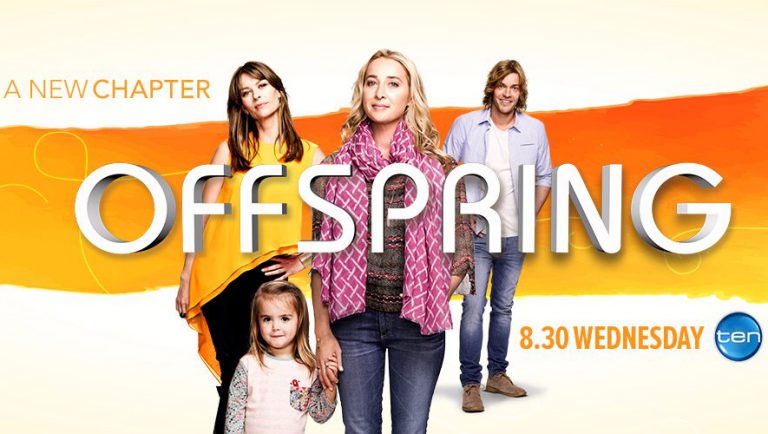 ScreenQueen Recaps Offspring – S6, E6 – "A Present from the Past"
The staff at St Francis are shocked when the 'babypunt' PR crisis explodes into something far more serious. Nina sees a new side to Harry and is rocked by a visitor from Patrick's past.
The episode begins with Nina dropping Zoe off on her first day of preschool. We've all done it, left our "babies" outside the home for the first time. It's heartbreaking. Just before she's due to say goodbye, Nina gets a call from Billie and by the time she hangs up, she is told by the preschool teacher that it's best that she just leaves as Zoe is off playing happily and it would only upset her. Nina feels robbed of the special moment.
The PR guy, Hot Harry Hemsworth is briefing Nina and Clegg about the new scandal – the baby swapping incident 18 months ago. Details of the birth are remembered and it turns out that it was a crazy day with babies being born everywhere. This baby was born in the hallway, and Nina doesn't remember who tagged the mother and newborn shortly after birth, giving the possibility of a switch.
Kim calls Zara and asks if Jimmy might be her "spoof jockey" to conceive a baby with her partner, Jess. Zara says it will be awesome. "Except you might want to think about turkey bastering it" "Playing the same game of Bingo there", quipps Kim.
Kim then immediately tells Cherie because everyone over shares in this hospital.
Cherie then goes on to say that Martin thinks he's the one donating the "spoof" and that it might upset him to learn that it will be Jimmy.
Not knowing that she's pregnant, Billie is encouraging Brody to get a job. At the employment centre, the young recruitment lady is patronising and dismissive of Billie's work history so Billie leaves, taking Brody with her before she has the chance to have her interview.
Martin Clegg calls Nina over to a corner to tell her that Cherie has proposed to him. He is trapped in the logic that they didn't want to marry as it would disrupt their "sexual mardi gras", but that's happened anyway so she wants to get married now. But if the sex isn't right, why get married?
The family that claim that their baby was swapped at birth arrive in the hospital with Hot Harry Hemsworth the PR guy in tow. The father is claiming that something isn't right, that he didn't feel a connection with the baby since birth. The mother says that he wasn't exactly ready to be a father at that point though, maybe that's why? But since the father saw the viral 'babypunt' video, he can't stop thinking about the idea that their baby wasn't his.
Nina assures the father that it can take time to bond with the child, but the father insists on getting a test done, to be sure.
They do the DNA testing via oral swabs and finally the mother has a chance to talk with Nina alone. She requests that they hold off on the test for a day, as she knows the baby is hers and doesn't want to do the test at all. Can you see where this is going?
Nina confronts HHH to tell him that she wants to go ahead with the test anyway to clear the hospital's name and to give peace to the parents of the "swapped" baby. She says he can say "I told you so" because he predicted St Francis would be a magnet for disgruntled patients and now it has happened.
She is really giving him a hard time. Every time Nina talks to a sexy single man, she leaves them confused after she gives them her perspective.
Nina calls her brother Will that writes the wills, just for some brotherly advice. I think the screenwriters are trying to make him seem less creepy so are giving him a chance to appear supportive and kind. It has worked. It's a nice moment.
The childcare centre sends Nina a picture of Zoe playing and Nina voices what we are all thinking, both about ourselves and about her. Motherhood changes you, you may not think it does, but it changes your perspective on everything. Maybe that's why all the sexy single men are confused by Nina. She's looking at the world through Nina-shaped mum-tinted glasses.
Geraldine has keys to Marjorie's apartment and drops in while she's out for a little rendezvous with the neighbour she's been having phone sex with. He leaves her a gift of chocolate raspberries and suggests they meet.
A journalist phones the hospital and asks to speak with Nina. What follows is a predictably awkward stammering of "no comment" and a decision to be really careful when reporters ring.
The phone immediately rings again with someone named Jodie Ellis, wanting to meet with Nina on Friday.
Back at Jimmy and Zara's, Jimmy's holding a little wake for his taqueria with family and friends. Billie is sitting outside, still upset that the recruiter pulled her apart that day. She tells her mother that she's sick of being a handful of pieces not making up a whole. Mick has obviously gone back to London and she's feeling generally lost.
Zara interrupts the chatter to say that Kim and partner Jess have something to they'd like to say. Jess announces that with the taqueria closing, that they'd like to have a baby. Kim adds that Jess will have it, and that they have been going over their candidates as to who will be the dad.
Martin assumes it will be him…
But is shot down when Cherie tell him "they don't want you". He is astounded and wants to know who, in their wide circle of friends, do they deem eligible to father their child?
JIMMY!
Untold Proudman-patented awkwardness ensues as Jimmy wraps his head around the request.
It blows up as all the women assume he will do it and be happy about it, and the only other man in the room, Martin, says "in your face!" to Kim and Jess and stomps out. Jimmy, feeling set upon and unprepared, asks if he is allowed an opinion and wants to talk to Zara about the matter privately. Kim and Jess feel embarrassed and leave.
Back at Nina's, Zoe is in bed and Nina is packing up some play things. She chats to Brody about how she's didn't like leaving Zoe at daycare and that she feels like a terrible mum. Brody breaks down in tears and tells Nina that she's pregnant but can't tell anyone and thinks that she has to leave. Nina comforts her and tells her she needs support right now.
The phone rings and it's HHHarry, asking if Nina spoke to a journalist today. The journo has twisted her words and now the problem is even worse. Nina gets frustrated and combative and the conversation ends with her agreeing to keep HHH in the loop should anyone ring in future.
Billie comes home at that moment and asks Nina who she was talking to and if he was HHHot.
"that means a 9 or higher."
Conversation turns to Jimmy's reluctance to give Kim and Jess his sperm, and Billie asks Nina how come she didn't give her an egg? Nina is genuinely taken aback. Billie continues to add that she and Mick couldn't conceive due to her eggs and Nina finds her voice and replies that she didn't know Billie wanted to have her eggs. They agree that it's something they never thought of. Nina offers but Billie says she doesn't need to. It's all very kind and emotional, not stompy and aggro. Billie goes to bed.
The next day, Jade, the baby swap mum is waiting to see Nina as she arrives for work. In a private meeting, Jade asks for Nina's confidence.
Jade says that there was no mix up, that she saw the hospital staff put the tag on Millie when she was born. She knows the child is hers.
"That can only be a good thing!", says Nina.
Ohh dear.
Nina says that she has to protect Jade, and Bradley (her husband). Jade says she is sorry, and that it's all gotten out of control. She can't see any way out of the mess, considering the hospital has to clear its name at the expense of hers.
Nina offers the advice that she herself was a child conceived out of infidelity and that the truth had only come out recently. She is unsure whether she would liked to have known sooner.
Jade says that the only way out is to continue the tests. After all, Bradley may still be Millie's father. And anyway, at least they will know.
Jimmy has it out with Zara over spoof-gate. Zara tells him that she thought he'd jump at the chance, as he's being feeling so useless lately. He corrects her immediately, for it is SHE that has been thinking him useless. He is upset with her for thinking he could just go ahead and be a sperm donor without being a father. But Zara is doing that thing where she thinks it is about them as a couple, or about the taqueria. She doesn't get it.
Geraldine lets herself back into Marjorie's apartment and arranges to "get a visual" on her phone sex neighbour. They agree to go and stand outside for a minute, and then come back in and continue talking. Geraldine likes what she sees and gives him her mobile number.
Billie rings the recruitment lady and calls her out on her shitty attitude to her the day before. The recruitment lady tells her she wasn't having the best day due to some "complex personal shit" and to come back in for another meeting.
After discussing Billie's past work history, the lady summarises Billie neatly in one sentence.
"You adapt, you change and try new things and don't let setbacks defeat you."
She then offers Billie a job working with her, as she needs someone who knows how to make a call. Someone who can pick up the phone and say "hey, you're a cow".
Back at St Francis, HHH suggests that they stop using Nina's image on promotional materials as it will only remind people about the scandals. Nina says she doesn't care what HHH thinks of her.
And the results are in!
Jade and Bradley both tested positive as parents for baby Millie. Bradley IS the father.
Nina makes an unusually eloquent announcement to the press outside the hospital, explaining confidently that there was no breach of the policies and systems of the hospital. HHH looks on with a smile, smouldering in his hotness.
Back inside, the staff are crowded around a computer to see they are trending on Twitter, #loveStFrancis. People are uploading baby photos and sharing their love for the staff, showing support where they can. The PR crisis is officially over. High fives all round.
Over the to side, Martin pulls Cherie aside and says "Yes, yes I will marry you". They kiss and then Martin makes an announcement. He and Cherie are getting married! He asks Nina to be his best man and she accepts.
"What's this wedding going to look like?", asks Kim.
"One word…. medieval", responds Martin. Cherie, unsurprisingly, doesn't agree. Nina suggests "dark magnificence" instead and Martin jumps on it. Yes!
That night at Nina's, Billie is pouring some champers for herself, Nina and Brody to celebrate her new job at the recruitment agency. When Brody declines the bubbly, Nina goes and sits next to her and prompts her to tell Billie that she's pregnant.
Billie is stunned but concerned that Brody didn't tell her because of how she'd react. She promises Brody that she will never "chuck her out" and that she will support her in whatever she decides.
Later, Nina is browsing on her "product placement" non-fruit-related tablet, pondering over whether she could or should donate some eggs to Billie and Mick.
HHH tells Nina that the PR crisis is over and that he's wrapping up his role at the hospital. He agrees that he rubbed her the wrong way but that everything he did was to protect her. She tells him he has been exposing her when she's the most vulnerable and doesn't want to be at the mercy of what he thinks of her. He asks her if it matters to her what he thinks of her? She says yes.
This is some Bridget Jones shit right here, you guys.
Nina doesn't want to be any more confused than she already is. The leave each other wondering, with a lost opportunity hanging in the air. Nina goes to her next appointment reading HHH's recommendation to the board, his final notes on her staff's operations at the hospital. It is a good one, advising the hospital board to allow the team to carry on doing their excellent work.
Nina arrives at her office to realise that Jodie is Patrick's ex-wife. They share a hug and pleasantries and then Jodie gets right down to business.
She's been debating whether or not she should tell Nina but here she is. She tells Nina that Patrick froze some of his sperm while they were married. And it still exists, here in Melbourne. She goes on to say that she got a letter asking if she'd like to renew the storage on it, and she thought it was only fair if she offered it to Nina so that she could have another child if she wanted.
Oh bless this gorgeous woman. Bless her and the horse she rode in on. Pass the tissues please.
Oh Wa.. Oh Wa… Oh Waaaaaaiy won't you stay?
ScreenQueen x
Images courtesy of Channel Ten