ScreenQueen Recaps Offspring – S6E5 – "Breaking Point"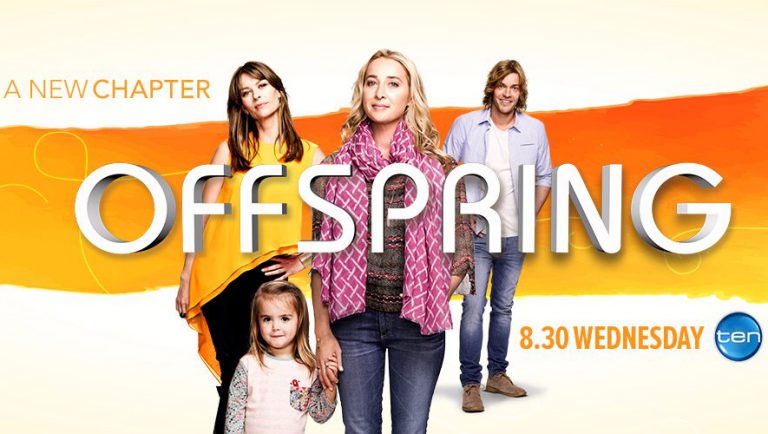 ScreenQueen Recaps Offspring – S6E5 – "Breaking Point"
In an emotional fifth episode of this season of Offspring, Nina has to steer the PR campaign in the right direction following the viral "baby punt" footage and makes an appearance on The Project. It is Billie's birthday and she just knows that Mick has organised a surprise party for her – or has he? Plus, Brody has some not-so shocking news.
We begin with the dramatic news coverage that St Francis is indeed the worst hospital in Australia. Nina rushes in to work early to meet with Martin and a hunky new PR guy, hired to see them through the media crisis.
His name is Harry (last name probably Hemsworth) and he has booked the hospital a slot on The Project tonight, and wants Nina to represent the hospital on the popular live news program.
Nina is less than impressed at the suggestion that an apology from a woman on women's issues resonates better and says "Isn't that sexist?", to which Handsome Harry Hemsworth replies "No, it's a fact."
This irritates Nina even further and so she inner-monologues that he's pointless and annoying.
Billie informs everyone that it's her 40th birthday and takes herself out for a day of pampering to celebrate. After all, she just knows that Mick is throwing her a surprise birthday party, right Mick?
No one is more surprised than Mick. He insists that he hasn't organised a surprise party for her, and plans to take her out for an intimate meal for two instead. He kind of brushes the thought of a party aside and concentrates on writing a song for Billie as her gift.
Back at the hospital, Nina and Kim have a consultation with a couple who are booked in for a caesar tomorrow. The couple express concern that the hospital may not be up to standard and that family members have warned them against delivering their baby at St Francis. Kim looks deflated and Nina carries on with the consult before bailing Kim up outside to reassure her that they have her back.
Comforting words indeed.
Geraldine has had enough of chilling at Marjorie's pad, despite regular spliffs and phone sex with the neighbour. She is thinking of pulling the pin on her plan to stay with her for two weeks, pretending to be in Amsterdam, and wants to go home.
Over at Channel Ten, Nina is freaking out about her impending appearance on The Project. Harry goes over the plan with her once more, stressing her four key messages for the evening – apology, isolated incident, utmost respect and taken out of context.
Nina forgets these immediately.
Carrie Bickmore commences her interview with Nina, confronting her with a second unseen piece of CCTV footage which shows Elvis sprinting away from various staff members in hospital hallways.
Nina attempts to explain it all as just a simple game of Kiss Chasey.
Waleed Aly counters that it looks like sexual harassment. On account of the fact that it does.
Nina explains that it couldn't be sexual harassment as Elvis is fast and no one has ever caught him.
So Nina makes the PR disaster even worse than it already was. Maybe they should have put Clegg on The Project instead?
Billie discusses her upcoming surprise party with Mick who again, tries to convince Billie that he honest to god hasn't organised anything. She is unfazed and is getting more and more excited.
Mick realises that Billie is seriously expecting a party and at the last minute calls Jimmy to help arrange something.
Mick is still trying to write that song for Billie and Brody isn't liking it one bit. In fact, she runs from the room and vomits in the loo. We all know what that means.
Could see that coming a mile off.
She makes Mick promise not to tell anyone and he makes her promise to tell Billie or Nina before he leaves to go back to London.
Meanwhile, back at the hospital, it is time for Nina to deliver that baby mentioned earlier via C-section. All goes well with the actual birth but shortly afterwards the mother hemorrhages and flatlines and this is where we all burst into tears because it's so scary but the only person who doesn't lose her shit is Nina. She calmly resuscitates her and we go on with the show, firmly remembering that Nina isn't fully incompetent where it counts.
Mick and Billie discuss his impending flight back to London and they are just sweet and lovely and #relationshipgoals you guys.
Next thing we know, he's walking Billie into her intimate restaurant dinner, just the two of them. They are seated and Billie looks confused, then upset, then pragmatic. She says that this is perfect, actually, and all she wants.
Suddenly, a waiter comes over and asks them to please move to another table in the back, for there is a wheelchair bound diner who requires their table. Up they get and head out to the other table, when Geraldine bursts into the restaurant screaming SURPRISE with bags of Duty Free in her arms. Mick hastily ushers Billie back to walking through the restaurant to find their new table when…
SURPRISE!!
Geraldine again tries to divert the attention back to her by walking in saying SURPRISE again seconds later but no one is having it, the focus is on Billie, where it should be.
Presents time! Jimmy gets Billie a framed picture of a child's painting, or maybe it's his painting? I'm not sure, it's all a bit confusing as to why she'd want that, she's not particularly maternal or sentimental for random kids paintings.
Not to be outdone, half-brother Will-who-writes-wills presents Billie with an even better gift – a Prada handbag – ensuring that that sibling rivalry continues until at least another episode.
Then it's time for Mick to sing his song that he wrote for Billie. They all sing together "look at all the love you got" and it's all just too lovely for words.
It's just a really warm, beautiful party all round.
But then it's speech time and Billie gets up to say a few words.
It starts off well but when Billie mentions that this is their first party without Darcy, she breaks down in tears. She says that she loves Will and is glad he is part of their family, but…
In a heartbreaking moment, Billie breaks down and sobs, her face frozen in grief. Nina gently leads her away from the stage and they sit quietly outside and reminisce about their childhood. Darcy's death has finally hit Billie.
Back inside, Cherie sidles up to Martin and realises that he is wearing a post-surgery compression vest under his suit, probably in an effort to try and appeal to his lady. Cherie thinks it's a little silly and ponders how their relationship took an awkward sex-less turn after she thought that committing to each other would kill the magic, thereby killing the sex.
And so, the only logical conclusion must be…
Next week – Patrick's ex wife has something important to discuss with Nina and news breaks that there is yet ANOTHER hospital-related PR scandal as a couple claim that they went home with the wrong baby 18 months ago.
And then just like that…
Oh Wa.. Oh Wa… Oh Waaaaaaiy won't you stay?
ScreenQueen x
Images courtesy of Channel Ten