This Week on The Real Housewives… New Jersey, Orange County and New York Recaps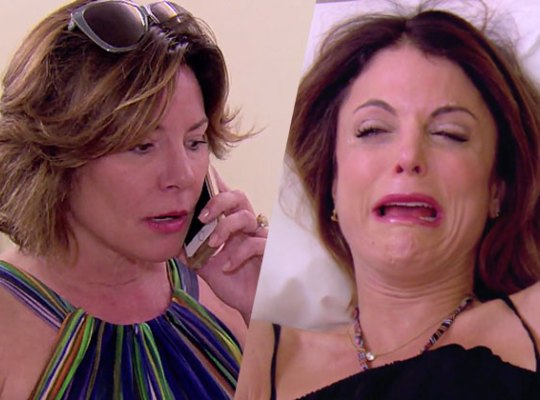 This Week on The Real Housewives… New Jersey, Orange County and New York Recaps
So far we've seen Jacqueline take on an adversarial role in The Real Housewives of New Jersey, and watched Shannon become shocked and overwhelmed after her husband surprises her in Orange County. Finally, in New York, just as Luann and Tom's relationship hits and all-time low, Luann brushes his infidelity under the nearest rug and arrives at Bethenny's fiesta looking for a fight.
The Real Housewives of New York City – S8E20 – Say It Ain't So
All is not right in Luann's world as the news that her fiance Tom was caught sucking face with some random ho a couple of days before their engagement party hits Miami.
It all went down in the last episode but we resume the fallout in the season finale when Bethenny shows Luann the photo evidence on her phone. Luann handles it with an unusual amount of grace and clarity. She paces in and out of everyone's hotel rooms. There is an immense amount of support among the women, both towards Luann, who's throwing up in a toilet and Bethenny, who is so distraught at having to deliver the news to her frienemy that she's sobbing in her bed.
Ramona, with one solitary roller in her hair, is adamant that it is good that Luann knows as no -one told her when Mario was cheating on her, she found out through the press. She gives Luann one of her trademark gropey talky hugs that she is known for, although she usually saves them for apologies.
So Luann is madly texting Tom asking him wtf, and then he rings and we hear the entire confrontation.
"How could you do this to me — at the Regency! In front of everyone?"
And now we have our Bazinga! moment.
Luann is more concerned that the betrayal happened out in public where everyone can see it. She is upset that her illusion of happiness with Tom has been marred. Not that he did it, but that he did it in public.
And so begins Luann's feverish sweeping of the whole event under the nearest rug because she's GETTING MARRIED.
Meanwhile, Sonja is asking why anyone is actually surprised considering Tom has been hobagging his way around the Upper East Side for years. Why would he curtail his ways now that he's engaged?
And Bethenny just needs a drink.
Back in New York, Luann makes it pretty clear that she's turned on Bethenny. She questions why Bethenny delved so deeply into the whole Tom kissing thing. Bethenny had rung the Regency to ask which staff members were on shift that night, as some were seen in the background of the photos. Time stamps were confirmed – Bethenny went all CSI on that shit.
Bethenny does nothing half arsed, ever. If she was going to deliver news that could potentially blow up an engagement, she is going to make sure it actually happened.  She has plenty of advice for Luann, but Luann's not having it.
Tom rings Dorinda to tell her to "take a bullet" or lose his and Luann's friendship. He insists that she meet with the bartenders who will tell her Tom wasn't kissing that woman, on that day, in that bar. Then Dorinda would dutifully report back to the other women. Dorinda flat out refused.
Bethenny throws the biggest most fabulous Mexican fiesta ever, complete with a martini shaped piñata filled with $10,000 worth of fine jewellery. Everyone is there ~ except Tom ~ and the margaritas and vegetarian ceviche are flowing. Suddenly, Luann comes barging over to demand Bethenny stop talking about her, and is sorely embarrassed to discover Bethenny was actually bragging about her piñata.
She demands that Bethenny stays out of her life and never talk about Tom again because she's getting married and that's the end of it. Bethenny agrees that if she sees Tom fucking another woman in the street, she will not tell Luann. The Countess is happy with that and leaves the party without even taking a crack at Bethenny's jewel filled piñata.
I never thought I would say this, but after 20 episodes of my favourite non-Australian franchise, the Housewife with the most grace, control and good humour is Sonja Morgan. She walks out of the emotional rubble of Season 8 with her head held high. Kudos to you, Lady Morgan.
Absolutely cannot wait for the first reunion next week! Join me back here afterwards for my thoughts and another recap.
The Real Housewives of Orange County – S11E8 – Shannon Gets Her Groove Back
The episode begins with Heather and Tamra going over the events of Meghan's "night before getting knocked up" party, where Kelly lost her shit entirely and screamed expletives at Shannon and Tamra. Heather is still horrified that she mixes company with a woman who is quite happy to screech the c-word across a fancy restaurant and wants nothing to do with Kelly.
Tamra is still letting Jesus take the wheel, and has handled the entire situation in a calm and compassionate manner. Kinda missing the old Tamra at this point. Old Tamra vs Kelly would have been excellent viewing but hey. Can't have everything.
Meghan goes to get implanted with her embryos and her mum films the event for Jim, who is not there. They have to decide which embryos to use, and they end up going with one really strong female embryo, and one kinda-weak male one.
Afterwards, Meghan is resting up at home when Kelly stops by to see her. They chat about Kelly's behaviour at the Japanese restaurant and Meghan tells her how shocked, disappointed, and embarrassed she is to be her friend. Kelly is reduced to tears, but still defends her behaviour.
It's all just as well that she has formed a relationship with Vicki then, as the pair of them were excluded from the main event of the episode – Shannon's surprise.
David rings her and sings happy birthday to her which is sweet and charming and just a little bit weird. Then he tells Shannon that she has just 20 minutes to pack before he whisks her away somewhere special overnight.
If you cast your mind back, Shannon hasn't had a good run with birthdays the last couple of years. Two years ago, on her 50th, David celebrated with her before leaving to screw his mistress. Then last year, he attempted to make it up to her by taking the family to a rowdy pub for dinner. This year, he has redeemed himself.
Shannon is genuinely happy and touched by David's thoughtfulness. She quickly packs and they get in the car, but she has no idea where they are going.
Meanwhile, in a big black "limo" truck-thing, Eddie and Tamra, Jim and Meghan, and Terry and Heather are travelling to the secret location as well. It is revealed that David contacted Heather weeks ago and enlisted her help in organising a surprise party for Shannon at the hotel they got married.
Over at the 'Fig and Olive', which I misread at first as "Pig and Olive", Kelly and Vicki are getting trashed together over spicy martinis. They say that they aren't being left out, those women "hate us because they can't be us". Yes, Kelly, that must be it.
Vicki takes Kelly under her wing and mentors her about what she needs to do to fit into the group. You read that right. The woman who lied to everyone last season about the worst thing you can lie about, and has since been roundly ostracised from the group, is mentoring the new girl on how to behave in the group.
Shannon is blown away by her surprise party and is thrilled that everyone she loves has taken the time to come to her party, just for her. But it's not over yet.
David pulls her aside and tells her that they will be renewing their vows tonight as well. Sixteen years after their marriage and two years after the affair that almost ruined it, Shannon and David renewed their marriage vows in front of their daughters, family and friends. And it was beautiful. I got a little dirt in my eye at one point.
Shannon was right to fight for her relationship, and it just goes to show that with strength, love and commitment, you can turn even the worst situations into the best moments of your life.
During the banquet dinner later, David revealed his last surprise of the evening – he was taking Shannon on a 4 day honeymoon to Cabo, Mexico, the next day.
The Real Housewives of New Jersey – S7E6 – Swimming With The Gefilte Fishes
Jacqueline slots herself into the villain role to get screentime with Teresa, Dolores struggles with financial dependency and Siggy suddenly remembers that she's Jewish.
So last week, when Teresa and Joe went to the Laurita's for dinner, Jacqueline was confrontational from the very beginning. While arguing with Teresa over who said what to whom two years ago, she actually rang Teresa's brother Joe, put him on speakerphone, and asked him exactly what he had said in the conversation that she had dragged up, putting him on the spot in front of his sister.
Jacqueline then took issue with Teresa not telling her stuff about her legal issues. Teresa replied that she had never stuck her nose in with Jac's financial troubles, and that it was none of her business just like her own legal issues were none of Jac's business. Then Jacqueline really hit below the belt.
"Mine wasn't' a criminal case. We didn't file fraudulent bankruptcy like you did. It's totally different."
Like that made any difference to the topic of the argument – the fact that Teresa has shut Jacqueline out of her life. Now the only way for Jacqueline to get screentime on the "The Teresa Guidice Show" is to become adversarial with her. If she can't convince Teresa to keep her in her life as a friend, she'll force her to interact with her as an enemy.
In the latest episode, Jacqueline is still banging on about the failed dinner party, while painting herself to be the poor maligned hostess who was forced to deal with an unruly guest. While explaining what had happened to Siggy and Dolores, Siggy immediately tells Jacqueline that the things that Jac had said were trigger points for Teresa which was why she left the dinner party in a huff. Obviously.
Meanwhile, over at the Gorgas house, Melissa is pissed that Jacqueline rang her husband in the middle of her argument with Teresa to confirm whether or not he had told Tre not to trust Jacqueline years ago. She shouldn't be dragging him into her shitfights for back up. Fair call.
Melissa meets up with Jacqueline to tell her that it was not cool to ring her husband. Jacqueline is sent into another tizzy, blaming Teresa for lying and getting generally pissed at Melissa.
Teresa finally gets her ankle bracelet removed, meaning she can now come and go from her home as she pleases, like the rest of society. She is no longer being monitored, no longer has to check in with her parole officer daily, she is now truly free.
Siggy is adamant that her teenaged children will grow up without technology and is feverishly forcing strong family traditions onto her kids, designed to create "Super Jews". So all of her air time this episode is based around shrieking about family values, saying Jewish words and confiscating iPhones.
Dolores is having her kitchen remodelled with permission from her ex-husband who is paying for it. She is upset that it isn't being done how she wants it done, but can't complain because she relies on her ex for the cash. But then complains because she doesn't want to go to work today.
It is Milania's tenth birthday and Teresa declares that they are just having a quiet one this year. Indoor sky diving.
I'd just like to point out that if it weren't for Dolores' kitchen renos and her dying dog, Milania would have more screentime by a long shot. She should be a full cast member next season.
Melissa pops round to the Guidice palace for a green tea and invites Teresa to a girls weekend away now that she's no longer restricted to her home. Everyone has hopes that the spa weekend will be peaceful and relationship-healing.
And we all know it won't be!
Stick around for my Real Housewives of New York City update on Thursday!
ScreenQueen x