DIY Black Board On-The-Go Activity Pack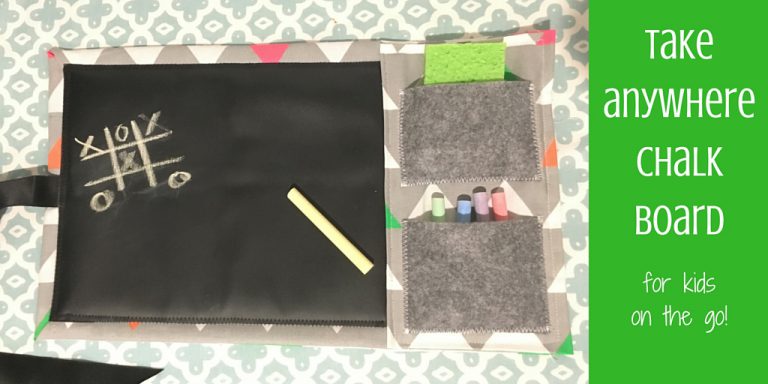 DIY Black Board On-The-Go Activity Pack
It's always nice to have a little something to keep in your handbag to keep the little ones amused! This little project will take you less than an hour and not only makes a great gift idea but is great to keep for yourself! We take ours out to dinner with us and play noughts and crosses with our children.
It's also great on the bus or car or for those moments when you are waiting at the doctor's office, its easy to roll up and carry off at a moments notice. There are plenty of different patterns on the net and I have tried to modify some to make this as easy as possible for the novice crafter.
Instructions
You will need
20cmX 26cm of Black board fabric (if you ask for 30 cm you will have enough to make 5 sets for around $15)
two pieces of felt measuring 8am X 10cm (I used felt as it is the easiest option but clear vinyl works really well too!
39cm X 23cm of padding or quilting batting, I used thin foam that I had left over from another project.
29cm X 58cm of patterned fabric, oil cloth or plasticised cloth works best for easy wiping!
70cm of ribbon
Method
Iron your padded fabric the wrong side facing down. Lay your padding down on top of it so that there is a border of 3cm along the top, left and bottom edge.
Fold those seams on to the padding and pin. Fold in the right side of the fabric to make a nice panel on the left hand side, making sure that you fold in the seam on the edge. Pin into place.
Position the two felt pockets on the panel and pin. Place the black board fabric onto the fabric and leave a gap of around 15cm on the top, left side and bottom. This should cover the naked seams and tuck under the panel on the right hand side. Pin into place.
Fold the ribbon in half and tuck under the left hand side of the black board fabric to make the fabric ties.
Use a black thread to zig zag stitch along the edges of the black board fabric. Change the thread to match your patterned fabric and stitch all round the rest of the seams and along the right bottom and right edge of the felt to form the pockets.
Trim all of your threads. Place a piece of sponge in the top pocket and some pieces of chalk in the bottom pocket.
Fold the mat into thirds and secure with the ribbon and you are good to go!