DIY Thank You Gift Idea: Thanks a Latte!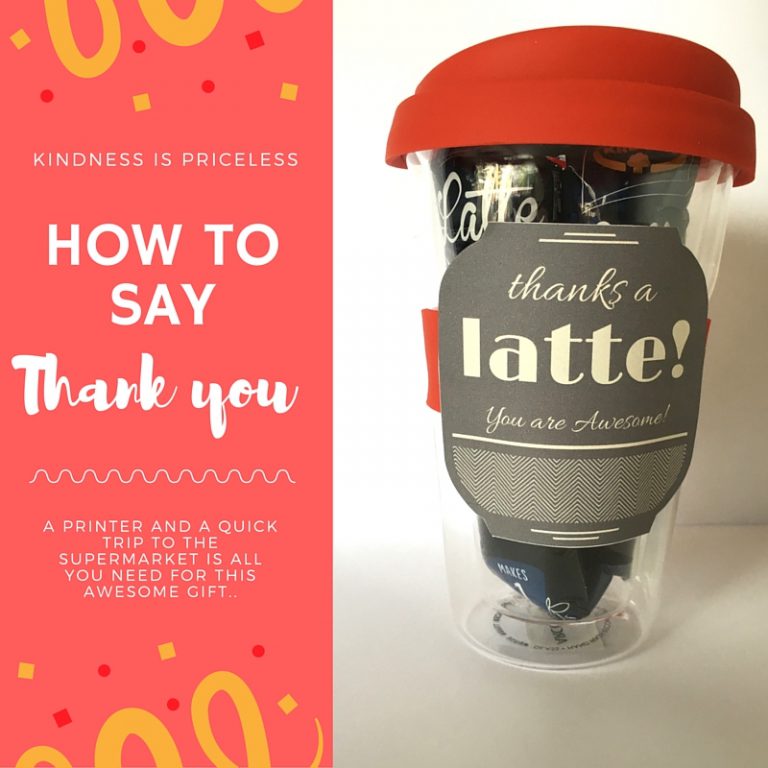 Thank You Gift Idea: Thanks a Latte!
Sometimes a simple gesture can mean so much to someone. And I have to tell you, it feels great to be the giver as well as the receiver! I keep a stock of small gifts and cards in my office because I find that making someone͛'s day is easier if you are prepared.
This gift idea is so quick and easy that you will want to make heaps of them and pop them in a cupboard for emergencies! They also make a great teacher or coach or tutor gift at the end of the year. We all know that the world runs on coffee and it's awful when the coffee runs out. I also hate disposable coffee cup as they do so much damage to the environment and they really don͛'t do the job all that well
I love a good ͚on-the-go͛ coffee holder. I am always forgetting them at work or at home. I need to keep one or two up my sleeve for emergencies. So I feel pretty safe to assume that this is a universal problem and nobody ever says "no thank you" to a travel mug! So I think that this gift idea idea one of those great ones that will suit almost everyone!
It's this easy. Purchase a take-away coffee mug from the supermarket and four sachets of instant latte.
Pop the lattes inside the mug.
Download the ͚'thanks a latte͛ template,' there are a few colour options so choose the one that suits your mug.
Print on to thick cardstock 200gsm is good but you could print on to plain paper and stick on to cardboard if that͛s easier.
Cut out the label and using double sided tape, stick on to the mug. Another way is to punch a hole in the label and attach with a ribbon. Wrap some clear cellophane and top with a ribbon for a special gift.
Download your chosen template below.
Click here to download the red 'red 'Thanks a latte!' template
Click here to download the blue 'Thanks a latte!' template.
Click here to download the grey 'Thanks a latte!' template
Don't forget to let me know if you try any of my projects, or have any suggestions on craft ideas you'd like me to share over the coming weeks!