Don't Make Your Last Impression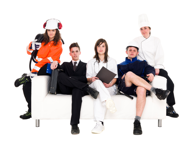 Don't Make Your Last Impression
We turn up to interviews with nerves and, if we've done our homework, we have prepared answers to questions like "Tell me a bit about yourself" and "What are your biggest weaknesses". From the minute you walk in the front door, you have one shot to make a lasting first (and hopefully not your last) impression!
All bosses want to know that you will fit in to the business. They want to know that you stand-for the same beliefs and values and will represent them well in a public arena. It doesn't matter if you're applying for the local delicatessen or major accountancy firm, as an employee, YOU will be the new face of the business.
So, if you've ever wondered what bosses really look for at the interview, here are 5 tips to make sure you don't make your last impression.
1. The 'Hidden' First Impression
You'd be surprised at how many people do this – a job-hunter walks into the office and treats the front-of-house person with disrespect. Make no mistake, how you interact with the first person you meet will absolutely be passed on to the boss. Whether it be by a casual comment, "He seemed lovely" to a dedicated complaint of "She was so rude", you can be sure that the very first 'hidden' impression will be noted. And, who knows, the person you see first might just be the boss!
2. Dress to Impress
This might sound obvious. But, an interview is not a cocktail function, nor a day at the beach nor a session at the gym. So make sure you think about what the company represents to work out what you'll wear. At interviews, Adrian Shepherd (Owner, Da Klinic Hip Hop and Skate Shop) firstly looks at how well they have presented themselves. "As we are a retail store, I need to know they are up-to-date with Fashion and Culture trends".
Phil Morton Managing Partner at Morton Philips (Executive Recruitment and HR Strategy) has seen it all. He says, "Always dress one step up from what you expect would be the correct attire for the interview. If the organisation or person interviewing you is conservative in nature……females – don't plaster on the makeup or wear an outfit that is revealing or exposes any tats, and guys – the ridiculous big gold chain or bracelet and ear rings come off".
3. Handshaking – The 'Three Bears' Approach
At the start of the interview, it's always a good idea to shake hands with all of the panel. But knowing just how to do this can often be confusing. Shaking hands too hard might tell the boss you think you're more important than she is. Shaking too soft might indicate that you are aloof. To make the shake 'just right', match the grip. Phil's advice: "Shake hands with confidence and grip, but don't break the interviewers' phalanges. And if you are prone to sweaty hands, make sure you have a small dry cloth or handkerchief with you to dry off before going into an interview!"
4. Nervous or Narcissist?
Of course you want to come across as confident at your interview. You want to say everything there is to know about you. You're nervous or afraid you'll forget to say something…. But as Phil reminds us, don't over-talk or talk over. "Listen carefully and answer the question being asked, don't ramble and bore the interviewer. It's easy to yap on when nervous".
For Adrian, it's about attitude. "I look to see how confidently they speak and look at their general attitude and how they hold themselves". So, make sure your attitude says confidence, not cocky!
5. Be Yourself
Phil's final message is the hardest to measure or manage. "The person interviewing must like you and relate to you. Sometimes you hear the saying, "we just didn't click". Well sometimes you have to be prepared for this and accept it, not force it. By being yourself and not pretending to be someone you aren't is the safest way to play and is more likely to get a "click" than being stifled and hamstrung by your confused out of body experience".
Parting Advice?
Adrian's advice to young people would be to try and get some experience in the industry, even if it means doing work experience to get a foot in the door. "Most of the time if you can impress whilst doing work experience you will score yourself a job!"
Depending on the role, don't get too hung-up on needing past experience. "It is not necessarily the most important factor as is their ability and wiliness to learn and deal with customers. This will be the deciding factor" says Adrian.
Making a good first impression is so important. Interviewers understand you'll be nervous so don't worry too much about that. But, being rude or not considering the business you're applying to could really ruin your chances of getting the job. So, don't make your last impression, make a lasting impression.
If you have any tips on how to make a great first impression, let us know here.
Thanks to Adrian Shepherd and Phil Morton for their advice.
Find Morton Philips Executive Search, Strategic Human Resources and Migration & Relocation services at www.mortonphilips.com.au
Da Klinic is one of Australia's leading Hip Hop and Skate Shops. Find Da Klinic at www.daklinic.com.au
Read more articles at The Part Time People
For more advice:
Not Quite Qualified? Go on! Apply!
Tying Your Shoelaces- You're Doing it All Wrong!
Post-Interview 'Break-up': 6 Tips to Avoid Feeling Hurt