The Guts of It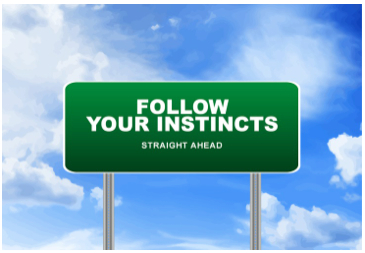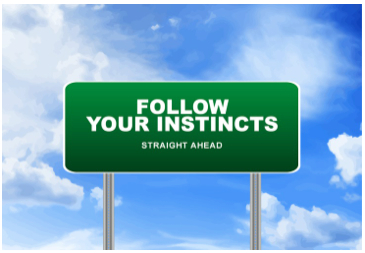 You know that little voice that talks to you when everything seems to be quiet?
Not the one that talks to you while you're standing in front of the fridge….the one that says "eat the kid's Easter eggs. The calories don't count if you eat them standing up."
Not that one.
Those little voices in your head that seem to be attached to your gut instinct. In fact, they seem to be the verbal representation of your gut instinct.
That same instinct that kicks in when you meet someone for the first time and you know if the two of you will get on or click. Or not.
That instinct that tells you when things are awfully quiet, your kids may be channelling their inner Picasso…..on your white walls.
That instinct.
It's pretty strong. And it's highly intuitive. AND most of the time it's right.
So why do we turn it off when it comes to business? Is it because we're scared that the heart will rule the head? Isn't it okay if that happens? Wouldn't you say that a lot of highly successful entrepeneurs have run with their instinct and then employed people who are awfully smart to support their gut feelings?
So when you're a mum running your own business, what can you do to tap into that and run with it?
Create your own brains trust

Quite often I know what I'm meant to do but until I say it out loud to someone and bounce the idea or the thought off them, it doesn't make it real. A business coach is fantastic to do this – I employed one last year and she helped me see clarity but let me come to my own decision and follow my own instinct…just with her support. I have an incredible Virtual Assistant (hi again Liz!) who I can do this with too. She is more strategy than admin and provides me with a fantastic sounding board.

Trust yourself

There is a reason you're a mum in business or working from home. It's because you're an expert in your field or you have a real love for what you do. Trust that. Trust that as you move along your own business pathway that you will learn from mistakes (make sure you do!) and that you will learn to listen and trust that inner voice that sits on your shoulder. One of my favourite sayings is 'The definition of stupidity is doing the same thing and expecting a different outcome'. I love this. That inner voice doesn't let you do the same thing over and over. So listen to it. Do not squash it down. Sometimes it will need to shout at you. Let it.

Educate yourself

Okay, there are elements you need to have a good grasp off that are all about the logistics and the left side of your brain. They are business basics – accounting, spreadsheets, business plans – you need to know you have the ability to run a small business and these areas are going to be a little more risk averse than other parts of your business. These elements need to tick on over so you can rely on your gut instinct for the trickier, more creative decisions. Give yourself a good foundation and educate yourself in how to manage these small business basics so your creative instinct can take over when it comes to design, marketing, business development and communication.
I have made 756, 344 mistakes while running my own business and I can tell you for sure that 756, 333 were from not listening to that inner voice. As soon as I learnt to trust that, things started to change.
Trust me. From my gut to your gut.
Penny Webb is founder of the Working Mums and Mumpreneur MASTERCLASS event series and a specialist on combining all things working and mum. She is a master of discussing strategic training delivery with a client on the phone while simultaneously pulling pieces of LEGO out of a pre-schooler's nasal cavities. She blogs at Sshh.. Mummy's on the phone and was a contributor the parenting ebook Things They Didn't Tell You About Parenting.